Morehouse School of Medicine's "Danforth Dialogues" Podcast Hosts Historic Discussion with Atlanta University Center Presidents
MSM CEO and President Dr. Valerie Montgomery Rice and AUC Presidents Talk About Impact of COVID-19 Pandemic on their HBCU Schools.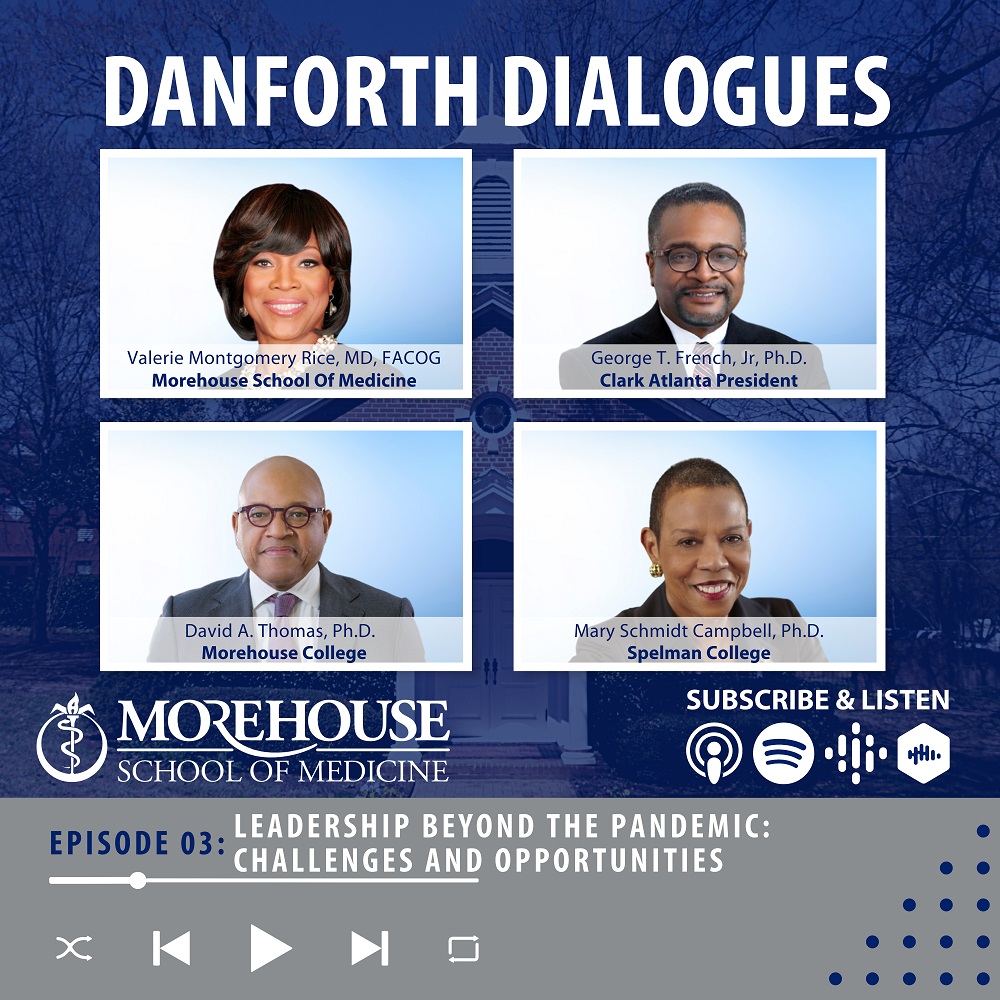 ATLANTA – MAY 16, 2022 – Morehouse School of Medicine (MSM) published the latest edition of its new "Danforth Dialogues" podcast, featuring an historic discussion with Atlanta University Center presidents on the impact of the COVID-19 pandemic on their Historically Black Colleges and Universities (HBCUs) and the resulting challenges and opportunities now before their institutions.
In what may be the only gathering of its type between prominent HBCU leaders to reflect on the pandemic, Clark Atlanta University President Dr. George French Jr; Morehouse College President Dr. David A. Thomas and Spelman College President Dr. Mary Schmidt Campbell joined Morehouse School of Medicine President and CEO Dr. Valerie Montgomry Rice to discuss the impact of COVID-19 on their students and surrounding community.
"After two very difficult years, it appears that the COVID-19 virus is becoming more endemic, and it looks like we are finally starting to see the light at the end of tunnel," said Dr. Montgomery Rice. "We were extremely grateful to have the presidents of three of the country's most prominent HBCUs join us to look at leadership beyond the pandemic and the challenges and opportunities before us today."
The four presidents discussed a wide range of topics during the podcast including how the four institutions collaborated to keep campus infection rates low, continue to address residual effects of the pandemic, particularly student mental health, and ways they are using experiences they faced to create new opportunities for their schools.
Dr. Schmidt Campbell noted that while the four presidents were able to mitigate the pandemic on their campuses, "something very profound happened to our communities…the pressures on our community over and beyond the pandemic were real and ever present and as a leader I also had to also be a pastoral figure."
"Part of the role of a leader is to hold the anxiety of the community so that the community can go about the work," said Dr. Thomas. "I became very conscious of this as a part of my role as a leader. Part of that is speaking to the anxiety and part of that is speaking to the work that still had to be done."
Dr. French pointed out that COVID-19 drove "transformational change" at Clark Atlanta University, noting that the university created an online learning platform for 4,000 students in two weeks. "As Eric Hoffer said, in times of great change, learners in inherit the earth while the learned inherit a world that no longer exists," said Dr. French, paraphrasing one of the philosopher's more famous quotes.
Launched in March, "Danforth Dialogues" focuses on the leadership lessons from the frontlines of the COVID-19 pandemic and their broader implication for society. Named after the historic Danforth Chapel on the Morehouse College campus, the podcast series will also feature a cross-section of guests and topics not directly related to the pandemic, but focused on broader aspects of leadership.
To hear this edition of the podcast, click here. For more information about the Danforth Dialogues leadership series, click here.
To listen and subscribe to the Danforth Dialogues podcast, click here.
For more information about Morehouse School of Medicine, please visit MSM.edu.
About Morehouse School of Medicine
Founded in 1975, Morehouse School of Medicine (MSM) is among the nation's leading educators of primary care physicians, biomedical scientists, and public health professionals. An independent and private historically-Black medical school, MSM was recognized by the Annals of Internal Medicine as the nation's number one medical school in fulfilling a social mission—the creation and advancement of health equity. Morehouse School of Medicine's faculty and alumni are noted for excellence in teaching, research, and public policy, as well as exceptional patient care. MSM is accredited by the Commission on Colleges of the Southern Association of Colleges and Schools to award doctoral and master's degrees. To learn more about programs and donate today, please visit www.msm.edu or call 404-752-1500.
Contact
Amanda Magdalenski
Morehouse School of Medicine
amagdalenski@msm.edu