MSM Hosts United States Surgeon General Dr. Vivek Murthy for Discussion on Health Worker Burnout
MSM Medical and Physician Assistant Students Share Personal Experiences, Needed Resources,
and Coping Skills During Roundtable Conversation.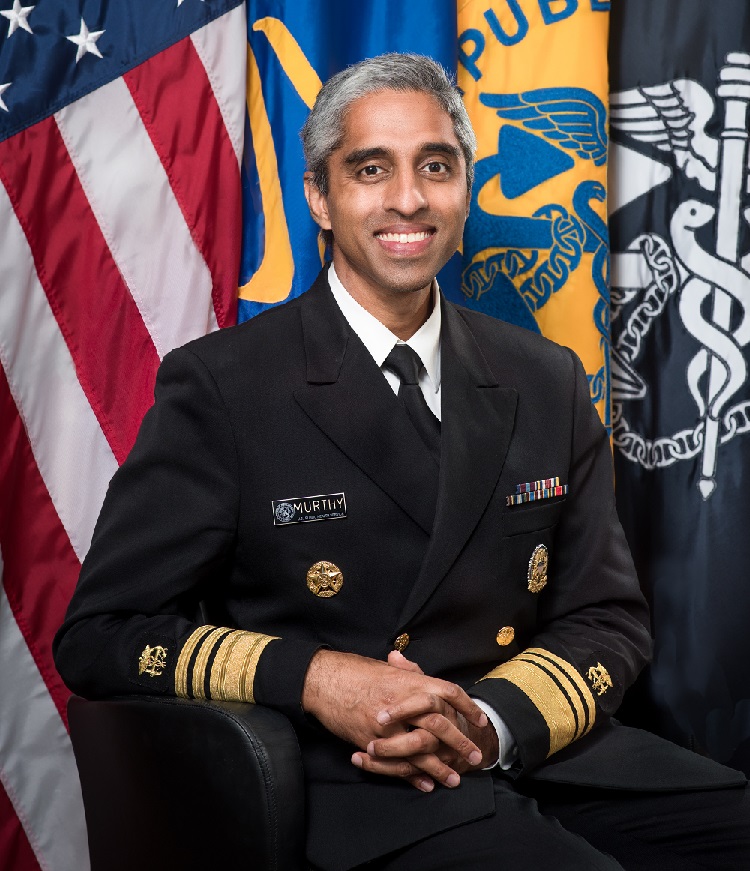 Vivek H. Murthy, MD, MBA
Vice Admiral, 21st Surgeon General of the United States
ATLANTA – MAY 26, 2022 – Morehouse School of Medicine (MSM) welcomed the 21st Surgeon General of the United States, Vice Admiral Vivek H. Murthy, MD, MBA, on Thursday, May 26 for a roundtable conversation with students and faculty members about the physical and psychological burdens experienced by healthcare providers. The visit coincided with the release of a new report entitled "Addressing Health Worker Burnout: The US Surgeon General's Advisory on Building a Thriving Health Workforce."
During the hour-long closed-door discussion, students pursing Doctor of Medicine and Physician Assistant Studies degrees spoke openly about the challenges they face trying to balance their educational, professional, and personal responsibilities. Many discussed feelings of exhaustion and isolation, including experiencing guilt for choosing to spend time with loved ones rather than studying or working. Others voiced concerns about being able to recognize burnout in themselves, hesitancy to ask for help from others, cultural and systemic stigma, and fears of potential academic and career consequences from seeking assistance. Additional burdens are experienced by physicians, students, and educators of color and from marginalized backgrounds, those raising children, and first-generation clinicians.
"We know that change doesn't happen because we published a report. Change happens because of what we do after that. Our goal is to use this as a catalyst, to have more conversations and get more commitments," Dr. Murthy said in closing remarks. "We're going to be meeting with some health systems later today exactly about this."
MSM Executive Vice President for Health Affairs and Dean Joseph A. Tyndall, MD, MPH, was among the faculty members and institutional leaders who took part in the roundtable, all of whom acknowledged the powerful conversations and personal testimonies as well as the critical need to augment access to institutional resources that enhance the environment of learning and the wellness of students.
Dr. Murthy acknowledged a pervasive tension across the healthcare profession between an individual's personal priorities and the realities they face daily in caring for others – a tension that has been greatly amplified over the past two years of the COVID-19 pandemic. The Surgeon General voiced support for developing concrete solutions to address some of the underlying nationwide issues and encouraged students to continue to advocate from themselves and their peers.
"What are the specific things they can do to actually create the environment and culture, and systems and processes through which people can succeed and be sustained in their work? There are many steps to go, but this is the beginning of what we hope will be more change, much-needed change, for all of us in the healthcare profession," the Surgeon General said.
Additional details on Morehouse School of Medicine's extensive academic programs, including master's, doctorate, certificate, and pipeline initiatives, can be found at MSM.edu/Education.
For more information about Morehouse School of Medicine, please visit MSM.edu.
About Morehouse School of Medicine
Founded in 1975, Morehouse School of Medicine (MSM) is among the nation's leading educators of primary care physicians, biomedical scientists, and public health professionals. An independent and private historically-Black medical school, MSM was recognized by the Annals of Internal Medicine as the nation's number one medical school in fulfilling a social mission — the creation and advancement of health equity. MSM faculty and alumni are noted for excellence in teaching, research, and public policy, as well as exceptional patient care. MSM is accredited by the Commission on Colleges of the Southern Association of Colleges and Schools to award doctoral and master's degrees. To learn more about programs and donate today, please visit MSM.edu or call 404-752-1500.
Contact
Amanda Magdalenski
Morehouse School of Medicine
amagdalenski@msm.edu