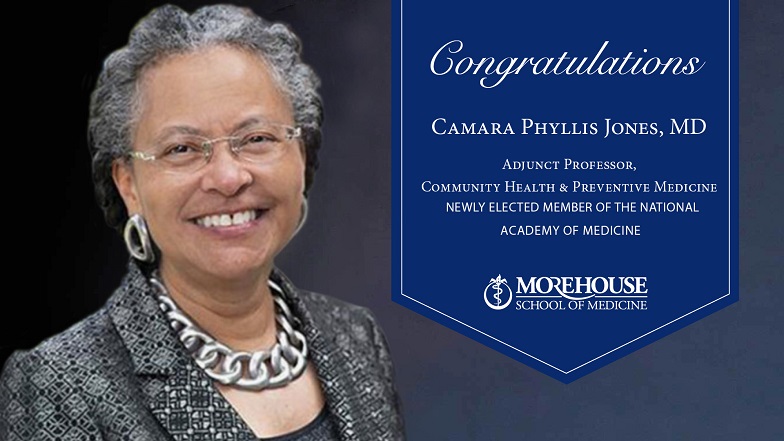 MSM Faculty Member Dr. Camara Phyllis Jones is Elected to National Academy of Medicine
Physician, Epidemiologist, and Educator is an Expert in Social Determinants of Health and Equity,
Including the Impacts of Poverty and Racism.
ATLANTA – OCTOBER 17, 2022 – Morehouse School of Medicine (MSM) is proud to announce that Camara Phyllis Jones, MD, PhD, MPH, an adjunct associate professor in the Department of Community Health and Preventive Medicine, has been elected to the National Academy of Medicine (NAM). Dr. Jones is a senior fellow at the Satcher Health Leadership Institute and the Cardiovascular Research Institute, both located at MSM. She is currently serving as Leverhulme Visiting Professor in Global Health and Social Medicine at King's College London.
The NAM said Dr. Jones was recognized for contributing novel insights about the epidemiology of health disparities related to racial classifications. "She is the preeminent spokesperson on pathways linking racism to poor health outcomes by using innovative, powerful allegories to enable inclusive dialogue and catalyze collective action on this critical public health issue," the NAM said in a statement.
In addition to educating future health professionals at MSM and the Emory University Rollins School of Public Health, Dr. Jones is a family physician and epidemiologist who has conducted extensive research on social determinants of health and equity, including the impacts of poverty and racism. From 2019-2020, she was a Radcliffe Fellow at the Radcliffe Institute for Advanced Study at Harvard University and served as president of the American Public Health Association from 2015-2016. Prior to joining Morehouse School of Medicine, Dr. Jones was an assistant professor at the Harvard School of Public Health and was a medical officer and research director at the Centers for Disease Control and Prevention. In addition to many other accolades, Dr. Jones was elected as a member of the American Academy of Arts and Sciences in April 2022.
Election to the National Academy of Medicine is considered one of the highest honors in the fields of health and medicine and recognizes individuals who have demonstrated outstanding professional achievement and commitment to service.
New members are elected by current members through a process that recognizes individuals who have made major contributions to the advancement of the medical sciences, health care, and public health. A diversity of talent among NAM's membership is assured by its Articles of Organization, which stipulate that at least one-quarter of the membership is selected from fields outside the health professions — for example, from such fields as law, engineering, social sciences, and the humanities.
"This extraordinary class of new members is comprised of exceptional scholars and leaders who have been at the forefront of responding to serious public health challenges, combatting social inequities, and achieving innovative discoveries," said National Academy of Medicine President Victor J. Dzau. "Their expertise will be vital to informing the future of health and medicine for the benefit of us all. I am truly honored to welcome these esteemed individuals to the National Academy of Medicine."
Established originally as the Institute of Medicine in 1970 by the National Academy of Sciences, the National Academy of Medicine addresses critical issues in health, science, medicine, and related policy and inspires positive actions across sectors. The NAM works alongside the National Academy of Sciences and National Academy of Engineering to provide independent, objective analysis and advice to the nation and conduct other activities to solve complex problems and inform public policy decisions. The National Academies of Sciences, Engineering, and Medicine also encourage education and research, recognize outstanding contributions to knowledge, and increase public understanding of STEMM. With their election, NAM members make a commitment to volunteer their service in National Academies activities.
For more information about Morehouse School of Medicine, please visit MSM.edu.
About Morehouse School of Medicine
Founded in 1975, Morehouse School of Medicine (MSM) is among the nation's leading educators of primary care physicians, biomedical scientists, and public health professionals. An independent and private historically-Black medical school, MSM was recognized by the Annals of Internal Medicine as the nation's number one medical school in fulfilling a social mission — the creation and advancement of health equity. MSM faculty and alumni are noted for excellence in teaching, research, and public policy, as well as exceptional patient care. MSM is accredited by the Commission on Colleges of the Southern Association of Colleges and Schools to award doctoral and master's degrees. To learn more about programs and donate today, please visit MSM.edu or call 404-752-1500.
Contact
Jamille Bradfield
Morehouse School of Medicine
jbradfield@msm.edu