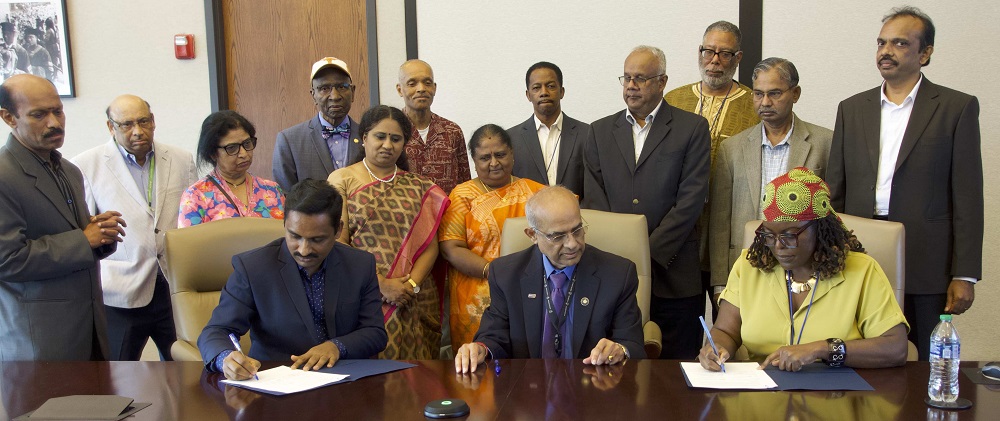 Officials from Morehouse School of Medicine and the Manipal Academy of Higher Education sign a memorandum of understanding on July 25, 2022 on the MSM campus.
Morehouse School of Medicine Students to Travel to India for Training in Siddha Medicine
Month-long elective course will educate fourth year Doctor of Medicine students
in complementary and alternative medicine techniques.
ATLANTA – SEPTEMBER 22, 2022 – Three fourth year Morehouse School of Medicine (MSM) Doctor of Medicine students are set to depart on September 24 for a monthlong training in India to learn techniques of traditional Siddha medicine as complementary and alternative medicine.
MSM students Ms. Merna Beshara, Mr. George Ibrahim, and Mr. Jason Acheampong will attend classes and shadow Siddha medicine practitioners in the cities of Chennai and Manipal, India. They will be accompanied by MSM Professor of Physiology Rajagopola Sridaran, PhD, who said the program was the first of its kind for medical students from North America. The students plan to deliver a presentation in November about their experiences.
Siddha medicine has been practiced in southern India for more than 5,000 years and focuses on nonpharmacological approaches, such as diet and lifestyle, to treat a range of conditions including psoriasis and rheumatoid arthritis. It is recognized as a system of medicine by the Indian government's Ministry of Ayurveda, Yoga and Naturopathy, Unani, Siddha, and Homoeopathy (AYUSH).
The monthlong elective course follows the signing of a memorandum of understanding in July 2022 between MSM and the Manipal Academy of Higher Education (MAHE), one of the largest universities in India, in an effort to expand evidence-based integrative medicine training. Two Siddha doctors, Selva Shunmugam of Health India Foundation in Chennai and Arul Amuthan of MAHE, travelled to Atlanta from India to participate in the signing ceremony, which signifies the importance of this initiative. Dr. Sridaran said plans are in the works to host students and faculty members from MAHE for a similar training program at a future date as well as to create of a Continuing Medical Education course in Siddha medicine.
For more information about Morehouse School of Medicine, please visit MSM.edu.
About Morehouse School of Medicine
Founded in 1975, Morehouse School of Medicine (MSM) is among the nation's leading educators of primary care physicians, biomedical scientists, and public health professionals. An independent and private historically-Black medical school, MSM was recognized by the Annals of Internal Medicine as the nation's number one medical school in fulfilling a social mission — the creation and advancement of health equity. MSM faculty and alumni are noted for excellence in teaching, research, and public policy, as well as exceptional patient care. MSM is accredited by the Commission on Colleges of the Southern Association of Colleges and Schools to award doctoral and master's degrees. To learn more about programs and donate today, please visit MSM.edu or call 404-752-1500.
Contact
Jamille Bradfield
Morehouse School of Medicine
jbradfield@msm.edu