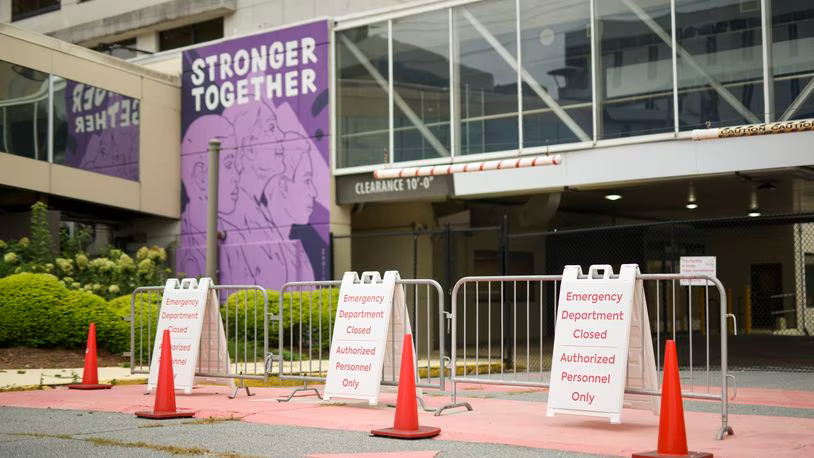 A Year Later, the Future of the Former AMC Site Remains Up in the Air
Morehouse School of Medicine President and CEO Valerie Montgomery Rice, MD, FACOG, speaks with the
Atlanta Journal-Constitution about efforts to increase healthcare access throughout the region.
By Donovan Thomas and Ariel Hart, The Atlanta Journal-Constitution
August 31 marks a year since the bombshell announcement confirming that Atlanta Medical Center would be closed, leaving city leaders furious and vowing to stymie any new development until health services can be restored.
Today the buildings are still dark and it's unclear if any progress has been made toward restoring health care services there or finding a future use for the property.
On Aug. 31, 2022, Wellstar Health System announced it would close AMC by Nov. 1. Once the hospital closed, many adjacent medical offices also closed down, emptying an area that covered almost two city blocks.
Some officials have been reluctant to talk about what's happening with the hospital site. Requests to the Atlanta Mayor's office for comment on the status of the AMC site went unreturned.
"I'm not aware of Wellstar having a plan," Fulton County Commission Chairman Robb Pitts said this week.
Wellstar late Wednesday confirmed it does not currently have a plan.
"We are committed to a thoughtful process to determine the best use for the future of these sites," Wellstar said in an emailed statement. "We continue to talk with members of the community and evaluate potential solutions.... We are hopeful for a solution that benefits the community."
A redevelopment ban was put on the site for six months – and then extended another six months. Now, if no agreement is made to bring medical services back to the site by the Oct. 15 deadline, Atlanta Mayor Andre Dickens has said he will extend the ban again.
The ban will prevent Wellstar or a buyer from redeveloping the property until the community's needs are met, he said. The location is considered highly desirable for development, located in the city's Old Fourth Ward. Fulton County's website lists the total assessed value for the former AMC properties at about $118.86 million.
The massive hospital building and its parking garages stood apparently empty this week: signs stripped blank, windows dark or boarded up. Wellstar's signature purple "Stronger Together" logo towered next to an ER entrance blockaded by orange cones. Affiliated medical office buildings once teemed with doctors' offices but are also now dark.
Locals interviewed Tuesday said the lack of a plan was unacceptable.
"I mean this was a hospital they closed down," said Rod Simon, an area resident, as he left the Food Mart and gas station across the street. "If they have a building just sitting there with no plan, it's kind of messed up. They need to open it back up to the community."
A worker at the Food Mart, Karim Jiwani, said sales dropped by half after the hospital closed and its foot traffic stopped.
The loss of health care in the neighborhood has also caused seniors who live in a senior complex nearby to miss doctor appointments, said Zandra Lane, a shopper at another nearby convenience store who said she works as a caregiver aide for seniors in the neighborhood and has seen the impact. "It needs to be at least something for the seniors," Lane said. "For their life."
The broader damage to Atlanta hospital operations, overloading nearby emergency rooms and recovery beds, remains serious, said Dr. Robert Jansen, chief medical officer at Grady Health System. Grady reported a 35% jump in trauma patients following the closure of AMC. "We're talking about communities that already were not adequately served. And it's just exacerbated an ongoing problem."
Dickens was the featured guest on a recent episode of "Danforth Dialogues," a podcast hosted by Morehouse School of Medicine President Valerie Montgomery Rice. During the discussion, he confirmed his intention to continue the redevelopment ban so Wellstar can't sell the property until the need for health services there has been addressed.
"I was extremely disappointed in Wellstar as an organization," he said. "When you close a hospital, you know what you're doing. You've just impacted an already challenged network. This isn't an 'Oops!'"
He also raised the possibility of Morehouse School of Medicine operating a hospital there. Montgomery Rice didn't directly answer his proposal but later told the AJC that MSM is open to operating a hospital that is a destination for the region's underserved residents.
"What we want to make sure is that we build the right type of hospital. And, that hospital is informed by the care needs of the community," Montgomery Rice said. "We are very much interested in partnering with the city, county, and others who want to have a discussion about building the right type of hospital."
During the podcast, Dickens said his office has been having conversations with consultants and healthcare providers — including MSM — about the future of the property, with the hope of returning some form of medical services to the site. However, several local lawmakers say that they have not been included in those conversations.
Councilmember Keisha Waites told The Atlanta Journal-Constitution that she'd like more collaboration.
"I think the thing is nobody really knows what to do, and we're not sure how to move forward," Waites said. "What I'm hoping will come out of this is an opportunity for everyone to sit down, to bring everybody back to the table, including Wellstar. We have an opportunity to fix this."
Waites has proposed that the site be turned into an equity center that provides medical services, along with a host of other services such as mental health, drug and alcohol treatment, and short-term emergency housing. So far, Waites's proposal has not been passed.
"It is not going to happen if we continue to operate in siloes," Waites said. "Ultimately, that is what I have seen between Fulton County, the city of Atlanta, as well as Wellstar."
Councilmember Amir Farokhi also told The Atlanta Journal-Constitution that he has not heard of any progress for the site, but that he believes health care services could be restored and successfully combined with redevelopment.
"The path moving forward needs to be twofold. One, continue to look aggressively for the re-establishment of some level of healthcare access in the area. If only to take some of the pressure off nearby hospitals," said Farokhi. "But two, alongside that, I think we need to realize that in all likelihood, there's a redevelopment opportunity that will benefit the city on this area, and those are not mutually exclusive."
While the city of Atlanta has been discussing the future of the downtown AMC site, the Fulton County Board of Commissioners has been working to solve the loss of hospital services at AMC-South in East Point. In May 2022, Wellstar closed the emergency room and eliminated in-patient beds, but still operates an outpatient clinic there.
County commissioners approved an agreement with Morehouse School of Medicine for a new outpatient clinic at an Aug. 16 meeting. A study commissioned by the county in advance of the agreement found South Fulton residents have the lowest access to health care out of all of the county's residents and lack health care facilities and providers for primary and specialty health care.
"We're trying to address that by increasing access points and ensuring that we're listening to the residents, so that we put these new facilities in the right places," said Dr. Montgomery Rice of Morehouse School of Medicine. The clinic will be located at 1513 East Cleveland Ave., within the Buggy Works Office Park. Plans call for it to begin offering services by Oct. 31 for insured, underinsured, and uninsured residents of Fulton County.
The agreement provides Morehouse School of Medicine with $1.6 million in start-up costs and an additional $1.6 million for operational costs annually for the next four years. Spending tax dollars to ensure the area had adequate health services was not popular with all members of the commission. Commissioner Bridget Thorne questioned the location of the site and the proposed cost of the agreement.
"What we have done at Morehouse School of Medicine is really try to take the long view, but in a short amount of time," Montgomery Rice said. "We are looking for not just Grady, but others to talk about expansion, and we're going to continue to expand to provide people with choice."