Morehouse School of Medicine's "Danforth Dialogues" Features Atlanta Mayor Andre Dickens
MSM President and CEO Dr. Valerie Montgomery Rice talks with the 61st Mayor
on his vision for the city and fight for health equity in underserved communities.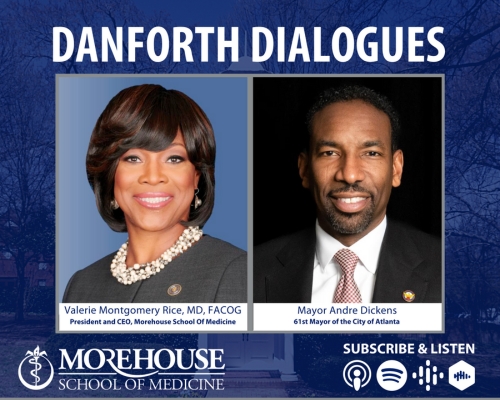 (L-R) Dr. Valerie Montgomery Rice, CEO & President, Morehouse School of Medicine and Andre Dickens, Mayor of Atlanta
ATLANTA – August 7, 2023 – Morehouse School of Medicine (MSM) today published the final edition of its 2023 "Danforth Dialogues" podcast, with a conversation between MSM's President and CEO Dr. Valerie Montgomery Rice and Atlanta Mayor Andre Dickens who talked about his inspiration to become the city's leader as a teenager and his vision for a community where he has lived his entire life.
"We always end our podcast on what makes great leaders and sometimes, in the case of Mayor Dickens, great leaders come straight out of the neighborhood," said Dr. Montgomery Rice. "He grew up here, went to public school and is a graduate of both Georgia Tech and Georgia State. We were so fortunate that he took time from his incredibly busy schedule to join us on Danforth Dialogues."
Mayor Dickens, who graduated from Benjamin E. Mays High School in Atlanta, said he first dreamed of being Atlanta's mayor as a teenager. "At 16, I knew that one day I wanted to sit in this office, and I wanted to impact the world," he said. "I always had big goals for this city. So, when I got to Tech, I would introduce myself as Andre Dickens from Atlanta, Georgia. I'm a chemical engineer major and I want to be mayor of Atlanta one day. People were like why are you here and who wants to be mayor at 16? And that was me."
Dickens said his vision for Atlanta is rooted in his upbringing. "My big vision is to make sure that Atlanta is the best place in the country to raise a child," he said. "My vision for this city is one that's rooted in how I was raised. I was raised by a group, a village. The coach for any sports team. The school, the teachers, the principals, those individuals, the church. The pastor, the deacons and the Sunday school teachers and all those things."
In his first 18 months in office, Mayor Dickens has instituted policies that have helped to lower the crime rate, turned back a de-annexation attempt and even revised the city's famed "pothole posse" to quickly repair its streets. But he is also focused on improving health equity on the city's southside following the closure of a major hospital by WellStar.
"I was extremely disappointed in WellStar as an organization," he said. "When you close a hospital, you know what you're doing. You've just impacted an already challenged network. This isn't like oops." The Mayor said he is focused on increasing health care resources in underserved areas including seeking external investment, "and as I know you know, I would love to have a hospital named after Morehouse School of Medicine."
Mayor Dickens is also readying the city for its biggest international event since the 1996 Olympics, as one of the major host cities for the 2026 FIFA World Cup. "Billions of people will be watching this event for several weeks and traveling to go to various cities for games and matches," he said. "I want Atlanta to be on display. I want people to see us with the bright lights. I want them to see the arenas and see our cultural stuff and our civil rights legacy and everything else. I don't want it to just happen to Atlanta. I want it to happen with Atlanta."
Launched earlier this year, Danforth Dialogues focuses on the leadership lessons from the frontlines of the COVID-19 pandemic and their broader implication for society. Named after the historic Danforth Chapel on the Morehouse College campus, the podcast series features a cross-section of guests and topics.
To hear this edition of the podcast, click here. For more information about the Danforth Dialogues leadership series, click here.
To listen and subscribe to the Danforth Dialogues podcast, click here.
For more information about Morehouse School of Medicine, please visit MSM.edu.
About Morehouse School of Medicine
Founded in 1975, Morehouse School of Medicine (MSM) is among the nation's leading educators of primary care physicians, biomedical scientists, and public health professionals. An independent and private historically-Black medical school, MSM was recognized by the Annals of Internal Medicine as the nation's number one medical school in fulfilling a social mission—the creation and advancement of health equity. Morehouse School of Medicine's faculty and alumni are noted for excellence in teaching, research, and public policy, as well as exceptional patient care. MSM is accredited by the Commission on Colleges of the Southern Association of Colleges and Schools to award doctoral and master's degrees. To learn more about programs and donate today, please visit www.msm.edu or call 404-752-1500.
Contact
Jamille Bradfield
Morehouse School of Medicine
jbradfield@msm.edu