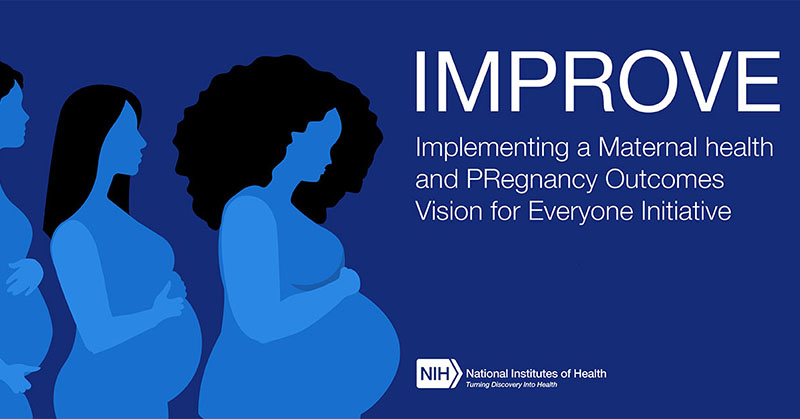 Morehouse School of Medicine Selected by National Institutes of Health to Establish Maternal Health Research Center of Excellence
MSM, in partnership with Emory University, will receive NIH grant to develop and test
programs aimed at tackling the nation's high maternal mortality rate.
ATLANTA – AUGUST 28, 2023 – Morehouse School of Medicine (MSM) and Emory University are proud to announce that they have been selected by the National Institutes of Health (NIH) as one of 12 grantees to create Maternal Health Research Centers of Excellence in order to develop and evaluate innovative approaches to reduce pregnancy-related complications and deaths and to promote maternal health equity.
The MSM Center for Maternal Health Equity, under the leadership of Executive Director Natalie D. Hernandez, PhD, MPH, will collaborate with Emory University's Hannah L.F. Cooper, ScD, and Anne Dunlop, MD, MPH, to launch the Center to Advance Reproductive Justice and Behavioral Health among Black Pregnant/Postpartum Women and Birthing People (CORAL). Cooper holds the Rollins Chair in Substance Use Disorders Research in the Department of Behavioral, Social, and Health Education Sciences at the Rollins School of Public Health; Dunlop serves as professor and director of clinical research with the Department of Gynecology and Obstetrics at Emory University School of Medicine.
Developed through a partnership between Morehouse School of Medicine, Emory University, and a robust network of community partners, CORAL's mission is to help Black women survive and thrive while pregnant and postpartum, by translating maternal behavioral health research and interventions into multilayered action with communities.
Nationally, the NIH is awarding a total of $24 million in first-year funding as part of its Implementing a Maternal health and PRegnancy Outcomes Vision for Everyone (IMPROVE) Initiative, which is co-led by the Eunice Kennedy Shriver National Institute of Child Health and Human Development (NICHD), the NIH Office of Research on Women's Health, and the National Institute of Nursing Research, with involvement from several other components at NIH. The grants are expected to last seven years and total an estimated $168 million, pending the availability of funds.
"In close partnership with Black women and the organizations that serve them, CORAL will help reduce Black maternal morbidity and mortality by generating community-driven, multilayered evidence and interventions to support Black women's maternal behavioral health, thus helping to end longstanding neglect of these intertwined crises, and the pernicious legacy of excluding Black women from related research," Hernandez said.
Maternal behavioral health conditions – such as anxiety, perinatal and postpartum depression, and birth-related PTSD – are the most common complications of pregnancy and childbirth, affecting 1 in 5 women, and disproportionately afflict Black women. Overdoses, substance use disorders, and related harms are surging among Black women and are already a leading cause of maternal mortality among Black women in multiple states. Georgia is a vital site for this work: the state has among the highest pregnancy-related mortality ratios in the US, and Black women experience a rate that is 2.3 times that of White women. The state Maternal Mortality Review Committee has found that behavioral health conditions are a leading – and growing – cause of maternal death. CORAL will mobilize academic and community partners to support Black maternal behavioral health in Georgia and beyond.
"The magnitude and persistence of maternal health disparities in the United States underscore the need for research to identify evidence-based solutions to promote health equity and improve outcomes nationwide," said NICHD Director Diana W. Bianchi, MD. "Through collaborations with community partners and others, the Maternal Health Research Centers of Excellence will generate critical scientific evidence to help guide clinical care and reduce health disparities during and after pregnancy."
The new Centers of Excellence include 10 research centers, a data innovation and coordinating hub and an implementation science hub. Together, these institutions will work to design and implement research projects to address the biological, behavioral, environmental, sociocultural, and structural factors that affect pregnancy-related complications and deaths. They will focus on populations that experience health disparities, including racial and ethnic minorities, socioeconomically disadvantaged populations, those living in underserved rural areas, sexual and gender minority populations, and people with disabilities. For a complete list of the institutions who will take part, click here.
Research centers will partner with community collaborators, such as state and local public health agencies, community health centers and faith-based organizations. Additionally, the research centers will support training and professional development of maternal health researchers, including those from backgrounds underrepresented in the biomedical research workforce.
The MSM Center for Maternal Health Equity was established in 2019 to urgently address the disparate rates of maternal mortality and morbidities among Black women in Georgia and nationally. Through funding and commission from the Georgia state legislature, the Center's mission is to pursue equity in maternal health by building and strengthening community-academic partnerships, developing a competitive translational research program, and offering interdisciplinary and professional training.
More information about the IMPROVE Initiative is available by clicking here.
To learn more about the MSM Center for Maternal Health Equity, please visit CenterforMaternalHealthEquity.org.
For more information about Morehouse School of Medicine, please visit MSM.edu.
About Morehouse School of Medicine
Founded in 1975, Morehouse School of Medicine (MSM) is among the nation's leading educators of primary care physicians, biomedical scientists, and public health professionals. An independent and private historically-Black medical school, MSM was recognized by the Annals of Internal Medicine as the nation's number one medical school in fulfilling a social mission — the creation and advancement of health equity. MSM faculty and alumni are noted for excellence in teaching, research, and public policy, as well as exceptional patient care. MSM is accredited by the Commission on Colleges of the Southern Association of Colleges and Schools to award doctoral and master's degrees. To learn more about programs and donate today, please visit MSM.edu or call 404-752-1500.
Contact
Jamille Bradfield
Morehouse School of Medicine
jbradfield@msm.edu