Morehouse School of Medicine Appoints Dr. John H. Stewart, IV, as Chair of Surgery
Nationally recognized surgical oncologist will also serve as Associate Dean for oncological programs
and Chief of Surgery for MSM at Grady Health System.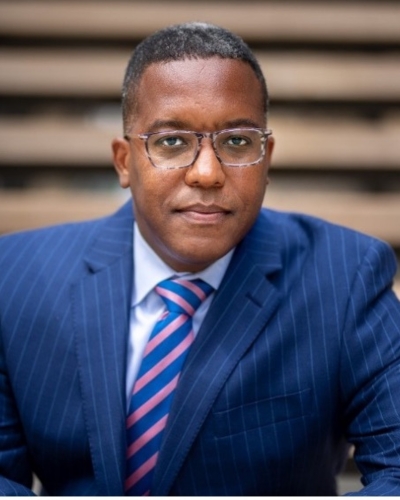 Dr. John H. Stewart, IV
Chair of Surgery, Morehouse School of Medicine
ATLANTA – JULY 11, 2023 – Morehouse School of Medicine (MSM) is excited to welcome John H. Stewart, IV, MD, MBA, FACS, as its new Chair of the Department of Surgery. Dr. Stewart will also serve as Chief of Surgery for Morehouse School of Medicine at Grady Health System and Associate Dean for oncological programs at MSM.
"We are thrilled that Dr. John Stewart is joining Morehouse School of Medicine," said MSM Executive Vice President of Health Affairs and Dean Joseph A. Tyndall, MD, MPH. "With his broad and multifaceted experience in surgery and oncology, Dr. Stewart will provide unparalleled leadership and insights to MSM students and faculty, as well as to the health care providers and patients at Grady Health System. We look forward to the impact Dr. Stewart will have on MSM and the communities we care for."
Dr. Stewart is a nationally recognized surgeon scientist who is currently a professor of surgery at the Louisiana State University (LSU) Health New Orleans School of Medicine and the founding director of the LSU-Louisiana Children's Medical Center (LCMC) Health Cancer Center, where he is responsible for the overall mission, vision, and direction for multidisciplinary cancer care and cancer clinical research programs for LSU Health New Orleans and LCMC Health.
"It has been one of my greatest professional honors to serve as the inaugural director of the LSU-LCMC Health Cancer Center," Dr. Stewart said. "We made tremendous progress in addressing cancer incidence and outcomes in Louisiana during my tenure. I wish the Cancer Center continued success." Dr. Stewart continued, "I look forward to the new challenges as the chair of surgery and associate dean for oncology programs at Morehouse School of Medicine. MSM has a storied history of service to the greater Atlanta community and now is a pivotal time in the school's trajectory as emerging partnerships will launch an era of unprecedented growth in surgery and oncology. I am truly honored to lead these efforts."
"During his time with the LSU-LCMC Health Cancer Center, Dr. John Stewart has made remarkable strides in leading our efforts in pursuit of a National Cancer Institute designation," said LCMC Health president and chief medical officer John Heaton, MD. "His commitment to improving the quality of cancer care and patient outcomes has supported LCMC Health's mission of health, care, and education beyond extraordinary. We wish Dr. Stewart the best in his future endeavors at Morehouse School of Medicine."
Prior to his tenure at LSU, Dr. Stewart served as the deputy director for the University of Illinois Cancer Center and physician executive for oncology services for the University of Illinois Health System. He was also a member of the initial class of Presidential Scholars for the University of Illinois. Dr. Stewart's previous leadership roles include serving as the chief of surgery at the Durham Veterans Affairs Medical Center, vice-chair of the Wake Forest School of Medicine Department of Surgery, and associate dean for clinical research and innovation as well as the General Surgery Program Director at the Wake Forest University School of Medicine.
Dr. Stewart received his medical degree from Howard University and completed his general surgery residency at the Vanderbilt University Medical Center. He completed fellowships in surgical oncology, tumor immunology, and molecular oncology at the National Cancer Institute. He also holds a Master of Business Administration degree from Wake Forest University. Dr. Stewart has established a national profile in education, scientific research, and cancer care delivery to underserved populations. His clinical interests are in general surgical oncology, focusing on melanoma, tumor immunotherapy, and peritoneal surface malignancies.
Dr. Stewart serves as a director for the American Board of Surgery, the chair of the American College of Surgeons Advisory Council for General Surgery, and is a member of the Halsted Society Board of Directors. He is also active in leadership in the American Association for Cancer Research as a member of the Cancer Center Director's Steering Committee and Vice Chair of the Program Committee.
First established as a two-year medical program at Morehouse College in 1975, Morehouse School of Medicine has been an independent institution since 1981. In addition to its world-renowned Doctor of Medicine program, MSM offers a wide range of health sciences doctorate and master's degrees in public health, biomedical sciences, and physician assistant studies. Many programs are available online or in a hybrid format for distance learners.
For more information about Morehouse School of Medicine and its Board of Trustees, please visit MSM.edu.
About Morehouse School of Medicine
Founded in 1975, Morehouse School of Medicine (MSM) is among the nation's leading educators of primary care physicians, biomedical scientists, and public health professionals. An independent and private historically-Black medical school, MSM was recognized by the Annals of Internal Medicine as the nation's number one medical school in fulfilling a social mission — the creation and advancement of health equity. MSM faculty and alumni are noted for excellence in teaching, research, and public policy, as well as exceptional patient care. MSM is accredited by the Commission on Colleges of the Southern Association of Colleges and Schools to award doctoral and master's degrees. To learn more about programs and donate today, please visit MSM.edu or call 404-752-1500.
Contact
Jamille Bradfield
Morehouse School of Medicine
jbradfield@msm.edu