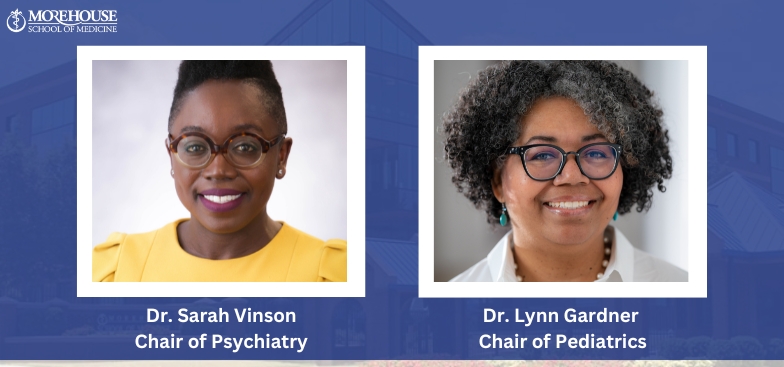 Morehouse School of Medicine Appoints Dr. Sarah Vinson to Chair of Psychiatry and Dr. Lynn Gardner to Chair of Pediatrics
MSM faculty members promoted to permanent roles after serving as interim department chairs.
ATLANTA – JULY 14, 2023 – Morehouse School of Medicine (MSM) is pleased to announce the promotions of Dr. Sarah Vinson to Chair of the Department of Psychiatry and Behavioral Sciences and Dr. Lynn Gardner to Chair of the Department of Pediatrics. Dr. Vinson and Dr. Gardner previously served as interim chairs of their respective departments.
"Morehouse School of Medicine has been immeasurably enriched by the contributions that Dr. Vinson and Dr. Gardner have made to our students, their fellow faculty members, and the institution as a whole," said MSM Executive Vice President of Health Affairs and Dean Joseph A. Tyndall, MD, MPH. "We are thrilled that they will continue to head their respective departments going forward as Morehouse School of Medicine carries out our mission of leading the creation and advancement of global health equity to achieve health justice."
Dr. Vinson became Interim Chair of Psychiatry and Behavioral Sciences in July 2022 following a decade as a faculty member at MSM. She is a triple board-certified child & adolescent, adult, and forensic psychiatrist, and a Professor of Psychiatry. Dr. Vinson received her Bachelor of Science from Florida A&M University and her medical degree from the University of Florida College of Medicine. There she was an inductee in the Chapman Humanism Honors Society and graduated with Research Honors. She completed her general psychiatry training at Cambridge Health Alliance/Harvard Medical School, followed by fellowships in both Child & Adolescent and Forensic psychiatry at Emory School of Medicine.
Dr. Vinson was the lead architect of and inaugural Program Director for the MSM Child & Adolescent Psychiatry Fellowship, the first at an HBCU medical school. While leading that program, Dr. Vinson successfully shepherded it through the Accreditation Council for Graduate Medical Education (ACGME) accreditation process, spearheaded collaborations with over a dozen community partners, recruited a robust faculty, and obtained over $1.8 million in grant funding.
Dr. Vinson is a national thought leader regarding the intersections of social justice, criminal justice, and mental health. Her co-authored articles have been in publications including the New England Journal of Medicine, the Lancet Child & Adolescent Health, and the World Psychiatry Journal. She is on the boards of the American Association of Community Psychiatry and of the Bazelon Center for Mental Health Law, and she is one of two Psychiatry Advisors for the Judges and Psychiatrists Leadership Initiative. She is the co-editor of two texts, Pediatric Mental Health for Primary Care Providers and Social (In)Justice and Mental Health. The latter won the Society for the Study of Psychiatry and Culture's 2022 Creative Scholarship Award and is used by academic and public sector institutions across the country for curricula development and trainings.
Dr. Gardner was appointed Interim Chair of Pediatrics in January 2022 after five years on the MSM faculty. She also serves as Director of the Pediatric Residency Training Program and is credited with significantly increasing the board pass rate for the program, as well as expanding subspecialty opportunities for pediatric residents. Dr. Gardner continues to direct the Community Pediatrics Rotation, which focuses on the social determinants of health and health disparities.
Dr. Gardner is a member of the Board of Directors for the Georgia Chapter of the American Academy of Pediatrics. Nationally, Dr. Gardner has served as co-chair of the Associate Program Directors Special Interest Group in the Association of Pediatric Program Directors, and as a member of the Advisory Committee on Childhood Lead Poisoning Prevention with the Centers for Disease Control and Prevention (CDC). As chair of the Educational Interventions for Lead Exposed Children workgroup, Dr. Gardner led a team whose work culminated in the widely accepted national standards of care. She also served as Medical Staff President, Hospital Board Member for Children's Healthcare of Atlanta at Hughes Spalding, and on the System Medical Executive Committee for Children's Healthcare of Atlanta.
Dr. Gardner co-founded a 501(c)(3) non-profit organization called Exceeding The Mark Inc. The organization provides one-on-one in-home tutoring services for low and middle-income children. The idea for the non-profit came from a need she saw with her patients. She is responsible for program development and fundraising.
First established as a two-year medical program at Morehouse College in 1975, Morehouse School of Medicine has been an independent institution since 1981. In addition to its world-renowned Doctor of Medicine program, MSM offers a wide range of health sciences doctorate and master's degrees in public health, biomedical sciences, and physician assistant studies. Many programs are available online or in a hybrid format for distance learners.
For more information about Morehouse School of Medicine and its Board of Trustees, please visit MSM.edu.
About Morehouse School of Medicine
Founded in 1975, Morehouse School of Medicine (MSM) is among the nation's leading educators of primary care physicians, biomedical scientists, and public health professionals. An independent and private historically-Black medical school, MSM was recognized by the Annals of Internal Medicine as the nation's number one medical school in fulfilling a social mission — the creation and advancement of health equity. MSM faculty and alumni are noted for excellence in teaching, research, and public policy, as well as exceptional patient care. MSM is accredited by the Commission on Colleges of the Southern Association of Colleges and Schools to award doctoral and master's degrees. To learn more about programs and donate today, please visit MSM.edu or call 404-752-1500.
Contact
Jamille Bradfield
Morehouse School of Medicine
jbradfield@msm.edu