MSM Returns to King Chapel to Celebrate Class of 2023 During 39th Commencement Exercises
Historically Black Medical School Awards Master and Doctorate Degrees in Medicine,
Public Health, and Biomedical Sciences to 170 Graduates.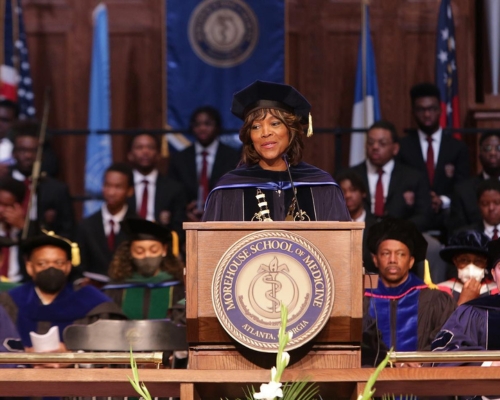 Dr. Valerie Montgomery Rice
President & CEO, Morehouse School of Medicine.
ATLANTA – MAY 24, 2023 – Morehouse School of Medicine (MSM) conferred doctorate and master's degrees in medicine, public health, and biomedical sciences to 170 students, its largest graduating class in history, during its 39th Commencement Exercises on Saturday, May 20. After a three-year hiatus due to the pandemic, the emotional and uplifting ceremony returned to the Martin Luther King, Jr. International Chapel at Morehouse College, where MSM was founded more than 45 years ago before becoming an independent institution in 1981.
"As you go forward, hold strong to the principles and guiding forces that compelled you to this life of service. Understand that you are the legacy of this institution," Valerie Montgomery Rice, MD, FACOG, President and CEO, MSM, told the graduates. "The bonds you have forged do not cease now that you have graduated. Instead, much like the roots of a blossoming tree, they will continue to grow and extend deep into the foundation, anchoring you no matter the force of winds or rain ahead."
Chiquita Brooks-LaSure, Administrator for the Centers for Medicare & Medicaid Services, was the featured Commencement speaker. She reminded the graduates that, to their future patients, they will be "the face of health care" which requires a commitment to serve individuals and communities as well as to work toward structural change.
"The work of health care is like no other. It is the foundation of our ability to achieve life, liberty, and the pursuit of happiness," Brooks-LaSure said. "Your primary responsibility and obligation is to serve your patients to the very best of your ability, and to always combine healing with humanity. By faithfully fulfilling this responsibility, by ensuring that each and every one of your patients receives the best care possible, that is ultimately how you can give health equity a helping hand."
MSM Student Government Association President Jamil Joyner, who received a Doctor of Medicine degree and will stay at MSM to conduct a residency in Internal Medicine, and Morehouse School of Medicine National Alumni Association President Frank Jones, MD, '91 also addressed the assembled crowd.
By the Numbers
The historically Black medical school, one of only four in the United States, awarded a total of 170 degrees during the celebration.
92 Doctor of Medicine degrees
Three Doctor of Philosophy in Biomedical Sciences degrees
37 Master of Science in Medical Sciences degrees
23 Master of Public Health degrees
Seven Master of Science in Health Informatics
Three Master of Science in Biomedical Research degrees
Three Master of Science in Clinical Research degrees
Two Master of Science in Neuroscience degrees
Additional details on Morehouse School of Medicine's extensive academic programs, including master's, doctorate, certificate, and pipeline initiatives, can be found at MSM.edu/Education.
For more information about Morehouse School of Medicine, please visit MSM.edu.
Commencement Highlights
About Morehouse School of Medicine
Founded in 1975, Morehouse School of Medicine (MSM) is among the nation's leading educators of primary care physicians, biomedical scientists, and public health professionals. An independent and private historically-Black medical school, MSM was recognized by the Annals of Internal Medicine as the nation's number one medical school in fulfilling a social mission — the creation and advancement of health equity. MSM faculty and alumni are noted for excellence in teaching, research, and public policy, as well as exceptional patient care. MSM is accredited by the Commission on Colleges of the Southern Association of Colleges and Schools to award doctoral and master's degrees. To learn more about programs and donate today, please visit MSM.edu or call 404-752-1500.
Contact
Jamille Bradfield
Morehouse School of Medicine
jbradfield@msm.edu