MSM's "Danforth Dialogues" Features CMS Administrator Chiquita Brooks-LaSure
MSM President and CEO Dr. Valerie Montgomery Rice discusses CMS health equity,
maternal mortality initiatives, with Administrator Brooks-LaSure.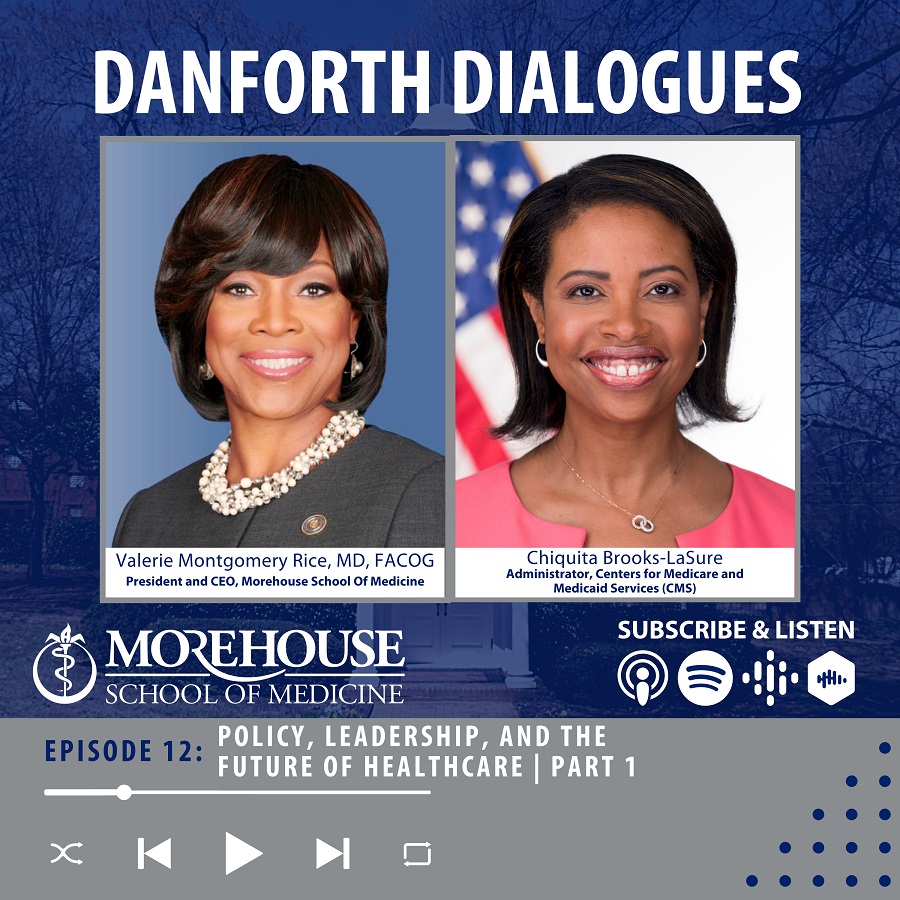 ATLANTA – MAY 30, 2023 – Morehouse School of Medicine (MSM) today published the latest edition of its "Danforth Dialogues" podcast, featuring a conversation between MSM President and CEO Dr. Valerie Montgomery Rice and Chiquita Brooks-LaSure, the first Black woman to serve as administrator of the Centers for Medicare & Medicaid Services.
Administrator Brooks-LaSure, who has more than two decades of experience in healthcare policy and administration in both government and the private sector, served as the 2023 Morehouse School of Medicine commencement speaker, joining Dr. Montgomery Rice in the first of a two-part podcast the day before commencement exercises.
"We were thrilled to have Administrator Brooks-LaSure as our 2023 commencement speaker because she has been at the forefront of some of the most challenging periods in healthcare policy including helping to marshal Obamacare through Congress and coordinating CMS' response to the COVID-19 pandemic," said Dr. Montgomery Rice.
Administrator Brooks-LaSure is a graduate of Princeton University with a Master of Public Policy from Georgetown University. She served as Deputy Director for Policy at the Center for Consumer Information and Insurance Oversight in CMS during the Obama administration where she helped shepherd the passage of the Affordable Care Act. She talked to Dr. Montgomery Rice about leadership lessons learned during that process.
"The President was committed to health reform because a third of the bankruptcies in the country at that time were because of healthcare debt," Administrator Brooks-LaSure said. "There are so many lessons from that time. Some of those lessons are to stay focused. What's the end goal?"
Administrator Brooks-LaSure has also made health equity a central pillar of CMS' strategic approach, noting, "I think we all got a real lesson on what disparities mean to the health care system because when one of us doesn't have access to health care, it affects all of us…we have six pillars in our strategic plan and the first one is health equity."
During the conversation, Dr. Montgomery Rice and Administrator Brooks-LaSure also touched on the critical issue of maternal mortality among Black women and CMS' launch of a Maternity Action Plan last year.
"This is a crisis, and we need to make sure that we all work together to address this problem," said Administrator Brooks-LaSure who added that the issue is extremely important to the Biden administration, particularly Vice President Kamala Harris who has been "incredibly engaged" on the topic.
Launched in 2022, Danforth Dialogues focuses on leadership lessons from the frontlines of the COVID-19 pandemic and their broader implications for society. Named after the historic Danforth Chapel on the Morehouse College campus, the podcast series features a cross-section of guests and topics.
To hear this edition of the podcast, click here. Be sure to tune into next month's Danforth Dialogues which will feature the second part of the conversation with Administrator Brooks-LaSure. For more information about the Danforth Dialogues leadership series, click here.
To listen and subscribe to the Danforth Dialogues podcast, click here.
For more information about Morehouse School of Medicine, please visit MSM.edu.
About Morehouse School of Medicine
Founded in 1975, Morehouse School of Medicine (MSM) is among the nation's leading educators of primary care physicians, biomedical scientists, and public health professionals. An independent and private historically-Black medical school, MSM was recognized by the Annals of Internal Medicine as the nation's number one medical school in fulfilling a social mission—the creation and advancement of health equity. Morehouse School of Medicine's faculty and alumni are noted for excellence in teaching, research, and public policy, as well as exceptional patient care. MSM is accredited by the Commission on Colleges of the Southern Association of Colleges and Schools to award doctoral and master's degrees. To learn more about programs and donate today, please visit www.msm.edu or call 404-752-1500.
Contact
Jamille Bradfield
Morehouse School of Medicine
jbradfield@msm.edu