Over the Air, In the Streets, On the Web: Morehouse Healthcare Stresses 'Compassionate Care, Innovative Medicine'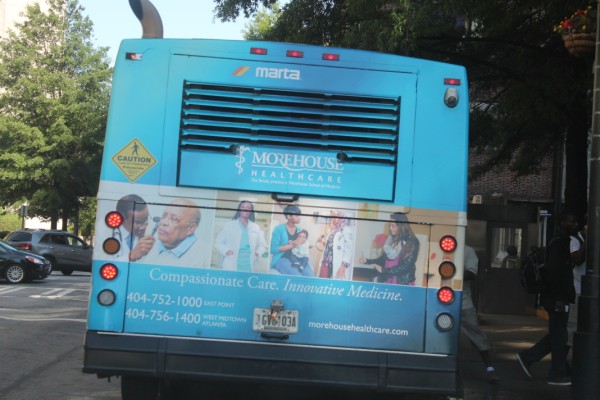 The Morehouse Healthcare brand has gotten a facelift that better communicates its longstanding commitment to the local community and reaffirms its focus on clinical expertise and optimized care.
A radio, TV, billboard and direct-mail campaign is currently underway, while new brochures and a revamped website unveiled earlier this year detail enhancements in patient services. The efforts help reintroduce the community to the medical practice group, which has been providing quality medical care to Atlanta's multi-cultural community since 1985.
Of particular note is the new user-friendly MorehouseHealthcare.com, redesigned to help current and future patients find a specific physician or clinical service, make an appointment or otherwise access care as conveniently as possible.
The selection of medical specialties offered at Morehouse Healthcare, the clinical service arm for Morehouse School of Medicine (MSM), has been enhanced to better serve the community. Recent additions include bariatric and minimally invasive surgeries and the opening of the Optimal Health and Wellness Clinic, which encourages a plant-based diet and lifestyle overhaul.
Here are the advertising efforts that are currently underway or coming soon:
"Compassionate care, innovative medicine" ads on the backs and sides of MARTA city buses
A direct-mail campaign targeting those who live within a 5-mile radius
Three local TV commercials each highlighting one of three areas: bariatric, cosmetic and the overall practice
Radio commercials on 90.1 WABE-FM, 88.5 WRAS-FM, 103.3 WVEE-FM/1380 WAOK-AM and 91.9 WCLK-FM
Digital billboards around the Metro Atlanta area
Previously named Morehouse Medical Associates, Inc., the practice re-emerged three years ago under the Morehouse Healthcare name and is comprised of more than 100 practicing physicians. Morehouse Healthcare's Comprehensive Family Healthcare Center is also a family medicine residential training site for MSM. This allows patients to benefit from the expertise and attention of two physicians during each visit.
"We want to remind area residents that Morehouse Healthcare offers a wide range of procedures right here in their communities—all with a focus on service and optimized care," said MSM's Director of Marketing and Communications Ronna Charles Nu'Man.
Morehouse Healthcare has two convenient locations: one on Howell Mill Road in West Midtown Atlanta and another on East Cleveland Avenue in East Point. For more information, visit MorehouseHealthcare.com or call (404) 756-1400 (Atlanta) or (404) 752-1000 (East Point).