First Two Cardiovascular Fellows Welcomed as New Program is Launched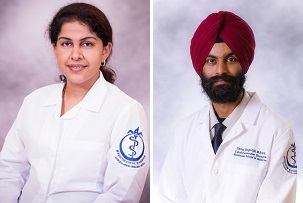 Morehouse School of Medicine (MSM) welcomed its first two cardiovascular fellows in July. The new Cardiovascular Disease Fellowship Training Program is an effort to expand programs offered and prepare specialized doctors to work in Georgia. The first two fellows will start their three-year training program at Grady Memorial Hospital and the Veteran Affairs Medical Center. In the summer of 2018, another two fellows will begin, and then two more in 2019 until there is a total of six participants in the program at any given time.
The first two fellows are Kalaivani Sivakumar, M.D., and Sartaj S. Gill, M.D. Dr. Sivakumar recently finished her residency at MSM. She completed medical school at Thanjavur Medical College in India before coming to Georgia for training. Dr. Gill obtained his M.D. in India as well. He then went on to Maryland to complete his residency. Gill also participated in a Preventive Cardiology Fellowship at Brown University before coming to MSM.
"Morehouse has a special focus on providing health care to the most underserved populations," said Dr. Gill as to why he wished to take part in the fellowship. "Training at the new cardiovascular disease program here would allow me to not only become clinically skilled but also understand the effects of socioeconomic conditions on health."
MSM's Chief of Cardiology Dr. Anekwe Onwuanyi is proud that there was a 100 percent match for the program in its first year, especially considering it does not have a history. He hopes this new fellowship will address the low number of minorities trained in cardiology. "Given the disparities in outcomes, it was important to have this cardiology fellowship at the Morehouse School of Medicine that would help to bridge that gap," he said. Dr. Onwuanyi hopes this program will increase the number of cardiologists in Georgia and in underserved communities as well.
About Morehouse School of Medicine (MSM)
Founded in 1975, Morehouse School of Medicine (MSM) is among the nation's leading educators of primary care physicians, biomedical scientists and public health professionals. In 2011, MSM was recognized by Annals of Internal Medicine as the nation's No. 1 medical school in fulfilling a social mission. MSM faculty and alumni are noted for excellence in teaching, research and public policy, as well as exceptional patient care.
Morehouse School of Medicine is accredited by the Commission on Colleges of the Southern Association of Colleges and Schools to award doctoral and master's degrees. To learn more about programs and donate today, please visit www.msm.edu or call 404-752-1500.