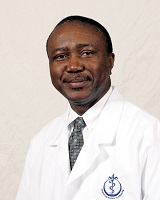 Education
POSTGRADUATE:
College of Physicians and Surgeons, Columbia University, Harlem Hospital Center, NY
Residency: Internal Medicine

College of Physicians and Surgeons, Columbia University, Harlem Hospital Center, NY
Fellowship: Cardiology

MEDICAL SCHOOL:
University of Lagos
Degree: Doctor of Medicine
Research Interests
General cardiovascular diseases with particular expertise in heart failure research and treatment.
Board Certification
American Board of Internal Medicine

American Board of Internal Medicine Cardiovascular Disease

Advanced Heart Failure and Transplant Cardiology
Publications
Mentz RJ, Bittner V, Schulte PJ, Fleg JL, Piña IL, Keteyian SJ, Moe G, Nigam A, Swank AM, Onwuanyi AE, Fitz-Gerald M, Kao A, Ellis SJ, Kraus WE, Whellan DJ, O'Connor CM. Race, exercise training, and outcomes in chronic heart failure: findings from Heart Failure - a Controlled Trial Investigating Outcomes in Exercise TraiNing (HF-ACTION). Am Heart J. 2013 Sep;166(3):488-95. doi: 10.1016/j.ahj.2013.06.002. Epub 2013 Jul 12. PMID: 24016498

Adesunloye BA, Valadri R, Mbaezue NM, Onwuanyi AE. Impact of peripheral arterial disease on functional limitation in congestive heart failure: results from the national health and nutrition examination survey (1999-2004). Cardiol Res Pract. 2012;2012:306852. doi: 10.1155/2012/306852. Epub 2012 Dec 17. PMID: 23346456

Henriques-Forsythe MN, Ivonye CC, Jamched U, Kamuguisha LK, Olejeme KA, Onwuanyi AE. Is telemetry overused? Is it as helpful as thought? Cleve Clin J Med. 2009 Jun;76(6):368-72. doi: 10.3949/ccjm.76a.07260. Review. PMID: 19487558

Onwuanyi AE, Abe O, McMahon DJ, Weil HF, Philbin EF, Francis CK, Marx H, Reed RG. Disparity in frequency of normal coronary artery in black and white patients undergoing cardiac catheterization. Ethn Dis. 2006 Spring;16(2):370-4. PMID: 17682237

Onwuanyi AE, Abe O, Quarshie A, Al-Mahmoud A, Lapu-Bula R, Francis CK, Ofili E. Comparative frequency of angiographic coronary artery disease in African Americans and Hispanics. Ethn Dis. 2006 Winter;16(1):58-63. PMID: 16599349

Nwizu C, Onwuanyi AE. Acute myocarditis presenting as cardiac tamponade. J Natl Med Assoc. 2004 Nov;96(11):1503-6. PMID: 15586655


Click here to view additional publications.
Honors and Awards
2016: Get with the Guidelines Heart Failure Gold Plus Quality Achievement Hospital Award, American Heart Association

2016: Fellow, Heart Failure Society of America

2014: Heart Failure Bronze Achievement Hospital Award American Heart Association

2013: Gage Award in Quality:Grady Heart Failure Program