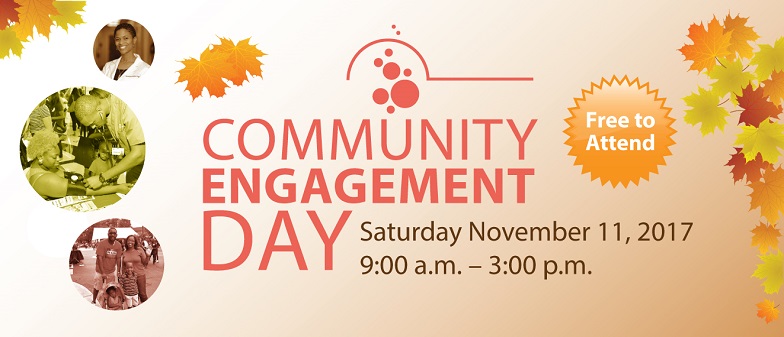 MSM Connects with Community for Day of
Healthy Fun and Engagement

Every day, residents of Atlanta's West End drive or walk by Morehouse School of Medicine (MSM)'s brick buildings, but few know fully what the school does and who we serve.
That is why MSM opened its doors to its neighbors for its annual free Community Engagement Day on Saturday, November 11.
"It's a way to bring people who don't normally come to a college campus to be able to come out here, experience what we do and celebrate what we do as a community," said Natalie Hernandez, Ph.D., M.P.H., assistant professor of Community Health and Preventive Medicine.
Community Engagement Day is not a health fair according to Hernandez. While there were health screenings, free HIV tests, and flu shots, the focus of the day was on celebrating the people and partnerships who are working together to encourage and support healthy communities.
"We had classes on financial literacy, we had capacity building issues around grief, things related to physical and mental health, transportation, and more," said Hernandez. "We try to address all the things that contribute to health and health disparities."
The event also featured local vendors showcasing their products and programs. Local veterans were also honored as this year's event fell on Veterans Day.
"Communities are instrumental to the work that we do [at MSM]," said Hernandez. "In order for our communities to be invested in us, we need to be invested in our communities. We can't do anything without them, so why not highlight and celebrate what they already do for us?"

About Morehouse School of Medicine (MSM)
Founded in 1975, Morehouse School of Medicine (MSM) is among the nation's leading educators of primary care physicians, biomedical scientists, and public health professionals. In 2011, MSM was recognized by Annals of Internal Medicine as the nation's No. 1 medical school in fulfilling a social mission. MSM faculty and alumni are noted for excellence in teaching, research and public policy, as well as exceptional patient care.
Morehouse School of Medicine is accredited by the Commission on Colleges of the Southern Association of Colleges and Schools to award doctoral and master's degrees. To learn more about programs and donate today, please visit www.msm.edu or call 404-752-1500.