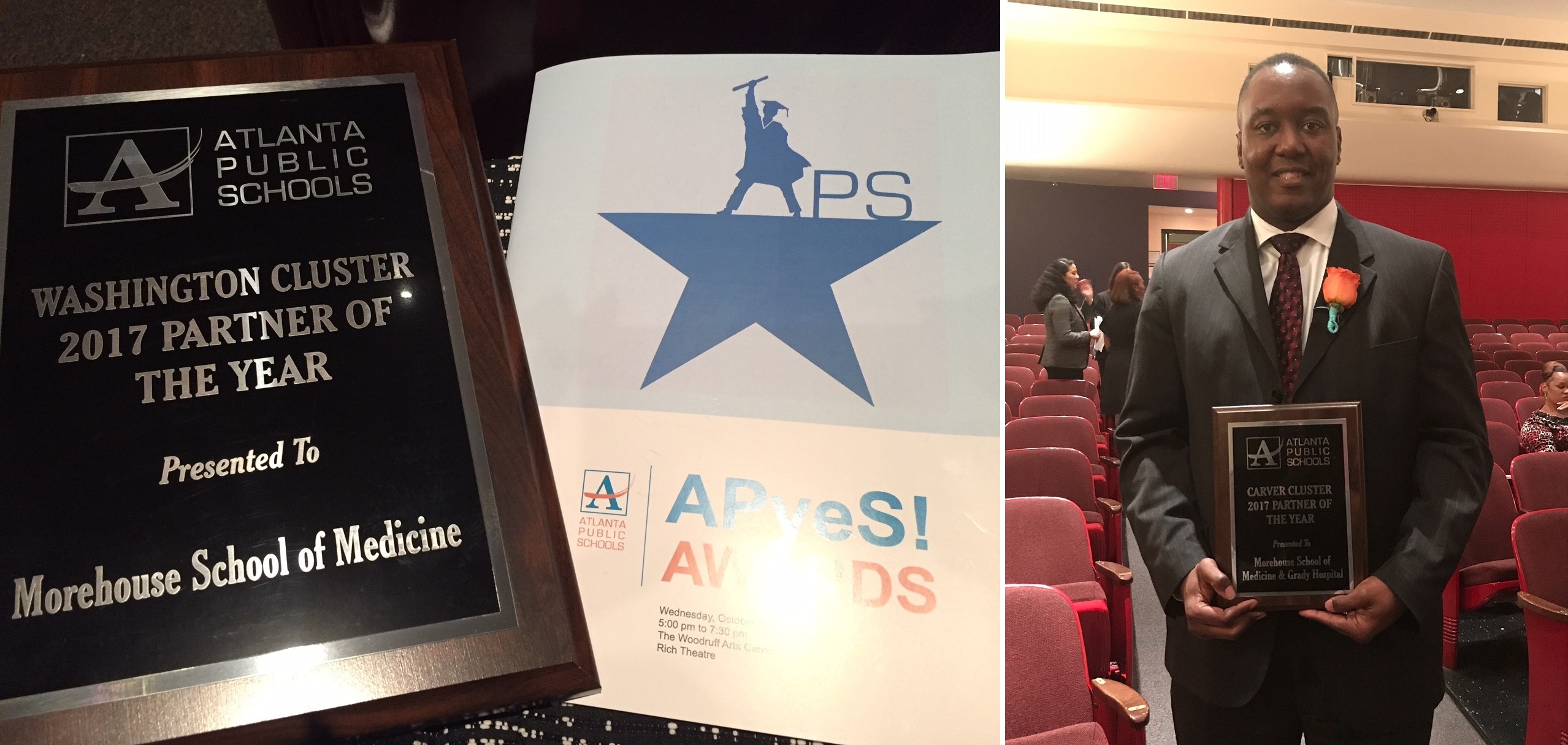 MSM Receives Two APyeS! Cluster Partner of the Year Awards from Atlanta Public Schools

For the second year in a row, Morehouse School of Medicine (MSM) was named Partner of the Year for the Booker T. Washington High School Cluster by Atlanta Public Schools (APS). The APyeS! Awards were presented at a ceremony on Wednesday, October 25. The award was given to MSM for its work with the Tuskegee Airmen Global Academy. MSM received a second Partner of the Year award along with its colleagues at Grady Health Systems for their work with the New Schools at Carver Cluster through the Reach One Each One Youth Mentoring and Medical Exposure Program.
Criteria for these prestigious community-based awards include that the program is sustainable and meaningful to students and staff at the school, meets the needs of the school, and is implemented without expectation of something in return from APS or the individual school.
Recipients of the Partner of the Year Award for each of the nine school-based clusters were also finalists for the school-based Partner of the Year Award for the entire APS system. MSM won that award for the 2016-17 year.

About Morehouse School of Medicine (MSM)
Founded in 1975, Morehouse School of Medicine (MSM) is among the nation's leading educators of primary care physicians, biomedical scientists, and public health professionals. In 2011, MSM was recognized by Annals of Internal Medicine as the nation's No. 1 medical school in fulfilling a social mission. MSM faculty and alumni are noted for excellence in teaching, research and public policy, as well as exceptional patient care.
Morehouse School of Medicine is accredited by the Commission on Colleges of the Southern Association of Colleges and Schools to award doctoral and master's degrees. To learn more about programs and donate today, please visit www.msm.edu or call 404-752-1500.