Veena Rao, Ph.D. Awarded Breast Cancer Research Award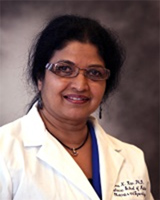 Veena N. Rao, Ph.D., Professor of Obstetrics and Gynecology, and Co-Director of the Cancer Biology Program at Morehouse School of Medicine is one of three breast cancer researchers from three different universities in Georgia awarded $50,000 thanks to funding from It's The Journey and The Georgia Center for Oncology Research and Education (Georgia CORE). The two non-profits teamed up to provide $150,000 to recognize creative ideas that may advance progress toward detecting, treating or curing breast cancer. Dr. Rao will study "Novel Biomarkers for Early Detection of Triple Negative Breast Cancer"
It's The Journey funded $125,000 of the grant awards through proceeds from the 2018 Georgia 2-Day Walk for Breast Cancer, and Georgia CORE funded $25,000 with monies from the Georgia State Income Tax Check-Off award. The award was made at the end of the walk.
"We had several excellent applicants and feel confident that our reviewers have selected sound, creative ideas of scientific importance for the 2018 Breast Cancer Research Awards," says Laurel Sybilrud, Chairman of the Board for It's The Journey.
All research plans are based on national research priorities.
"This one-year pilot funding supports investigators in achieving proof-of-principle," says Nancy Paris, President and Chief Executive Officer of Georgia CORE. "We support the researchers' efforts to establish that an idea, invention or process is feasible, so that they can move forward in applying for more extensive funding."
Georgia CORE oversees the scientific review process. Rating criteria includes scientific importance, innovation, potential impact, investigator and institutional capacity, collaboration and inclusion of disparate populations. Proposals were ranked by a scientific review team composed of Cletus Arciero, M.D. of Emory University; Bindu Lingam, M.D. of Kaiser Permanente; Petros Nikolinakos, M.D., CPI of University Cancer and Blood Center; Frederick M. Schnell, M.D., F.A.C.P. of Community Oncology Associates and Jayanthi Srinivasiah, M.D. of Georgia Cancer Specialists.

The 2018 Georgia 2-Day Walk for Breast Cancer, which took place the weekend of September 29-30, enables It's The Journey to support breast health programs across Georgia. Since 2002, the 2-day Walk has raised $14 million and awarded 335 grants.