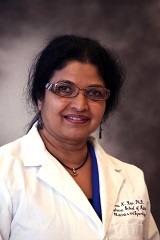 Veena N. Rao, Ph.D.
Professor
Microbiology, Biochemistry & Immunology

Professor & Co-Director of Cancer Biology Program
Obstetrics & Gynecology
Phone: (404) 489-9993
E-mail: vrao@msm.edu
Education
GRADUATE:

Massachusetts Institute of Technology
Degree:
Doctor of Philosophy
Max Planck Institute
Degree:
Doctor of Philosophy
University of Edinburgh
Degree:
Doctor of Philosophy
Osmania University
Degree:
Doctor of Philosophy
Osmania University
Degree:
Master of Science
MEDICAL SCHOOL:
National Cancer Institute
Degree:
Doctor of Medicine
Research Interests
Molecular and Functional Dissection of ELK-1 and BRCA1 Tumor Suppressor Genes in Breast, Ovarian and Prostate Cancers

One of the ongoing projects in my lab is centered on ELK-1 which is a member of the ETS super family of genes (ETS-1, ETS-2, ERG, TEL, PEA3, Fli-1, Elk-1, SAP1, etc.) which we have identified, cloned, characterized their functions and studied their role in leukemia's, lymphomas, and sarcomas. Deregulation and mutations of ETS proteins are predominantly found in human cancers. The defective functioning of this signaling network is the root cause of widespread diseases such as cancer. ELK-1 thus forms a central integration point for both growth as well as stress signals and plays a major role in cell proliferation, apoptosis, tumorigenesis, as well as differentiation. We have found the Elk-1 gene product to bind BRCA1 suppress growth and induce apoptosis of human breast and prostate cancer cells. We plan to study the molecular mechanism of growth inhibition and cell death induced by ELK-1 in cancer cells.

The second project in my lab has been on the Breast and Ovarian cancer susceptibility gene BRCA1. I have been working in the BRCA1 field since the discovery of the gene in 1994 and have spearheaded numerous breakthroughs in breast and ovarian cancer research including the identification of two short forms of BRCA1 proteins, BRCA1a/1b which are expressed at reduced levels in breast and ovarian cancers. BRCA1, BRCA1a and BRCA1b are the most evolutionary conserved of all the isoforms. Our pioneering work involves showing mere down regulation of BRCA1 protein in normal cells causes transformation of mouse fibroblasts, high levels of BRCA1a protein induces apoptosis in breast and ovarian cancer cells, BRCA1 nuclear import and export is a regulated process in breast and ovarian cancer cells. BRCA1a/1b which lack nuclear localization signals can enter the nucleus and mitochondria. This is very well cited in a review article, BRCA1: 16 years later (FEBS J. 2010 Aug; 277(15):3071). We have filed patents on this work. The focus of my research is on training Minorities in Cancer Health Disparities Research. This is to bridge the gap in Cancer health disparities seen among AA/Hispanics and White women with Cancer which is the Mission of Morehouse School of Medicine. It is here that we demonstrated for the first time that introducing BRCA1a into triple negative breast cancer (TNBC) cells, ovarian and prostate cancer cells by gene therapy blocks tumor development in mice. This discovery has extraordinary therapeutic ramification. Majority of the patients with BRCA1 mutations develop TNBC and ovarian cancers. TNBC are aggressive and more common among young African American women and currently there are no targeted treatments against these cancers. Similarly BRCA1 dysfunction results in hereditary and sporadic epithelial ovarian cancer and the mechanism is not known. There have been several press releases on this work. Recently we have identified a new binding partner for BRCA1 protein called Ubc9. Our latest work suggests for the first time that BRCA1 proteins need to associate with this target to localize to the nucleus and function as a tumor suppressor of TNBC and ovarian cancers. Loss of binding results in cytoplasmic localization of disease associated mutant BRCA1 proteins which is tumorigenic and inhibits apoptosis. This ground breaking study reveals why young AA women with TNBC who have cytoplasmic mislocalization of BRCA1 proteins often develop BRCA1-associated Hereditary and Sporadic Breast cancers. My group has identified a new trafficking pathway for BRCA1 and malfunction of this by BRCA1 dysfunction can result in TNBC and epithelial ovarian cancer. We have recently obtained a patent for BRCA1 function based assays patent number 8,372,580 with an issue date of Feb 12, 2013. This will lead to the discovery of Ubc9 as an early biomarker that can predict disease progression and drug resistance. We are currently testing whether Ubc9 expression correlates with poor clinical outcome and survival in AA women with TNBC. The BRCA1 function based assays can be used to predict the risk for developing TNBC and to develop BRCA1 mimetic drugs for targeted therapy for TNBC.
Biology of Triple negative Breast, Ovarian and Prostate Cancers
Role of Epigenetic, Nucleo-Cytoplasmic shuttling, posttranslational modifications, mitochondrial dysfunction in Cancers, Cancer and endothelial dysfunction, Cancer and metabolic syndrome.
Gene therapy, EMT, Cell-based assays, Function-based drug design, drug resistance and recurrence in Cancers
Publications
Qin, Y; Xu , J; Aysola, K; Begum, N; Reddy, V; Yuli, Chai; Grizzle,W; Partridge E; Reddy, ESP; Rao, V. N. Ubc9 mediates Nuclear localization and Growth suppression of BRCA1 and BRCA1a proteins. Journal of Cellular Physiology, 2011, Feb 22. doi: 10.1002/jcp.22695. [Epub ahead of print].

Qin,Y; Xu, J; Aysola, K; Begum, N; Reddy, V; Yuli, Chai; Grizzle, W; Partridge E; Reddy, ESP; Rao, V. Ubc9 mediates Nuclear localization and Growth suppression of BRCA1 and BRCA1a proteins. Global Medical Discovery, December 16, 2011. NIHMS36665

Qin,Y; Xu, J; Aysola, K; Oprea, G; Reddy, A ;Matthews, R; Okoli ,J; Cantor, A; Grizzle,W; Partridge E; Reddy, ESP; Landen, C; Rao,V. BRCA1 proteins regulate growth of ovarian cancer cells by tethering Ubc9. American Journal of Cancer Research, 2 (5): 540-548. 2012.

Kartik Aysola, Akshata Desai, Crystal Welch, Jingyao Xu, Yunlong Qin, Vaishali Reddy, Roland Matthews, Charlotte Owens, Joel Okoli, Derrick J. Beech, Chandrika Piyathilake, E Shyam P Reddy, Veena N Rao. Triple Negative Breast Cancer-An overview. Hereditary Genetics, Special Issue title: Hereditary Disorders 2013 (Invited editorial review) Citation Genetics S2: 001. doi:10.4172/2161-1041.S2-001.PMID 25285241. PMC 4181680.

Arpita Desai, Jingyao Xu, Kartik Aysola, Yunlong Qin, Chika Okoli, Ravipati Hariprasad, Ugorji Chinemeren, Candace Gates, Avinash Reddy, Omar Danner, Geary Franklin, Anachebe Ngozi,Guilherme Cantuaria, Karan Singh, William Grizzle, Charles Landen, Edward E Partridge,Valarie Montogomery Rice, E Shyam P Reddy, Veena N Rao. Epithelial Ovarian Cancer- An overview. (Invited editorial article), World Journal of Translational Medicine April 12; 3 (1): 1-36 2014.

Jingyao Xu, Stephanie Agyemang, Yunlong Qin, Kartik Aysola, Mercedes Giles, Gabriela Oprea, Ruth M O' Regan, Edward E. Partridge, Sandra Harris Hooker, Valerie Montgomery Rice, E.Shyam P Reddy and Veena N Rao. A Novel pathway that links Caveolin-1 down regulation to BRCA1 dysfunction in SEOC cells. Enliven: Challenges in Cancer, Vol. 1, issue 1, pg 1-6, 2014.

Click here to view additional publications.
Honors and Awards
2014: Journal of Surgery and Medicine and Enliven: Challenges in Cancer. She was invited to be one of the NCI CRCHD Spot -lighted investigator on the "Grantee Spotlight" page of the CRCHD website for the month of October,

2013: Keynote speaker at the International conference on Emerging trends in Biomarker research-Prospects and challenges, India.

2013: Patent on BRCA1 function based cellular assays for TNBC and Ovarian cancer was designated a patent number 8,372,580 with an issue date of Feb 12

2011: ASIOA Mario Toppo Distinguished Scientist award for her work on BRCA1 dysfunction and cancer health disparities in African American women with TNBC