MSM Cancer Care & Research Community's Dr. Derrick Beech Features in Future of Cancer Care Campaign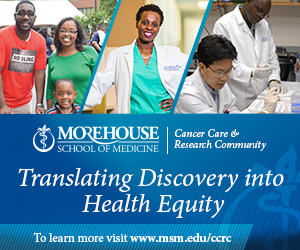 Morehouse School of Medicine (MSM) recently participated in MediaplanetUSA's Future of Cancer Care campaign where industry leaders and associations came together to educate readers on the progress and innovations that are instilling hope for those involved in the cancer community.
MSM Professor of Surgery and Senior Associate Dean for Clinical Affairs and Faculty Development Dr. Derrick Beech contributed an article titled "Coping with Cancer: 7 Tips for Newly Diagnosed Patients" to the Future of Cancer Care campaign.
The campaign was distributed in a centerfold of USA Today on September 11, 2015 and is published on a Mediaplanet's Future of Personal Health site.