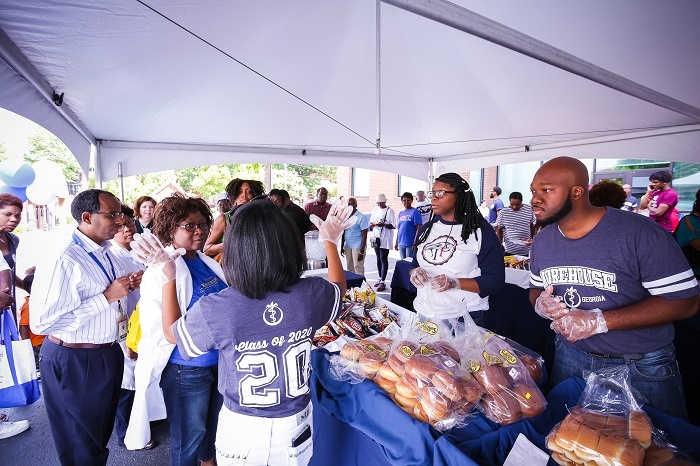 Morehouse School of Medicine Hosts Third Annual
Community Engagement Day

On Saturday, September 17th, Morehouse School of Medicine (MSM) celebrated its commitment to transforming communities through education, clinical care, research and service by hosting its third annual Community Engagement Day. MSM graciously opened its doors, welcoming families, local health and wellness exhibitors, educators, students and policy makers to come together in an ongoing effort to celebrate and promote the stakeholders critical to a thriving community.
An exciting day of enriching activities for all ages, community members experienced full access to an array of complimentary offerings which included: health screenings to test for medical conditions and diseases, fitness demonstrations, chair massages, flu shots, exhibits from over 50 community organizations, interactive S.T.E.A.M. activities, workshops, healthy food, and live entertainment.
This year's theme was health equity: focusing on the importance of providing the highest level of health education and resources for everyone, despite social, economic and environmental conditions.
"Addressing challenges and identifying opportunities towards addressing the factors that serve as barriers or supports to optimal health and quality of life, like opportunities to be physically active and access to healthy foods, are critical to address towards advancing health equity. They require not only a focus on clinical care, but the physical environment, economic stability, emotional health, and partnerships with local decision-makers, agencies and community-based organizations that have a reach and trust communities," said Dr. Tabia Henry Akintobi, associate dean of Community Engagement at MSM.
"Morehouse School of Medicine not only works to catalog the health disparities but a central thread through developing strategic partners towards identifying approaches that bridge the gaps. Community Engagement Day was an exceptional celebration of people and partnerships that will continue the advancement of health equity in our neighborhood and we look forward to documenting the partnership developed and seeded toward demonstrable outcomes and impacts."
About Morehouse School of Medicine (MSM)
Founded in 1975, MSM is among the nation's leading educators of primary care physicians and was recognized by Annals of Internal Medicine in 2011 as the top institution in the first study of U.S. medical schools for our social mission based on our production of primary care physicians, training of underrepresented minority doctors and placement of doctors practicing in underserved communities. Our faculty and alumni are noted for excellence in teaching, research and public policy, as well as exceptional patient care.
Morehouse School of Medicine is accredited by the Southern Association of Colleges and Schools Commission on Colleges to award doctorate and master degrees. For more information, please visit www.msm.edu.