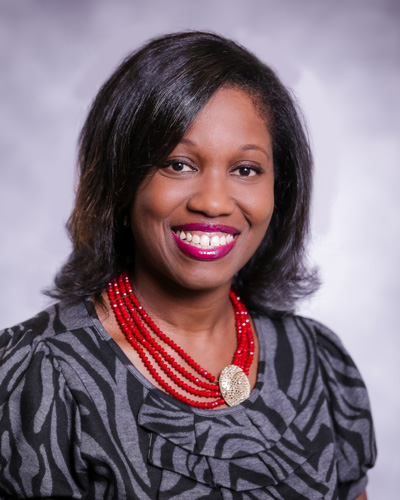 Tabia Henry Akintobi, Ph.D., M.P.H.
Professor
Community Health and Preventive Medicine

Director & Associate Dean
Prevention Research Center & Community Engagement
Location: Buggy Works Bldg 100-A Suite 200
Phone: 404-752-1144
E-mail: takintobi@msm.edu
Education
GRADUATE:
University of South Florida College of Public Health
Degree: Doctor of Philosophy in Public Health

University of South Florida College of Public Health
Degree: Master of Public Health


Research Interests
Maternal and Child Health
Community and family health
Cardiovascular Health
Diabetes Risk Reduction
Specialties
Community-based Participatory Research
Clinical and Translational Research
Participatory Evaluation
Social and behavioral sciences
Social Marketing
Publications
Moodley, K., Henry Akintobi, T., Fish, T., & Blumenthal, D. (2018). A pipeline program to address the African crisis in human resources for health. Annals of Global Health, 84(1): 66-76.

Rollins, L, Akintobi, T., Hermstad, A., Cooper, D., Goodin, L., Beane, J., Spivey, S., Riedesel, A., Taylor., L., & Lyn, R. (2017). Community-based approaches to reduce chronic disease disparities in Georgia. Journal of the Georgia Public Health Association, 6(4), 402-410. ISSN:2471-9773.

Henry Akintobi, T., Lockamy, E., Goodin, L., Hernandez, N., Slocumb, T., Blumenthal, D., Braithwaite, R., Leeks, L., Rowland, M, Cotton, T., & Hoffman, L. (2018). Processes and outcomes of a community-based participatory research-driven health needs assessment: A tool for moving health disparity reporting to evidence-based action. Progress in Community Health Partnerships: Research, Education, and Action. (12)139-147.

Henry Akintobi, T., Evans Wilkerson, D., Rodgers, K., Escoffery, C., Haardörfer, R., Kegler, M., (2016). Assessment of the Building Collaborative Research Capacity Model: Bridging the community-academic researcher divide. Vol. 6, No. 2

Henry Akintobi, T., Dawood, N., & Blumenthal, D (2014). An Academic-Public Health Department Partnership for Education, Research, Practice and Governance. Journal of Public Health Management & Practice, 20(3), 310-314. PMID:24667192

Click here to view additional publications.
Honors and Awards
2018: Brandeis University Culture Change in Academic Medicine Mentoring and Leadership Fellowship
2017: National Community-based Organization Network Lucille Webb Award
2015: University of South Florida College of Public Health Inaugural Outstanding Alumni Award
2015: Fulton County Healthy Heart Coalition, Heart of Champions Award
2015: Morehouse School of Medicine Masters of Public Health Program Keystone Award
2014: Morehouse School of Medicine Masters of Public Health Research Faculty Award
2014: Morehouse School of Medicine Masters of Public Health Program Teacher of the Year Award
2013: Association of American Medical Colleges Mid-Career Women's Seminar and Professional Development Invitee
2009-2007: National Institutes of Health Disparities Research Loan Repayment Program Award
2005: Graduate Education Opportunity Grant. Florida State University System
2001: Student Honorary Award for Research and Practice. University of South Florida