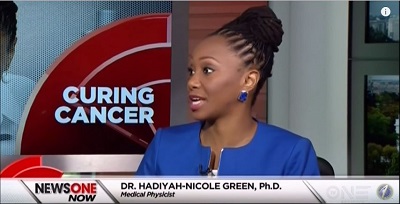 Dr. Hadiyah-Nicole Green Interviewed on TVOne NewsOne Now, Speaks About Her Innovative Laser Cancer Treatment

On September 7, 2016, Morehouse School of Medicine Physiology Professor Dr. Hadiyah-Nicole Green was interviewed on TVOne's "NewsOne Now with Roland Martin," where she discussed her revolutionary cancer treatment, which utilizes lasers and leaves little to no side effects, as well as what inspired her to begin researching a cure for cancer.


Click here to watch the full video.
About Morehouse School of Medicine (MSM)
Founded in 1975, MSM is among the nation's leading educators of primary care physicians and was recognized by Annals of Internal Medicine in 2011 as the top institution in the first study of U.S. medical schools for our social mission based on our production of primary care physicians, training of underrepresented minority doctors and placement of doctors practicing in underserved communities. Our faculty and alumni are noted for excellence in teaching, research and public policy, as well as exceptional patient care.
Morehouse School of Medicine is accredited by the Southern Association of Colleges and Schools Commission on Colleges to award doctorate and master degrees. For more information, please visit www.msm.edu.