Macy McNair
4th year M.D. student, Morehouse School of Medicine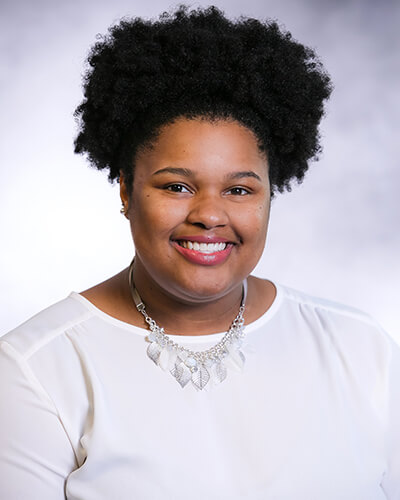 Macy McNair is a Doctor of Medicine candidate for the Class of 2019 at Morehouse School of Medicine. She is a twin born in Harlem, GA to Eddie McNair and Bernice Dorsey. Macy graduated from Harlem High School of 2011 and continued her studies at Armstrong State University in Savannah, GA. In her undergraduate years, she held awareness programs with Zeta Phi Beta Sorority, Inc. to promote healthy lifestyles and participated in numerous community service events. She graduated Magna Cum Laude with Bachelor of Science in Chemistry and a minor in African-American Studies.
As a fourth-year medical student at Morehouse School of Medicine, Macy McNair has made it her personal commitment to help the medically underserved communities. During the first year of her medical career, she was reminded of her commitment to help the disadvantaged populations through her work in her community health course. During the summer, she served at the Borinquen Medical Center in Miami, FL through GE-NMF Primary Care Leadership Program where her team created a brochure for the staff on combating health illiteracy.
Throughout her college and medical career, she has demonstrated her ability to effectively serve in leadership positions as she enters the new role of SGA President for Morehouse School of Medicine. Her goal is to be a servant leader for her patients and to provide the best care regardless of their socio-economic background, gender, or ethnicity. Macy is dedicated to lending a hand to help eliminate health disparities with a focus on medically underserved areas.