Rhonda Medows, M.D.
United Health Care Group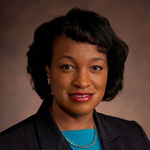 Dr. Rhonda Medows joined UnitedHealth Group in April 2010 as the chief medical officer and executive vice president for all public programs including Medicare, Medicaid, SCHIP, and anticipated TriCare programs. In May 2011, Dr. Medows began leading UnitedHealthcare's Quality Management & Quality Improvement Programs across all UHC Benefits Businesses including Medicare, Commercial, and Medicaid health plans nationwide. She provides leadership and oversight of the initiatives to improve both clinical quality and operational excellence. In addition to clinical and quality programs, she is also developing the program integrity initiatives focused on provider and member interventions, health information technology integration efforts and serves as a subject matter expert contributing to health system reform efforts.
Until March 2010, Dr. Medows served as the Commissioner for the Georgia Department of Community Health (DCH) and as the State Health Officer for Georgia. This gubernatorial appointment began in 2005. As the Agency Head, Dr. Medows led Georgia's $12 billion State Health Agency that administers the state's Medicaid, SCHIP, and State Employee Benefit Health programs and when combined serve 3.4 million Georgians or one third of the state's population. In addition, under Dr. Medows's leadership DCH managed the Public Health and Emergency Preparedness systems statewide, regulated health care facilities, managed health improvement and access programs focused on rural health, safety net programs,solutions for health disparities that included the first published county level report on health disparities for the state of Georgia, town hall meetings across Georgia and a community based grant program to support community based solutions to achieve health equity. Dr. Medows established Georgia's Office of Health Information Technology and lead the development of the state's health information technology strategy. In this role, Dr. Medows was charged with leading state health planning and health policy development.
Dr. Medows practiced medicine at the Mayo Clinic, Jacksonville, Fla., providing comprehensive outpatient, inpatient and nursing home care for families. She also has rich and diverse past experience that includes serving as a corporate medical director for BSCS of Florida accountable for quality compliance and medical coverage guidelines and technology assessment. She has also served as the Chief Medical Officer for a disease management company.
Dr. Medows received her undergraduate degree from Cornell University and her Medical Degree from Morehouse School of Medicine in Atlanta, Ga., and completed a Family Medicine Residencyat the University Hospital at Stony Brook in New York. Dr. Medows was Board Certified in Family Medicine in 1989 and a Fellow of the AAFP. She served as a clinical instructor for medical students and residents while at Mayo Clinic and as an Associate Professor in Family Medicine at Florida State University Medical School and at the University of Florida. She has held leadership positions in medical professional associations at the state and national level as well as serving on the Boards of health, education and nonprofit organizations.