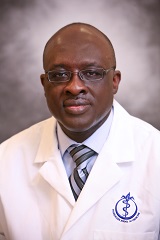 Alexander Quarshie, M.D., M.S.
Professor
Community Health & Preventive Medicine

Location: Multidisciplinary Research Center, Room S-06
Phone: 404-752-8681
E-mail: aquarshie@msm.edu
Education
POSTGRADUATE:
University of Ghana Medical School
Residency: Medicine

Ghana College of Physicians and Surgeons
Fellow: Community Health

Oregon Health Sciences University
Biomedical Informatics


GRADUATE:
University of London School of Hygiene and Tropical Medicine
Degree: Master of Science


UNDERGRADUATE:
University of Ghana Medical School
Degree: Bachelor of Medicine, Bachelor of Surgery (MD in Medicine)
Research Interests
Biomedical Informatics
Health Disparities
Cardiovascular Disease
Global Health
Public Health
Translational Research
Research Education
Clinical Interests
Preventive Medicine
Infectious diseases
Internal medicine
Board Certification
Medicine
Medical Statistics
Public Health
Medical Informatics
Publications
Ofili, E., Brown, M., Okirie, D., Pemu, P., Franklin, C. G., Suk, Y., Quarshie, A., Mubasher, M., Sow, C. M., Montgomery Rice, V., Mack, D., Daniel, D. (2019). Morehouse Choice Accountable Care Organization and Education System (MCACO-ES): Integrated Model Delivering Equitable Quality Care. In Paul B. Tchounwou (Ed.), Special Issue Proceedings of Research Centers at Minority Institutions (RCMI) Translational Science 2017 Conference. (3084th ed., vol. 16, pp. 13). Journal: Int. J. Environ. Res. Public Health, 2019. www.mdpi.com/journal/ijerph
Rubio DM, Hamm ME, Mayowski CA, Nouraie SM, Quarshie A, Seto T, Shaheen M, Soto de Laurido LE, Norman MK. Developing a Training Program to Diversify the Biomedical Research Workforce. Acad Med. 2019 Aug;94(8):1115-1121. doi: 10.1097/ACM.0000000000002654. PubMed PMID: 30768468; PubMed Central PMCID: PMC6764096
Pemu, P., Josiah Willock, R., Alema-Mensah, E., Rollins, L., Brown, M., Saint Clair, B., Olorundare, E., McCaslin, A., Henry Akintobi, T. K., Quarshie, A., Ofili, E. Achieving Health Equity with e-Healthystrides©: Patient Perspectives of a Consumer Health Information Technology Application. Ethnicity & Disease, 29(Supp2), 393-404. http://dx.doi.org/10.18865/ed.29.s2.393
Ofili, E., Schanberg, L. E., Hutchinson, B., Sogade, F., Fergus, I., Duncan, P., Hargrove, J., Artis, A., Onyekwere, O., Batchelor, W., Williams, M., Oduwole, A. M., Onwuanyi, A. E., Ojutalayo, F., Cross, J. A., Seto, T. B., Okafor, H., Pemu, P., Immergluck, L. H., Foreman, M., Alema-Mensah, E., Quarshie, A., Mubasher, M., Baker, A., Ngare, A., Dent, A., Malouhi, M., Tchounwou, P., Lee, J., Hayes, T., Abdelrahim, M., Sarpong, D., Fernandez-Repollet, E., Sodeke, S. O., Hernandez, A., Thomas, K., Dennos, A., Smith, D., Gbadebo, D., Ajuluchukwu, J., Kong, B. W., McCollough, C., Weiler, S. R., Natter, M. D., Mandl, K. D., Murphy, S. (2019). The Association of Black Cardiologists (ABC) Cardiovascular Implementation Study (CVIS): A Research Registry Integrating Social Determinants to Support Care for Underserved Patients. Int. J. Environ. Res. Public Health.


View all publications
Honors and Awards
Fellow, Ghana College of Physicians and Surgeons
Team Spirit Award, Morehouse School of Medicine
CDC-AMIA Public Health Informatics Award
Faculty Teaching Award, MSCR Program, Morehouse School of Medicine
World Health Organization Fellowship