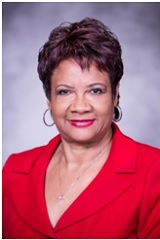 Mary Kidd Davis, M.S., R.N.
Associate Director of Clinical Component
Community Health & Preventive Medicine

Location: National Center for Primary Care 324B
Phone: 404 752-1925
E-mail: mdavis@msm.edu
Education
GRADUATE:
University of St. Francis
Degree: Master of Science in Health Administration

Georgia State University
Degree: Graduate Certificate Gerontology


UNDERGRADUATE:
University of South Florida
Degree: Bachelor of Science in Nursing


Research Interests
Morehouse School of Medicine, R-Center, Community-based Survey Pilot

American Cancer Society, "Bridges" Community Outreach Program

Diabetes Health Educator
Board Certification
Georgia Board Professional Registered Nurse
Publications
Thompson, C. J., Jones, A.R., Davis M.K., Caplain, L.S.Do Smoke Alarms Function a Year After Installation? A Follow-Up of the Get-Alarm Campaign. Journal of Community Health 2004;29:171-181.

Jones, A.R., Thompson, C.J., Davis, M.K., Oster, R.A., Samadi, A., Mayberry, R.M., Caplan, L.S. Breast Cancer, Knowledge, Beliefs and Screenings Behavior Among Low-Income Elderly Black Women. Journal of the National Medical Association 2003:95:791-805.

Jones, A.R., Caplan, L.S., and Davis, M.K., et al. Racial/Ethnic Differences in the Self-Reported Use of Mammography. Journal of Community Health 2003;28:303-316.

Jones, A.R., Thompson, C.J. and Davis, M.K. Smoke Alarm Ownership and Installation: A Comparison of a Rural and Suburban Community In Georgia. Journal of Community Health 2001; 26:307-329.

Jones, A.R., Oster, R.A. Pederson, L.L., Davis, M.K., and Blumenthal, D.S. Influence of a Rural Primary Care Clerkship on Medical Students Intentions to Practice In a Rural Community. The Journal of Rural Health 2000; 16: 155-161.


Click here to view additional publications.
Honors and Awards
Awarded 25 years of Service to Morehouse School of Medicine