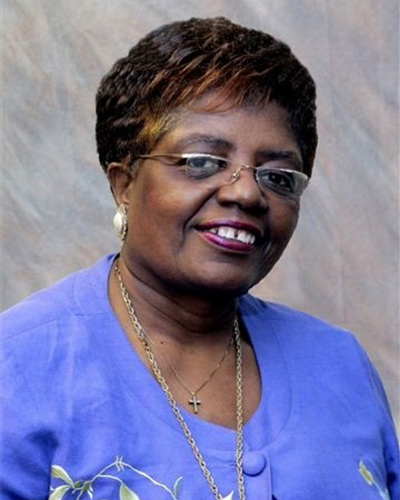 W. Mary Langley, Ph.D., M.P.H., RN, ICPS
Professor & Director
Community Health & Preventive Medicine

Health Promotion Resource Center
Location: National Center for Primary Care, Suite 342
Phone: 404-752-1503
E-mail: mlangley@msm.edu
Education
GRADUATE:
Georgia State University
Degree: Doctor of Philosophy

University of Alabama
Degree: Master of Public Health


UNDERGRADUATE:
Samford University
Degree: Bachelor of Science in Nursing

Grady Memorial Hospital
Degree: Diploma in Nursing
Research Interests
Social Determinants of Health

Breast Cancer Prevention

Adolescent at Risk Behaviors
Board Certification
Georgia Board of Nursing

Prevention Credentialing Consortium of Georgia
Publications
Langley, M., Welmaker, R., Jackson, A., Mack, A. (2011). Community-Based Participatory Approaches (CBPA) to Services, In Daniel Blumenthal, Ralph Diclemente, & Ronald Braithwaite (eds.) Community-Based Participatory Approaches.

Taylor, C., Langley, M., Leonard, J. (2010). Church-based Health Promotion to Address Chronic Diseases among African Americans, In Jack Leonard, Jr. (ed), Diabetes in Black American: Public Health and Clinical Solutions to a National Crisis.

Langley, M., Welmaker, R., & Pitts, D. (December 13, 2005). STAR Program: Reducing alcohol, tobacco, and other drug use among rural youth. Abstract 108470. Pittsburg, PA: American Public Health Association Annual Meeting.

Welmaker, R., Archie-Booker, & Langley, M. (November 3 – 4, 2005). Project right CHOICES: A teenage pregnancy prevention program, three years later (abstract). Evaluating Abstinence Education Programs: Improving Implementation and Assessing Impact. Manuscripts and Documents complied and published from a Conference entitled Strengthening Abstinence Education Programs Through Scientific Evaluation. Conference sponsored by the U.S. Department of Health and Human Services, Office of Population Affairs with the Administration of Children and Families.

Langley, M. & Jackson, A. (2005). Finding me, parenting you: A relationship-centered parenting curriculum for single African American parents. Atlanta: Georgia Campaign for Adolescent Pregnancy Prevention.

Langley, W. M. & Kahnweiler, W. (2003). The role of pastoral leadership in the sociopolitically active African American church, Organizational Development Journal.
Honors and Awards
2014: Inducted into the Golden Dome Chapter, American Business Women, Association, Atlanta, Georgia

2012: Invited National Advisory Board Member, Community-Based Participatory Research Expert Advisory Board, Louisiana Clinical and Translational Science Center, Xavier University of Louisiana, New Orleans, LA

2012: Certificate of Appreciation, Guest Speaker, Golden Dome Chapter, ABWA, Atlanta, Georgia

2012: Certificate of Ordination Deacon, Salem Bible Church, Atlanta, Georgia

2012: Presented Key to City, Monticello (Jasper County) Georgia, Major Bryan Standifer, For outstanding support for the Youth of Monticello and Jasper County

2009: Pioneer in Prevention Award, 3rd Annual Georgia School of Addiction Studies

2008: Certificate of Appreciation, For Exemplary Service on the Morehouse School of Medicine, Internal Advisory Committee for the Historically Black Colleges and Universities National Resource Center for Substance Abuse and Mental Health Infrastructure Development