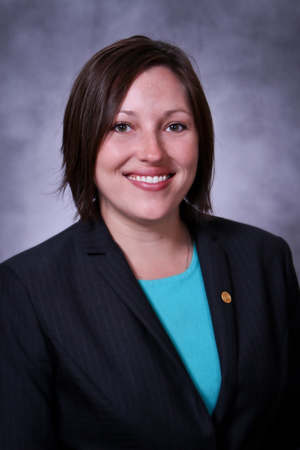 Megan Douglas, JD
Assistant Professor
Community Health and Preventive Medicine

Location: 720 Westview Dr, NCPC 308
Phone: (404) 756-5275
E-mail: mdouglas@msm.edu
Education
GRADUATE:
Georgia State University
Degree: Juris Doctor

Morehouse School of Medicine
Fellowship: Health Policy Leadership

UNDERGRADUATE:
Virginia Tech
Degree: Bachelor of Science, Biology
Research Interests
Megan Douglas is a licensed attorney, a faculty member and a health policy researcher at Morehouse School of Medicine (MSM) and the Director of the Health Policy Division in the National Center for Primary Care at MSM. Her research interest include: Health Policy, Law, Healthcare Quality, Health Equity, and Advocacy.
Megan received her law degree from Georgia State University (GSU) College of Law with a focus on health care law and policy. She was a joint fellow with the Satcher Health Leadership Institute (SHLI) Health Policy Leadership Fellowship program and the Georgia Leadership Education in Neurodevelopmental and Related Disorders (LEND) program at GSU. Megan is also MSM medical students and residents, which teaches them about the policymaking process and ways to leverage clinical experience to inform policy. Her research interests include developing and evaluating state and federal policies for their impact on health equity. Her work has been published in journals such as the American Journal of Public Health, the Journal of Health Care for the Poor and Underserved, Psychiatric Services and the Learning Health System Journal. Megan also serves on the Advisory Committee for the Disparities Interest Group of Academy Health, the Advisory Council for the Health Law Partnership (HeLP) and the Community Advisory Council for the Center for Leadership in Disability at Georgia State University.
Publications
Douglas MD, Benevides TW, Carretta H. Analyzing State Autism Private Insurance Mandates for Allied Health Services: A Pilot Study. OTJR (Thorofare N J). 2017 Oct;37(4):218-226. doi: 10.1177/1539449217730355. Epub 2017 Sep 5.

Douglas MD, Xu J, Heggs A, Wrenn G, Mack DH, Rust G. Assessing Telemedicine Utilization by Using Medicaid Claims Data. Psychiatr Serv. 2017 Feb 1;68(2):173-178. doi: 10.1176/appi.ps.201500518. Epub 2016 Oct 3.

Mack D, Zhang S, Douglas M, Sow C, Strothers H, Rust G. Disparities in Primary Care EHR Adoption Rates. J Health Care Poor Underserved. 2016 Feb;27(1):327-338.

Douglas MD, Dawes DE, Holden KB, Mack D. Missed policy opportunities to advance health equity by recording demographic data in electronic health records. Am J Public Health. 2015 Jul;105 Suppl 3:S380-8. doi: 10.2105/AJPH.2014.302384. Epub 2015 Apr 23.