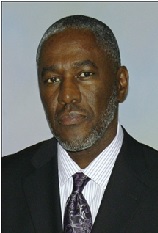 Robert M. Mayberry, M.S., M.P.H., Ph.D.
Professor of Epidemiology and Vice Chair
Community Health & Preventive Medicine

Associate Director & Director
Clinical Research Center & Research Center for Clinical & Translational Research
Phone: 404-752-1878
E-mail: rmayberry@msm.edu
Education
GRADUATE:
University of California at Berkeley School of Public Health
Degree: Doctor of Philosophy

University of California at Berkeley School of Public Health
Degree: Master of Public Health

Alabama A&M University
Degree: Master of Science in Biology
Research Interests
Chronic disease epidemiology; application of epidemiologic principles and methods to health services, comparative effectiveness, health disparities/equity, prevention, and policy research; program planning and evaluation, community-based intervention design and implementation; implementation and dissemination science; translation of research discoveries into healthcare and community practice; diabetes prevention; and diabetes care quality improvement.
Publications
Mayberry RM and Stoddard-Wright C. Breast cancer risk factors among black and white women: similarities and differences. Am J Epidemiol. 136:1445-1456, 1992.

Mayberry RM. Age-specific patterns of association between breast cancer and risk factors in African American women, ages 20 to 39 and 40 to 54. Ann Epidemiol. 4:205-213, 1994.

Frazier EL, Jiles RB, Mayberry RM. Use of screening mammography and clinical breast examinations among black, Hispanic, and white women. Prev Med. 25:118-125, 1996.

Crump SR, Mayberry RM, Taylor BD, Barfield KP, Thomas PE. Factors related to noncompliance with screening mammogram appointments among low-income African-American women. J Natl Med Assoc. 2000; 92:237-246.

Mayberry RM, Mili F, Ofili E. Racial and ethnic differences in access to medical Care. Medical CareResearch and Review. 2001; 1:109-45.

Mayberry RM, Davis T, Alema-Mensah E, Samadi AR, Finley R, Jones A. Determinants of glycemic status monitoring in black and white Medicaid beneficiaries with diabetes mellitus. J Health Care Poor Underserved 2005; 16(4 Suppl A):31-49.


Click here to view additional publications.
Honors and Awards
Delta Phi Alpha German Honor Society

Most Outstanding Young Men of America

Honor Students Society (University of California, Berkeley)

National Research Service Award

Special Recognition - Positive Influence on a Student's Life (Graduate School, University of South Carolina)

Student Recognition Award (School of Public Health, University of South Carolina)

Outstanding Service Award (University of South Carolina)