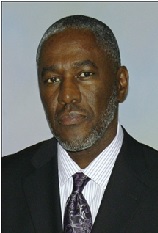 Robert M. Mayberry, MS, MPH, PhD
Professor
Community Health & Preventive Medicine

Director and Epidemiologist
Research Design and Biostatistics (RDB) Core
Location: NCPC, A-201
Phone: 404-752-1878
E-mail: rmayberry@msm.edu
Education
GRADUATE:
University of California at Berkeley School of Public Health
Degree: PhD, Epidemiology

University of California at Berkeley School of Public Health
Degree: MPH, Epidemiology

Alabama A&M University
Degree: MS, Biology

UNDERGRADUATE:
Berea College
Degree: BA, Biology
Research Interests
Application of epidemiology to community-engaged research and intervention planning, implementation and evaluation; health services, disparities and equity, and prevention research; implementation science; infrastructures and capacity-building for community-based diabetes and chronic disease prevention; integration of community health workers into primary care delivery; translating scientific evidence into equitable best practices and policy.
Clinical Interests
Healthcare Quality Improvement
Publications
Hutchins, S. S., & Mayberry, R. M. (2021). US Communities Need More Accessible Data to Improve Health, Not Less. American Journal of Public Health, 111(10), 1728-1730.
Mayberry, R. M., Daniels, P. V., Willock, R. J., & Yan, F. (2020). Explaining poor medication adherence among adults with type 2 diabetes in an urban community health center. Journal of Health Care for the Poor and Underserved, 31(3), 1331-1346.
Mayberry, R. M., Daniels, P., Akintobi, T. H., Yancey, E. M., Berry, J., & Clark, N. (2008). Community-based organizations' capacity to plan, implement, and evaluate success. Journal of Community Health, 33, 285-292.
Mayberry, R. M., Mili, F., & Ofili, E. (2000). Racial and ethnic differences in access to medical care. Medical Care Research and Review, 57(1_suppl), 108-145.
Mayberry, R. M. (1994). Age-specific patterns of association between breast cancer and risk factors in black women, ages 20 to 39 and 40 to 54. Annals of Epidemiology, 4(3), 205-213.
Honors and Awards
"Most Outstanding Young Men of America"
National Science Foundation Minority Fellowship
Honor Students Society, University of California, Berkeley
National Research Service Award
Special Recognition, Positive Influence on a Student's Life, the Graduate School, University of South Carolina
Student Recognition Award, School of Public Health, University of South Carolina
Special Recognition for Service, Georgia Governor's Council of Maternal and Infant Health
Abraham Lilienfeld Award, Epidemiology Section, American Public Health Association
Distinguished Alumnus Award, Berea College