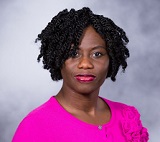 Robina Josiah Willock, PhD, MPH
Associate Professor
Community Health & Preventive Medicine

Associate Director
Cancer Health Equity Research Center
Location: Multidisciplinary Research Center (MRC)
Phone: 404-752-1509
E-mail: rjosiah-willock@msm.edu
Education
GRADUATE:
Pennsylvania State University
Degree: PhD Health Administration and Policy


Morehouse School of Medicine
Degree:
MPH Social Science and Behavior
UNDERGRADUATE:

Andrews University
Degree:
Bachelor of Science in Biology
Research Interests
Psychosocial Vulnerability

Health Failure Self-management

Health Equity Training and Curriculum Development

Population Science
Clinical Interests
Psychosocial care in Emergency Medicine

Heart Failure
Publications
Josiah Willock, R., Mayberry, R.M., Yan, F. and Daniels, P. (2015). Peer Training of Community Health Workers (CHWs) to Improve Heart Health among African American Women. Health Promotion Practice, 16(1):63-71, DOI: 10.1177/1524839914535775. PMCID: PMC4784710.
Mayberry, R, M.; Daniels, P. V.; Josiah Willock, R., Yan, F. (2020). Empowered Community Leadership for Chronic Disease. American Journal of Health Studies. 35(2), p124-141.
Josiah Willock, R., Miller, J.B., Mohyi, M., Abuzaanona, A., Muminovic, M., & Levy, P.D. (2018). Therapeutic Inertia and Treatment Intensification. Current Hypertension Reports, 20 (4): doi.org/10.1007/s11906-018-0802-1 PMCID: PMC6452867
Levy, P. D., Josiah Willock, R., Burla, M., Brody, A., Mahn, J., Marinica, A., Nasser, S. A., & Flack, J. M. (2016). Total antihypertensive therapeutic intensity score and its relationship to blood pressure reduction. Journal of the American Society of Hypertension: JASH, 10(12), 906–916. https://doi.org/10.1016/j.jash.2016.10.005
Mayberry, R.M., Josiah Willock, R. Daniels, P. V. (2013). Community Building and Community Health Workers. In Murphy, F. (Ed.). Community Engagement, Organization and Development for Public Health Practice. New York: Springer Publishing.
View all publications