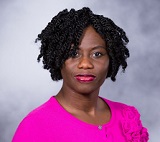 Robina Josiah Willock, M.P.H., Ph.D.
Assistant Professor
Community Health & Preventive Medicine

Location: Multidisciplinary Research Center, Building F-S11
Phone: 404-752-1509
E-mail: rjosiah-willock@msm.edu
Education
GRADUATE:
Pennsylvania State University
Degree: Doctor of Philosophy in Health Policy and Administration

Morehouse School of Medicine
Degree: Master of Public Health in Social Science and Behavior


UNDERGRADUATE:
Andrews University
Degree: Bachelor of Science in Biology
Research Interests
Dr. Josiah Willock's research interests center on facilitating behavior change among individuals and health systems; health communication; and risk messaging for the prevention and management of chronic cardiovascular diseases. Her primary focus is the development of trans-disciplinary approaches to intervention design, implementation and dissemination in heart failure prevention and management. Her priority populations are high-risk populations such as women, ethnic/racial minorities and low health literacy individuals. Dr. Josiah Willock is also a Health Services Researcher and Research Methodologist with the Study Design, Biostatistics, and Data Management (SDBDM) Core of the Research Center for Clinical and Translational Research a role in which she supports a team that provides research methodology support to students, clinical investigators and faculty in proposal and protocol development, and study design. She is experienced in survey development and pilot testing, Community Health Worker (CHW) training for diabetes self-management education training, and heart health education and promotion.
Clinical Interests
American Public Health Association
Publications
Ede, V., Yancey, E., Stringer, H., Josiah Willock, R. and Strayhorn, G. (2014). Clinician Utilization of Best Practices for HIV care and Status Disclosure: A Cross-Sectional Pilot Study. Open Journal of Preventive Medicine. 4(8); 649-658.

Josiah Willock, R., Mayberry, R.M., Yan, F. and Daniels, P. Peer Training of Community Health Workers (CHWs) to Improve Heart Health among African American Women. Health Promotion Practice, DOI: 10.1177/1524839914535775

Pemu, P., Quarshie, A., Josiah Willock, R., Ojutalayo, F.O., Alema-Mensah, E., and Ofili, E.O. (2011). Socio-demographic Psychosocial and Clinical characteristics of participants in ehealthystrides©: An interactive ehealth program to improve diabetes self-management skills. Journal of Health Care for the Poor and Underserved 22(4): 146-164

Mayberry, R., Josiah Willock, R., Boone, L., Lopez, P. MS, Qin, H., & Nicewander, D. (2010) A High Level of Patient Activation Observed But Unrelated to Glycemic Control Among Adults With Type 2 Diabetes. Diabetes Spectrum 23(3): 171-176.

Mayberry, R. M., Daniels, P.; Bazzell, A. Yan, F. Josiah Willock, R. and Mack, B. (2013). Survey Planning and Implementation in the Context of CBPR. In Blumenthal, D.; DiClemente, R.. Braithwaite, R. and Smith, S, Community-Based Participatory Health Research: Issues, Methods, and Translation to Practice, Second Edition. New York: Springer Publishing.

Mayberry, R.M., Josiah Willock, R. Daniels, P. V. (2013). Community Building and Community Health Workers. In Murphy, F. (Ed.). Community Engagement, Organization and Development for Public Health Practice. New York: Springer Publishing.


Click here to view additional publications.