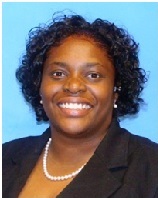 Danita Eatman, Ph.D.
Assistant Professor
Medical Education

Pharmacology & Toxicology
Location: Hugh Gloster Building 211
Phone: 404-752-1174
E-mail: deatman@msm.edu
Education
GRADUATE
Wright State University
Degree: Doctor of Philosophy
Research Interests
Salt sensitivity, hypertension, and chronic kidney disease are more prevalent in the African American population than in the general population. My research interests include examining the impact of high dietary salt intake on genes (MYH9, APOL1) associated with hypertension nephropathy in African Americans and developing new effective therapeutic targeted strategies for progressive chronic kidney disease, a condition associated with high morbidity, excessive mortality, and enormous costs to the health system.
Publications
Eatman, D., Layas, M.F., Bayorh, M.A. Eplerenone suppresses salt-induced VEGF expression in the kidney. Kidney Blood Press Res., 33:167-173, 2010.

Eatman D, Peagler K, Watson J, Rollins-Hairston A, Bayorh MA. The involvement of prostaglandins in the contractile function of the aorta by aldosterone. BMC Res Notes. 14;4:125, 2011.

Menter JM, Nokkaew C, Eatman D, Sprewell A, Silvestrov N, Patta, AM, Harris-Hooker S. The role of Eumelanin in generating reactive oxygen and reactive nitrogen in solution: possible relevance to keloid formation. Journal of Physical Chemistry . 3:157-162, 2013.


Click here to view additional publications.
Honors and Awards
NIH/NIMHD – RCMI G12 Multidisciplinary Biomedical Research Center - Career Development Award

2014 & 2013: Faculty Gala Award