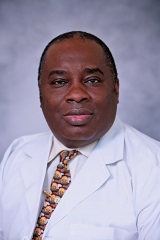 Education
POSTGRADUATE:
Bronx Lebanon Hospital
Residency: Internal Medicine

Bronx Lebanon Hospital
Fellowship: Cardiology

Morehouse School of Medicine
Fellowship: Echocardiography Cardiology


MEDICAL SCHOOL:
University of Lagos School of Medicine
Degree: Doctor of Medicine
Research Interests
Heart Failure and Hypertensive Cardiovascular Disease
Clinical Interests
Internal Medicine
Specialties
Cardiology
Board Certification
Internal Medicine and Cardiovascular Diseases
Publications
Ly TT, Maahs DM, Rewers A, Dunger D, Oduwole A, Jones TW. Assessment and management of hypoglycemia in children and adolescents with diabetes. Pediatr Diabetes. 2014 Sep;15 Suppl 20:180-92. doi: 10.1111/pedi.12174. Epub 2014 Jul 12. PMID: 25040141

Alles M, Eussen S, Ake-Tano O, Diouf S, Tanya A, Lakati A,Oduwole A, Mauras C. Situational analysis and expert evaluation of the nutrition and health status of infants and young children in five countries in sub-Saharan Africa. Food Nutr Bull. 2013 Sep;34(3):287-98. Review. PMID: 24167909

Zacharin M, Chanoine JP, Cassorla F, Brink S, Hanas R, Fideleff HL, Oduwole A, Shah N, Hochberg Z; l 70 Global Pediatric Endocrinology and Diabetes Active Members. Promoting excellence in the care of pediatric endocrine diseases in the developing world. Pediatrics. 2013 Feb;131(2):e573-8. doi: 10.1542/peds.2012-0848. Epub 2013 Jan 21. PMID: 23339226

Lapu-Bula R, Onwuanyi A, Bielo MV, Deffer O, Quarshie A, Alema-Mensah E, Cross JA, Oduwole A, Ofili E. Risk factors for acute non-ST-segment elevation myocardial infarction in a population sample of predominantly African American patients with chest pain and normal coronary arteries. Ethn Dis. 2011 Autumn;21(4):421-8. PMID: 22428345

Egan BM, Lackland DT, Igho-Pemu P, Hendrix KH, Basile J, Rehman SU, Okonofua EC, Quarshie A, Oduwole A, Onwuanyi A, Reed J, Obialo C, Ofili EO. Cardiovascular risk factor control in communities--update from the ASH Carolinas-Georgia Chapter, the Hypertension Initiative, and the Community Physicians' Network. J Clin Hypertens (Greenwich). 2006 Dec;8(12):879-86. PMID: 17170614

Ofili E, Igho-Pemu P, Lapu-Bula R, Quarshie A, Obialo C, Thomas C, Onwuanyi A, Odwole A, Ojutalayo F, Johnson P, Murphy F, Mayberry R, Strayhorn G. The Community Physicians' Network (CPN): an academic-community partnership to eliminate healthcare disparities. Ethn Dis. 2005 Autumn;15(4 Suppl 5):S5-124-7. Erratum in: Ethn Dis. 2006 Autumn;16(4):x. PMID: 16315391


Click here to view selected publications.