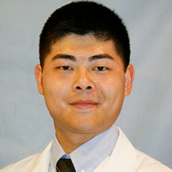 Austin W. Chan, M.D.
Assistant Professor
Medicine

Principal Investigator
GAETC
Location: Piedmont Hall 413
Phone: (404) 756-1362
E-mail: achan@msm.edu
Education
POSTGRADUATE:
Duke University School of Medicine
Fellowship: Infectious Diseases, Clinical Pharmacology, Duke Clinical Research Institute Fellowship

Emory University School of Medicine
Residency: Internal Medicine

MEDICAL SCHOOL:
Emory University School of Medicine
Degree: Doctor of Medicine

UNDERGRADUATE:
Emory University
Degree: Bachelor of Arts with High Honors – Creative Writing


Research Interests
HIV and HCV, HIV in under-served populations
Clinical Interests
HIV, HCV, and Liver Disease Publications
Specialties
Internal Medicine
Board Certification
American Board of Internal Medicine
Publications
Collins, LF, Chan AW, Zheng J, Chow SC, Wilder JM, Muir AJ, Naggie S. Direct-Acting Antivirals Improve Access to Care and Cure for Patients with HIV and Chronic HCV Infection. Open Forum Infectious Diseases. 2017 Dec 9;5(1).
Chan AW, Patel K, Naggie S. Genotype 3 Infection: The Last Stand of the Hepatitis C Virus. Drugs. 2017;77(2):131-144. Chan AW, Patel YA, Choi S. Aging of the Liver: What This Means for Patients with HIV. Curr HIV/AIDS Rep. 2016;13(6):309-317.
Halpin AL, de Man TJ, Kraft CS, Perry KA, Chan AW, Lieu S, Mikell J, Limbago BM, McDonald LC. Intestinal microbiome disruption in patients in a long-term acute care hospital: A case for development of microbiome disruption indices to improve infection prevention. Am J Infect Control. 2016; 44(7):830-836.
Aldrete S del M, Magee MJ, Friedman-Moraco RJ, Chan AW, Banks GG, Burd EM, Kraft CS. Characteristics and antibiotic use associated with short term risk of clostridium difficile infection among hospitalized patients. Am J Clin Pathol. 2015;143(6):895-900.
Chan AW, Kabbani S, Staton G. Kraft CS. Mycobacterium paraffinicum causing symptomatic pulmonary infection. J Clin Microbiol. 2014;52(4):1281-1283.
Honors and Awards
Faculty of the Year, Internal Medicine 2017 - 2018