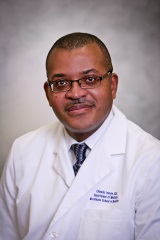 Chinedu Ivonye, M.D., F.A.C.P.
Professor & Associate Chief of General
Medicine

Program Director
Internal Medicine Residency Program
Phone: 404-616-3056
E-mail: civonye@msm.edu
Education
POSTGRADUATE:
Morehouse School of Medicine, Atlanta, GA
Residency: Internal Medicine


MEDICAL SCHOOL:
University of Nigeria Medical College
Degree: Doctor of Medicine
Research Interests
Clinical Research and Curriculum development.
Board Certification
American Board of Internal Medicine
Publications
A Chenna,P Kaveti,U Gunnal, K Schrapp, C Ivonye. Aggressive anal squamous cell carcinoma with vertebral and cardiac metastasis International Journal of Tumor Therapy 2014,3(1):17-19

Chinedu Ivonye, Ebere Okeke, Rohan Mankikar, Jolene Lowery. Pancreatic neuroendocrine tumor presenting as Cushing's syndrome associated with hypertension. J Hypertension 2014, 3:1 10000132.

Anthony Otekeiweba, Chinedu Ivonye, Abiola Ibrahim,Chinemerem Ugorji. Cognitive Behavioral Factors and Metabolic Control among Southwestern Nigerians with Diabetes mellitus. Journal of Health Disparity Research and Practice 2014

Chinedu Ivonye, Balsam Elhammali, Adesoji Oderinde, Marshaleen Henriques-Forsythe Disseminated Sarcoidosis Resulting in Portal Hypertension and Gastrointestinal Bleeding. Canadian Journal of Gastroenterology vol 6, August 2012.

C. Ivonye, P. Barnes, B. Elhammali, Nnaji, Generalized Rash (Erythroderma) Journal of American Family Physicians. February 2012, vol 85, number 3.

Click here to view additional publications.
Honors and Awards
2014: Internal Medicine Faculty of the Year.

2014: MSM Graduate Medicine Education Faculty of the Year.

2013: Nominated for GME faculty of the year.

2012: Nominated for GME faculty of the year

2011: Nominated for GME faculty of the year