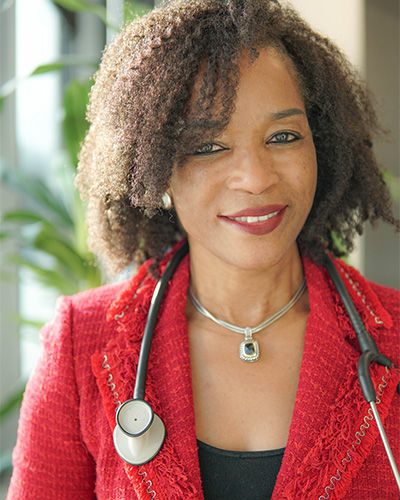 Elizabeth Ofili, M.D., M.P.H., FACC
Professor
Medicine

Director & Senior Associate Dean
Clinical Research Center & Clinical and Translational Research
Location: Clinical Research Center
Phone: 404-756-5051
E-mail: eofili@msm.edu
Education
POSTGRADUATE:
Washington University
Fellowship: Research Cardiology

Jewish Hospital, Washington University Medical Center
Fellowship: Clinical Cardiology


MEDICAL SCHOOL:
Ahmadu Bello University
Degree: Doctor of Medicine


GRADUATE:
Johns Hopkins University
Degree: Master of Public Health in Epidemiology and Clinical Trials
Research Interests
A national and internationally recognized clinician scientist with particular focus on cardiovascular disparities and women's health, Dr Ofili has been continuously funded by the NIH and industry/foundations since 1994, with a track record in clinical trials that impact health disparities. In 2002, as president of the Association of Black Cardiologists, she led the initiative to implement the landmark African American Heart Failure Trial (AHEFT), whose findings led to a change in practice guidelines for the treatment of heart failure in African Americans.

Over the past seventeen years, she has led the growth of the clinical research infrastructure and training programs at Morehouse School of Medicine (MSM) with awards totaling over $150 million, including serving as the founding director of the U54 center of clinical research excellence, the community physicians network, the U54 RCMI Center of Excellence for Clinical and Translational Research and the R25 clinical research education and career development program. Dr Ofili has mentored over 30 MD and PhD clinical and translational science investigators, many of who remain at MSM. She has mentored over 25 underrepresented minority STEM undergraduates, and high school students through funding from NASA and the Minority Biomedical Research Students program.

She is the senior co-PI of the Atlanta Clinical and Translational Science Institute (ACTSI), a citywide collaborative CTSA at Emory University, Morehouse School of Medicine and Georgia Institute of Technology, along with their partnering health systems and statewide research organizations. Since 2007, ACTSI has engaged over 673 investigators, and 134 postdoctoral and predoctoral trainees in discovery science, training and community engagement. Dr Ofili has led successful multi institutional collaborations through the ACTSI and the RCMI Translational Research Network of 18 historically Black, Hispanic and Minority Serving Institutions across the nation, and was lead author of a publication on models of partnerships between HBCUs/MSIs and research intensive institutions.

Dr Ofili holds a patent for "A system and method for chronic illness care", and is the recipient of over 20 national and international awards, including the 2003 National Library of Medicine's "Changing the Face of Medicine, the Rise of America's Women", The Daniel Savage Memorial Science Award from the Association of Black Cardiologists, America's Top Doctors by Black Enterprise Magazine and 100 Most influential healthcare leaders by Atlanta Business Chronicle.

She has delivered over 600 scientific presentations and published over 130 scientific papers in national and international journals. As a AAMC 2007 Council of Dean Fellow, Dr Ofili led a project on best practices to sustaining the biomedical and physician workforce. She has advised the NIH on diversity in the biomedical research workforce, and currently serves on the Advisory Board of the National Clinical Center (NIH), and on the AAMC advisory panel on research. She is an elected member of the Association of University Cardiologists, and is on the board of directors of the National Space Biomedical Research Institute.
Specialties
Preventive cardiology- early detection and treatment of heart disease. Using technology e.g. Personal Health Records and Electronic Medical Records to empower patients and to improve patient care
Board Certification
American Board of Internal Medicine

Cardiovascular Diseases
Publications
Mandl KD, Kohane IS, McFadden D, Weber GM, Natter M, Mandel J, Schneeweiss S, Weiler S, Klann JG, Bickel J, Adams WG, Ge Y, Zhou Z, Perkins J, Marsolo K, Bernstam E, Showalter J, Quarshie A, Ofili E, Hripcsak, G, Murphy, SN. Scalable Collaborative Infrastructure for a Learning Healthcare System (SCILHS): Architecture. J Am Med Inform Assoc 2014;21:615-620.

Chen HH, Anstrom KJ, Givertz MM, Stevenson LW, Semigran MJ, Goldsmith SR, Bart BA, Bull DA, Stehlik J, LeWinter MM, Konstam MA, Huggins GS, Rouleau JL, O'Meara E, Tang WH, Starling RC, Butler J, Deswal A, Felker GM, O'Connor CM, Bonita RE, Margulies KB, Cappola TP, Ofili EO, Mann DL, Davila-Roman VG, McNutty SE, Borlaug BA, Velazquez EJ, Lee KL, Shah MR, Hernandez AF, Braunwald E, Redfield MM, NHLBI Heart Failure Clinical Research Network. Low-dose dopamine or low-dose nesiritide in acute heart failure with renal dysfunction the ROSE acute heart failure randomized trial JAMA, 2013 Dec 18;310(23) 2533-43.

Ferdinand KC, Rodriguez F, Nasser SA, Caballero AE, Puckrein GA, Zangeneh F, Mansour M, Foody JM, Pemu PE, Ofili EO. Cardiorenal metabolic syndrome and cardiometabolic risk in minority populations. Cardiorenal Med, 2014 Apr:4(1):1-11.

Redfield MM, Chen HH, Borlaug BA, Semigran MJ, Lee KL, Lewis G, LeWinter MM, Rouleau JL, Bull DA, Mann DL, Deswal A, Stevenson LW, Givertz MM, Ofili EO, O'Connor CM, Felker GM, Goldsmith SR, Bart BA, McNully SE, Ibarra JC, Lin G, Oh JK, Patel MR, Kim RJ, Tracy RP, Velazquez EJ, Anstrom KJ, Hernandez AF, Mascette AM, Braunwald E; RELAX Trial. Effect of phosphodiesterase-5 inhibition on exercise capacity and clinical status in heart failure with preserved ejection fraction: a randomized clinical trial. JAMA, 2013 Mar 27:309(12): 1268-77

Ferdinand KC, Elkayam U, Mancini D, Ofili E, Piña I, Anand I, Feldman AM, McNamara D, Leggett C. Use of isosorbide dinitrate and hydralazine in African-Americans with heart failure 9 years after the African-American Heart Failure Trial. Am J Cardiol. 2014 Jul 1;114(1):151-9.


Click here to view additional publications.
Honors and Awards
2014: Fifth Annual Awards Dinner Celebrating Women Saving Hearts for Generations (Association of Black Cardiologists)
2013: Association of University Cardiologists January 10, 2013 (Elected January 2007)
2012: Twenty Five Most Influential African Americans Black Health Magazine September 22, 2012
2011: Outstanding Mentor Award MSCR Class May 21, 2011