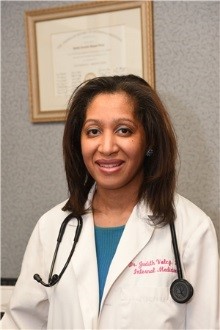 Judith Volcy, D.O.
Assistant Professor
Internal Medicine

Location: 22 Piedmont Ave. SE; Ste. 528, Atlanta, GA 30303
Phone: (404) 756-1314
E-mail: jvolcy@msm.edu
Education
POSTGRADUATE:
St. Michael's Medical Center
Internship: Internal Medicine

Morehouse School of Medicine
Residency: Internal Medicine
Board Certification
Internal Medicine
Publications
Volcy, J. "Osteoporosis Questions and Answers." Spring, 2010. STAR/Wellstar publication.

2009. Featured in an article entitled "Invested in Clinical Excellence. Primary Care Relationships." FY09 Wellstar Health Systems Benefit Report.

Volcy, J. and Monica Redjaman. " A conservative yet effective way to treat occluded peripheral vessels." Accepted for publication to Cortlandt Forum. Editor David Acevedo. December, 2007.

Flenaugh, Eric, Judith Volcy et. Al. "Hemoptysis and an obstructing lung mass." Patient Care. April, 2004;38.

Volcy, Judith. "Breast Cancer: Diagnosis and Treatment." Journal of Ethnicity and Disease. 2003;13[suppl3]S3-38-S3-41.

Judith Rigaud Volcy, DO, Chike Magnus Nzerue, MD, Adesoji Oderinde, MD and Karlene Hewan -Lowe, MBBS. "Cocaine-Induced Acute Renal Failure, Hemolysis and Thrombocytopenia Mimicking Thrombotic Cytopenic Purpura." Vol. 35, No. 1 (January), 2000:E3.
Honors and Awards
Teacher of the Year, 2003-2004
Teacher of the Year, 2002-2003
Elected by the interns and residents of Morehouse School of Medicine