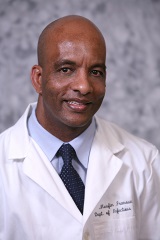 Education
POSTGRADUATE:
University of Rochester School of Medicine and Dentistry, Rochester, New York
Fellowship: Infectious Disease

Saint Barnabas Hospital, Bronx, New York
Residency and Internship: Internal Medicine

MEDICAL SCHOOL:
Jimma Health Science Institute, Jimma, Ethiopia
Degree: Doctor of Medicine
Research Interests
HIV

Hepatitis B and Hepatitis C
Specialties
Infectious Diseases
Board Certification
Internal Medicine

Infectious Diseases
Publications
Zhang S, McGoy SL, Dawes D, Fransua M, Rust G, Satcher D. The potential for elimination of racial-ethnic disparities in HIV treatment initiation in the Medicaid population among 14 southern states. PLoS One. 2014 Apr 25;9(4):e96148. doi: 10.1371/journal.pone.0096148. eCollection 2014. PMID: 24769625

Simard EP, Fransua M, Naishadham D, Jemal A. The influence of sex, race/ethnicity, and educational attainment on human immunodeficiency virus death rates among adults, 1993-2007. Arch Intern Med. 2012 Nov 12;172(20):1591-8. PMID: 23045164

Antoine TL, Curtis AB, Blumberg HM, Desilva K, Fransua M, Gould CV, King M, Kraman AA, Pack J, Ribner B, Seybold U, Steinberg JP, Wells JB, Sinkowitz-Cochran RL, Cardo D, Jernigan JA, Gaynes RP. Knowledge, attitudes, and behaviors regarding piperacillin-tazobactam prescribing practices: results from a multicenter study. Infect Control Hosp Epidemiol. 2006 Nov;27(11):1274-7. Epub 2006 Oct 23. PMID: 17080393

Yashar PR, Fransua M, Frishman WH. The sodium-calcium ion membrane exchanger: physiologic significance and pharmacologic implications. J Clin Pharmacol. 1998 May;38(5):393-401. Review. PMID: 9602949


Click here to view additional publications.
Honors and Awards
Merit certificate by the Ethiopian head of state for Superior academic achievement at graduation from Medical school