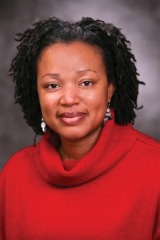 Priscilla E. Pemu, M.B.B.S., M.S.C.R., F.A.C.P.
Associate Dean
Clinical Research

Director, Clinical Research Center
Medicine
Phone: 404-616-8201
E-mail: pipemu@msm.edu
Education
POSTGRADUATE:
University of Benin
Diploma: Anesthesia

Morehouse School of Medicine
Residency: Internal Medicine

GRADUATE:
Morehouse School of Medicine
Degree: Master of Science in Clinical Research

University of Benin
Degree: Diploma in Anesthesia

UNDERGRADUATE:
University of Benin
Degree: Bachelor of Medicine, Bachelor of Surgery
Research Interests
Community Physicians' Network Hypertension Registry
Dr Priscilla Igho-Pemu is the Principal Investigator of this initiative, whose main objective is to improve the quality of hypertension care among the practices. Grants from the National Institutes of Health Center for Health Disparities and the Medtronic Foundation support this project which now has eighty-eight primary care practices committed to participation. The registry has over 3500 records at present.
Community-Centered Intervention to improve Outcomes in Metabolic Syndrome (Meta Health)
This initiative was sponsored, by the National Heart Lung and Blood Institute, as part of a collaborative effort between Morehouse School of Medicine and Emory University to address cardiovascular disparities. Dr Igho- Pemu is the PI at MSM. The program will identify patterns of care for patients with metabolic syndrome among CPN practices. This will serve as the basis for educational interventions directed at the physicians, to increase attention to metabolic syndrome management. Culturally appropriate interventions will be directed at the patients to improve adherence to advice on physical activity and diet and ultimately improve weight loss, blood pressure and lipid control.
Endothelial Dysfunction in Normotensive African Americans: The Role of Gender and Obesity
This study was funded by the National Institutes of Health. Dr Igho-Pemu studied the effects of gender and obesity on endothelial function and made interesting observations on the potential role of oxidative stress that are still being explored.
1. Obesity and its relationship to cardiometabolic risk
2. Optimizing care and outcomes in patients with chronic illnesses
3. Comparative Effectiveness Research
Clinical Interests
General Internal Medicine
Board Certification
American Board of Internal Medicine
Publications
Ferdinand KC, Rodriguez F, Nasser SA, Caballero AE, Puckrein GA, Zangeneh F, Mansour M, Foody JM, Pemu PE, Ofili EO. Cardiorenal metabolic syndrome and cardiometabolic risks in minority populations. Cardiorenal Med. 2014 Apr;4(1):1-11. doi: 10.1159/000357236. Epub 2013 Dec 31. Review. PMID: 24847329

ASPREE Investigator Group. Study design of ASPirin in Reducing Events in the Elderly (ASPREE): a randomized, controlled trial. Contemp Clin Trials. 2013 Nov;36(2):555-64. doi: 10.1016/j.cct.2013.09.014. Epub 2013 Oct 7. PMID: 24113028

Vivar JC, Pemu P, McPherson R, Ghosh S. Redundancy control in pathway databases (ReCiPa): an application for improving gene-set enrichment analysis in Omics studies and "Big data" biology. OMICS. 2013 Aug;17(8):414-22. doi: 10.1089/omi.2012.0083. Epub 2013 Jun 11. PMID: 23758478

Pemu PE, Anderson L, Gee BE, Ofili EO, Ghosh S., Early alterations of the immune transcriptome in cultured progenitor cells from obese African-American women. Obesity (Silver Spring). 2012 Jul;20(7):1481-90. doi: 10.1038/oby.2011.370. Epub 2012 Jan 19. PMID:22262158

Pemu PE, Quarshie AQ, Josiah-Willock R, Ojutalayo FO, Alema-Mensah E, Ofili EO. Socio-demographic psychosocial and clinical characteristics of participants in e-HealthyStrides©: an interactive ehealth program to improve diabetes self-management skills. J Health Care Poor Underserved. 2011;22(4 Suppl):146-64. doi: 10.1353/hpu.2011.0162. PMID: 22102311

Pemu PI, Ofili E. Hypertension in women--part II. J Clin Hypertens (Greenwich). 2008 Jun;10(6):497-500. Review. PMID: 18550941

Click here to view additional publications.
Honors and Awards
2013: Awardee - Diabetes Champion 2013 - "Denim & Diamonds" Community Awards Reception

2009: Featured Participant: Changing the Face of Medicine: Celebrating America's Women Physicians, A local exhibit derived from a larger Exhibit by the National Library of Medicine

2008: Travel Award for Abstract: "Predicting Cardiovascular Risk in Healthy African American Women: Do Oxidative Stress, Endothelial Progenitor Cells and Adipocytokines Award was given by the University of Hawai'i At Manoa, Research Centers in Minority Institutions Progam.

2008: Master Science in Clinical Research, Young Investigators Award, 1st Place Award

2006: Medical fellow - International Society for Hypertension in Blacks/GSK

2004: Honor graduate/Outstanding Fellow Award