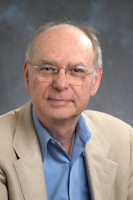 Roger Simon, M.D.
Professor
Medicine

Neurobiology
Location: Multidisciplinary Research Center 238
Phone: 404-756-8811
E-mail: rsimon@msm.edu
Education
POSTGRADUATE:

University of California San Francisco
Residency:
Neurology
New York Hospital
Residency:
Medicine
MEDICAL SCHOOL:

Cornell Medical College
Degree:
Doctor of Medicine in Internal Medicine
GRADUATE:

Pennsylvania State University

Degree:
Master of Science in Entomology
UNDERGRADUATE:

Pennsylvania State University

Degree:
Bachelor of Science in Zoology
Research Interests
My scientific focus has been on neuroprotection of acute brain injury. Firsts include: showing (with Brian Meldrum) the neuroprotection of ischemic brain by glutamate (NMDA) receptor blockade, the demonstration of ischemic tolerance induced protection against experimental stroke, the description of the transcriptional suppression as the genomic phenotype of ischemic tolerance, and the demonstration of the proteomic mechanism of gene silencing producing tolerance. We also discovered the central role of Acid Sensing Ion Channels in acute brain injury. These discoveries were published in Science, Science Signaling and Cell among other journals. I also write (with Drs Aminoff and Greenberg), the best-selling neurology textbook: Clinical Neurology, now in its 8th edition, translated into seven languages.
Board Certification
American Board of Neurology & Psychiatry

American Board of Internal Medicine
Publications
Bian F, Simon RP, Li Y, David L, Wainwright J, Hall CL, Frankel M, Zhou A. Nascent proteomes in peripheral blood mononuclear cells as a novel source for biomarker discovery in human stroke. Stroke. 2014 Apr;45(4):1177-9.

Li MH, Liu SQ, Inoue K, Lan J, Simon RP, Xiong ZG. Acid-sensing ion channels in mouse olfactory bulb M/T neurons. J Gen Physiol. Jun;143(6):719-31. doi: 10.1085/jgp.201310990. Epub 2014 May 12. PMID: 24821964

Meller R, Simon RP. Tolerance to Ischemia - an increasingly complex biology. Transl Stroke Res. 2013 Feb 1;4(1):40-50. Epub 2013 Jan 11

Garrett SL, Sawyer P, Kennedy RE, McGuire D, Simon RP, Strothers HS 3rd, Allman RM. Racial and sex differences in associations between activities of daily living and cognition in community-dwelling older adults. J Am Geriatr Soc. 2013 Dec;61(12):2174-80.

Mandava P, Murthy S, Munoz M, McGuire D, Simon R, Alexandrov A, Albright K, Boehme A, Martin-Schild S, Martini S, Kent T. Consideration of Baseline Factors to Assess rt-PA Response with Respect to Race and Gender. Stroke 2013 Jun;44(6):1525-31.


Click here to view additional publications.
Honors and Awards
2012:Distinguished Scientist Seminar series speaker, Uni Alb at Mobile

2006: Scientific Advisory Committee, SNRP, U of Alaska, Fairbanks

2005: Amer Neurol Assoc Victor and Clara Soriano Lectureship

2005: Italian Society for Neuroscience Plenary Lecturer

2004: Board of Scientific Counselors, NIH/NINDS, Ad Hoc Member