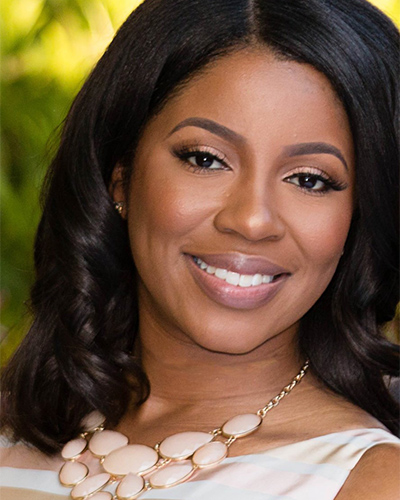 Erica L. Johnson, Ph.D.
Associate Professor
Microbiology, Biochemistry & Immunology / Obstetrics & Gynecology

Co-Director
MSM Vaccine Trials Unit and Pediatric Clinical Translational Research Unit
E-mail: erijohnson@msm.edu
Education
POSTGRADUATE:
Emory University
Postdoctoral Fellowship: Pediatric Infectious Diseases

GRADUATE:
Morehouse School of Medicine
Degree: Doctor of Philosophy in Biomedical Sciences

UNDERGRADUATE:
Clark Atlanta University
Degree: Bachelor of Science in Biology
Research Interests
Dr. Johnson's research focuses on understanding correlates of protection during pregnancy, defining mechanisms of natural immune control and determining how these can be exploited to develop interventions that limit mother-to-child transmission (MTCT) of pathogens. Her studies have advanced the understanding of innate protection against MTCT of HIV and pediatric immune responses to maternal viral infections. Dr. Johnson's laboratory is particularly interested on placental and fetal immunology as it relates to HIV and human cytomegalovirus (HCMV) infection and plans to define mechanisms of protection and transmission during her career to further our understanding of HIV pathogenesis and vaccine development. Her current research goals are to (1) define the dynamics of innate immune signaling in macrophages at the maternal-fetal interface and their control of HIV, HCMV, and ZIKV during pregnancy; (2) determine the mechanisms by which maternal HCMV promotes in utero HIV transmission; and (3) elucidate the impact of maternal infection and/or inflammation on the developing fetal immune system.
Publications
Enninga, EA, Johnson EL, and Rana Chakraborty. Maternal Obesity is Associated with Phenotypic Alterations in Fetal Immune Cells by Single-Cell Mass Cytometry. American Journal of Reproductive Immunology. 2020 Oct 12;
Enninga, EA, Raber P, Quinton R, Ruano R, Ikumi N, Gray C, Johnson EL, Chakraborty RC, and Kerr S. Maternal T cells in the human placental villi support an allograft response during noninfectious villitis. J Immunol. 2020 Jun 1; 204(11):2931-2939.
Swieboda, D, Johnson EL, Beaver J, Haddad L, Enninga EA, Hathcock M, Cordes S, Jean V, Lane I, Skountzou I, and Chakraborty R. Baby's First Macrophage: Temoral regulation of Hofbauer cell phenotype influences ligand-mediated innate immune responses across gestation. J Immuno. 2020 May 1;204(9):2380-2391.
Zimmerman M, Quicke K, O'Neal JT, Arora N, Priyamvada L, Register E, Swieboda D, Johnson EL, Cordes S, Haddad L, Chakraborty R, Coyne C, Wrammert J, and Suthar MS. Cross-reactive Dengue virus antibodies augment Zika virus infection of human placental macrophage. Cell Host & Microbe. 2018 Nov 14;24(5):731-742.e6. doi: 10.1016 /j.chom.2018.10.008.
Johnson EL, Boggavarapu S, Johnson ES, Lal A, Agrawal P, Bhaumik SK, Kaja MK, and Chakraborty R. HCMV enhances placental susceptibility and replication of HIV-1 which may facilitate in utero HIV-1 transmission. J Infect Dis. 2018 May 31. doi: 10.1093/infdis/jiy327.
View additional publications