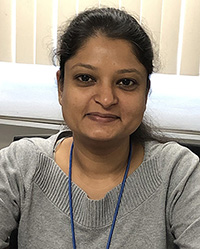 Hina Mir, Ph.D.
Instructor
Microbiology, Biochemistry & Immunology

Location: Hugh Gloster Building
Phone: (404) 752-1504
E-mail: hmir@msm.edu
Education
GRADUATE:
The Maharaja Sayajirao University of Baroda, India
Degree: Doctor of Philosophy in Biochemistry
The Maharaja Sayajirao University of Baroda, India
Degree:
Master of Science in Biochemistry

UNDERGRADUATE:

C. U. Shah Science College, Gujarat University, India
Degree:
Bachelor of Science in Biochemistry
Research Interests
My research goal is to define the cellular and molecular mechanism of colon cancer progression, metastasis and develop therapeutics to improve treatment outcome and patient survival. Currently offered drugs for treating colon cancer result in sub-optimal response, and are associated with severe toxicities debilitating patients' quality of life. The chemokine axis, CCR6-CCL20 is known to be elevated in colon cancer and has an oncogenic role. However, the precise mechanism by which this axis contributes to colon cancer progression is still not completely understood. I am interested in studying the CCR6-CCL20 induced signaling mechanisms that contribute to colon cancer progression and evaluate the potential of CCR6-directed therapy on the efficacy of conventional chemotherapeutics.
Publications
King J, Mir H, Kapur N, and S Singh, Racial Differences in Immunological Landscape Modifiers Contributing to Disparity in Prostate Cancer. Cancers, 2019; 11(12), 1857. PMID: 31769418.

Kapur N, Mir H, Sonpavde G; Jain S, Bae S, Lillard, JW Jr., and Singh S. Prostate cancer cells hyper-activate CXCR6 signaling by cleaving CXCL16 to overcome the effect of docetaxel. Cancer Letters 2019. July; 454, 1-13. PMID:30974114.

Saunders IT, Mir H, Kapur N, and Singh S. Emodin inhibits colon cancer by altering BCL-2 family proteins and cell survival pathways. Cancer Cell International, 2019; 19 (1) 98. PMID: 31011292.

King J, Mir H, Kapur N, Bae S, and Singh S. CC chemokines are differentially expressed in Breast Cancer and are associated with the disparity in overall survival. Sci. Rep. 2019 Mar; 9(1), 4014. PMID: 30850664.


Mir H, Kaur G, Kapur N, Bae S, Lillard JW, Jr., and Singh S. Higher CXCL16 exodomain is associated with aggressive ovarian cancer and promotes the disease by CXCR6 activation and MMP modulation. Sci Rep. 2019 Feb 21;9(1):2527. PMID:30792527.

https://www.ncbi.nlm.nih.gov/pubmed/?term=hina+mir