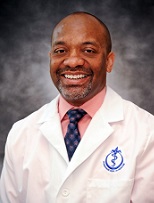 James W. Lillard, Ph.D., MBA
Associate Dean for Research, Professor
Microbiology, Biochemistry & Immunology

Location: Hugh Gloster Building
Phone: 404-752-1863
E-mail: jlillard@msm.edu
Education
GRADUATE:
University of Kentucky College of Medicine
Degree: Doctor of Philosophy in Microbiology & Immunology

Emory University Goizueta Business SchooL
Degree: Master of Business Administration in Healthcare Track


UNDERGRADUATE:
Ohio State University
Degree: Bachelor of Science in Electrical & Computer Science Engineering
Research Interests
Dr. Lillard is an immuno-biologist who uses both in silico and in vivo methods to develop biologics, humanized antibodies, vaccines, and nanoparticles to diagnose, prevent, and/or treat cancers, inflammation and infectious diseases. Most recently, his laboratory research involves dissecting the molecular mechanisms of CXCL13/CXCR5-mediated prostate, breast, ovarian, and lung cancers and chronic lymphocytic leukemia progression, using clinically annotated DNA/RNA sequence data. His research contributions span multiple disciplines including oncology, vaccine development, biodefense, and neuro-inflammation. Dr. Lillard's cumulative peer-reviewed funding principally directed over his scientific career exceeds $30 million and he has authored over 300 scientific communications, which have been cited over 5,600 times.
Publications
S.K. Singh, J.W. Lillard, Jr., and R. Singh. 2018. Reversal of drug resistance by planetary ball milled (PBM) nanoparticle loaded with resveratrol and docetaxel in prostate cancer. Cancer Lett. 427:49-62. PMID: 29678549
S.K. Singh, M.K. Mishra, I.A. Eltoum, S. Bae, J.W. Lillard, Jr., and R. Singh. 2018. CCR5/CCL5 axis interaction promotes migratory and invasiveness of pancreatic cancer cells. Sci Rep in press PMID: 29358632
M.B. Huang, R.R. Gonzalez, J. Lillard, and V.C. Bond. 2017. Secretion modification region-derived peptide blocks exosome release and mediates cell cycle arrest in breast cancer cells. Oncotarget 8:11302-15. PMID: 28076321
N. Kapur, H. Mir, C. Clark, III, U. Krishnamurti, D. Beech, J.W. Lillard, Jr., and S. Singh. 2016. CCR6 expression in colon cancer is associated with advanced disease and supports epithelial to mesenchymal transition. Br J Cancer 14: 1343-51. PMID: 27149649
H. Mir, N. Kapur, R. Singh, G. Sonpavde, J.W. Lillard and S. Singh. 2016. Andrographolide inhibits prostate cancer by targeting cell cycle regulators, CXCR3 and CXCR7 chemokine receptors. Cell Cycle 15:819-26. PMID: 27029529
R. Singh, N. Kapur, H. Mir, N. Singh, J.W. Lillard Jr., and S. Singh. 2016. CXCR6-CXCL16 axis promotes prostate cancer by mediating cytoskeleton rearrangement via Ezrin activation and αvβ3 integrin clustering. Oncotarget 7:7343-53. PMID: 26799186
R. Singh, P. Gupta, G.H. Kloecker, C.R. Stockard, W.E. Grizzle, S. Singh, and J.W. Lillard, Jr. 2014. Expression and clinical significance of CXCR5/CXCL13 in human non-small cell lung carcinoma. Intl J Oncology [Epub ahead of print] PMID: 25271023
C.P. El-Haibi, R. Singh, P. Sharma, S. Singh, and J.W. Lillard, Jr.ξ 2012. Antibody microarray analysis of signaling networks regulated by CXCL13 and CXCR5 in prostate cancer. J Proteomics Bioinform 5:177-84. PMID: 24009409
Click here to view additional publications.
Honors and Awards
Veterans Affairs, National Research Advisory Council Member
American Association for Cancer Research President's Initiative -2020 by 2020, Principal Investigator
National Institutes of Health Center for Scientific Review, Innate Immunity & Inflammation Study Section Member
National Institutes of Health Center for Scientific Review, Cancer Diagnostics & Treatments (CDT) SBIR Peer Review Panel Member
National Institutes of Health Center for Scientific Review, Provocative Questions Special Emphasis Peer Review Panel Member
World Journal of Medical Research, Editor-in-Chief
World Journal of Clinical Oncology, Editorial Board
Georgia Cancer Coalition, Distinguished Cancer Scholar Award
University of Louisville, Smith & Lucile Gibson Endowed Chair in Medicine
United States Food & Drug Administration Transmissible Spongiform Encephalopathy Advisory Panel Member
Academy of Microbiologist, Microbial Triggers of Chronic Human Illness Colloquium Member
Crohn's & Colitis Foundation of America Senior Research Scientist Award