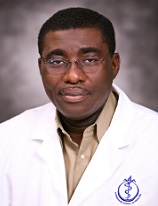 Jonathan K. Stiles, Ph.D.
Professor
Microbiology, Biochemistry & Immunology

Location: Hugh Gloster Building
Phone: (404) 752-1585
E-mail: jstiles@msm.edu
Education
GRADUATE:
University of Salford
Degree: Doctor of Philosophy

UNDERGRADUATE:
University of Ghana
Degree: Bachelor of Science
Research Interests
Molecular pathogenesis of neglected diseases that affect the central nervous system (CNS) with emphasis on cerebral malaria and African trypanosomiasis ("Sleeping Sickness")


Our research is focused on three main areas; a) Understanding pathogen-induced brain encephalopathy, and b) Research and development of anti-parasitic drugs and c) Understanding immunopathogenesis of Sickle Cell Disease
Pathogen-induced brain neuropathy (Cerebral malaria & African Trypanosomiasis). In collaboration with the Neuroscience Institute here at MSM, Queens College, NY, University of Ghana Medical School, and CDC, Atlanta, GA, we are studying the role of cerebral malaria (CM) and African trypanosomiasis (HAT) in brain neuropathy. Both diseases impact the central nervous system and result in diffuse encephalopathy in the infected. The encephalopathy associated with malaria for example is associated with 10-14% of mortality with an estimated annual death of 1-2.5 million annual deaths globally. The molecular mechanisms controlling these outcomes are unclear. Current studies ignore malaria-induced gross neurological defects and the impact of this disease on learning, cognitive function and neuro-psychology. The absence of effective vaccines or drugs to protect against these diseases coupled with the increasing drug resistance has resulted in the re-emergence of malaria and trypanosomiasis in the tropics and subtropics. We are employing bio-informatics, functional genomics, and proteomics in human and mouse disease models to study the role of immunomodulators, apoptosis, and signaling factors in CM and HAT-induced brain pathology.

Research & Development of anti-parasitic drugs. In collaboration with Yale University, University of Mississippi Medical Center, (UMC), and Noguchi Medical Research Institute in Ghana, we are targeting cation homeostasis mechanisms of trypanosomes during infection. Millions of Latin Americans infected with Trypanosoma cruzi (Chagas disease) suffer chronic splenomegaly, cardiac myopathy and megacolonitis while millions are at risk of infection with African trypanosomes (HAT) in Africa. HIV infection exacerbates susceptibility to and further complicates malaria and HAT. Available drugs are very toxic while supplies are precariously low. We are targeting cation pumps (cation ATPases) utilized by trypanosomes for uptake of nutrients, as well as for regulating cell volume and intracellular pH as drug targets. Blocking these ion pumps by specific drugs or antibodies inhibit proliferation of these parasites in vitro and in their hosts. By understanding parasite ion homeostasis during infection, we hope that novel strategies to intervene by drugs may be developed.

Genomics & Immunopathogenesis of Sickle Cell Disease SCD. In collaboration with Drs. Adamkiewicz, Hibbert, Gee, and Buchanan at Morehouse School of Medicine, we provide postdoctoral research training in various aspects of sickle cell disease (SCD) immuno-pathogenesis in human and murine models. SCD and other hemoglobinopathies are responsible for significant morbidity and mortality among people of African, Mediterranean and South Asian descent.
Publications
Thompson WE, Pattillo RA, Stiles JK, Schatten G. Biomedical research's unpaid debt: NIH's initiative to support and implement fairer competition for minority students is a welcome step to redress the exploitation of African Americans by science. EMBO Rep. 2014 Apr;15(4):333-7. doi: 10.1002/embr.201338274. Epub 2014 Mar 20. PMID: 24652854

Solomon W, Wilson NO, Anderson L, Pitts S, Patrickson J, Liu M, Ford BD, Stiles JK. Neuregulin-1 attenuates mortality associated with experimental cerebral malaria. J Neuroinflammation. 2014 Jan 17;11:9. doi: 10.1186/1742-2094-11-9. PMID: 24433482

Liu M, Wilson NO, Hibbert JM, Stiles JK. STAT3 regulates MMP3 in heme-induced endothelial cell apoptosis. PLoS One. 2013 Aug 13;8(8):e71366. doi: 10.1371/journal.pone.0071366. eCollection 2013. PMID: 23967200

Wilson NO, Solomon W, Anderson L, Patrickson J, Pitts S, Bond V, Liu M, Stiles JK. Pharmacologic inhibition of CXCL10 in combination with anti-malarial therapy eliminates mortality associated with murine model of cerebral malaria. PLoS One. 2013 Apr 5;8(4):e60898. doi: 10.1371/journal.pone.0060898. Print 2013. PMID: 23630573

Liu M, Guo S, Stiles JK. The emerging role of CXCL10 in cancer (Review). Oncol Lett. 2011 Jul;2(4):583-589. Epub 2011 May 9. PMID: 22848232

Hyacinth HI, Gee BE, Adamkiewicz TV, Adams RJ, Kutlar A,Stiles JK, Hibbert JM. Plasma BDNF and PDGF-AA levels are associated with high TCD velocity and stroke in children with sickle cell anemia. Cytokine. 2012 Oct;60(1):302-8. doi: 10.1016/j.cyto.2012.05.017. Epub 2012 Jun 15. Erratum in: Cytokine. 2013 Apr;62(1):174. PMID: 22704695


Click here to view additional publications.