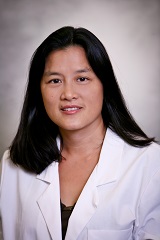 Lilly Cheng Immergluck, M.S., M.D., FAAP
Associate Professor
Microbiology, Biochemistry, Immunology & Pediatrics

Director
Pediatric Clinical & Translational Research Unit, Clinical Research Center
E-mail: limmergluck@msm.edu
Education
MEDICAL SCHOOL:
Ohio State University College of Medicine
Degree:
Doctor of Medicine
GRADUATE:
Morehouse School of Medicine
Degree:
Masters of Science in Clinical Research


UNDERGRADUATE:
Northwestern University
Degree:
Bachelor of Science in Biochemistry/Molecular Biology/Cell Biology
Research Interests
Health disparities associated with vaccine preventable conditions in children and antibiotic resistance

Immune mediated factors associated with resistant staphylococcal infections

Healthcare associated infections
Board Certification
Pediatrics

Pediatric Infectious Diseases
Publications
Malhotra K, Baltrus P, Zhang S, McRoy L, Immergluck L, Rust G. Local Area Variation in Asthma ED Visits Among 5-14 Year Old Children Enrolled in Medicaid. J Asthma 2014 Jun 27:1-9 (Epub ahead of press). PMID 24915006

Immergluck LC*, Satola S, Jain S, Watson JR, McCracken C, Chan T, Leong T,Gotlieb E, and Jerris RC. Methicillin-resistant Staphylococcus aureus Colonization among Pediatric Healthcare Workers from different outpatient settings. Amer J Infect Contr September 2013;41 (9): 841-3

Cortese M, Immergluck LC,Held M, Jain S, Chan T,Grizas A,Meek J,Khizer S, George N, Barrett C, Esposito D, Mijatovic-Rustemapasic S, Gautam R, Moore J, Tate J, Bowen M, Parashar U, and Vázquez M. Effectiveness of Monovalent and Pentavalent Rotavirus Vaccine. Pediatrics July 2013; 132(1); e25-33. PMID:23777614

Cortese, MD, LeBlanc, J, White, KE, Jerris, RC, Stinchfield, P, Preston, KL, Meek, J, Odolfin, L, Khizer, S, Miller, CA, Buttery, V, Mijatovic-Rustempasic, S, Lewis, J, Parashar, UD, and Cheng Immergluck, L. Leveraging state immunization information systems to measure the effectiveness of rotavirus vaccine. Pediatrics, December 2011, 128 (6): 1474-81.

Immergluck LC*, Khizer S, Chan T, Alema-Mensah E, Jerris RC, and Farley MM. Completeness of Rotavirus vaccination and its impact on rotavirus disease. Clin Transl Sci 2011, 4(2):99.

Immergluck LC*. Community-associated Infections in Children—Update on Community-Associated Methicillin Resistant Staphylococcus aureus for the Practioner. Ethnic and Dis. 2007;17: S2-46-49.2007.


Click here to view additional publications.
Honors and Awards
2012: Master of Science in Clinical Research, Outstanding Graduate Award

2010: Clinical Translational Educational and Research Conference Travel Award, Held in Washington, D.C. (Recipient of Travel Award

2009: AAMC Mid-Career Women Faculty Professional Development Series (Nominated/Awarded by Chair)

1995: Lawrence M. Gartner Fellowship Award for Excellence in Pediatric Research

1995: Society for Pediatric Research, Fellow's Basic Science Research Award, University of Chicago Postgraduate Biomedical Research Symposium, First Prize in Basic Science Research

1994-1997: Pediatric Scientist Development Program Award/ Association of Medical School Pediatrics Department Chairmen, Inc.