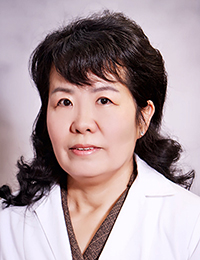 Ming B. Huang, M.D., M.S.
Instructor
Microbiology, Biochemistry & Immunology

Director of Microvesicles/Exosomes Core
Research Centers in Minority Institutions (RCMI)
Location: Medical Education Building, Room C-212
Phone: (404) 752-1861
E-mail: mhuang@msm.edu
Education
POSTGRADUATE:
Clinical Microbiology Program,
Children's Hospital of Shanghai Medical University
Nosocomial Pathogens Laboratory Branch at Hospital Infections Program,
Centers for Disease Control and Prevention, Atlanta, USA
Fellowship: Postdoctoral

MEDICAL SCHOOL:
Guangxi Medical University
Degree: Doctor of Medicine in Medicine


GRADUATE:
Tianjin Medical University
Degree:
Master of Science in Medical Microbiology and Immunology
Research Interests
The molecular mechanisms in the progresses and therapy in breast cancer.\

Peptides/Drugs discovery (Anticancer, antivirus and antibacterial).

The molecular mechanisms in the HIV/AIDS pathogenesis, treatment and prevention.

Bacteria biofilm formation and resistance.
Publications
Huang MB, Wu JY, Lillard J, Bond VC. SMR peptide antagonizes mortalin promoted release of extracellular vesicles and affects mortalin protection from complement-dependent cytotoxicity in breast cancer cells and leukemia cells. Oncotarget. 2019 Sep 10;10(52):5419-5438. doi: 10.18632/ oncotarget.27138. eCollection 2019 Sep 10. PMID: 31534628

Huang MB, Giesler KE, Katzman BM, Prosser AR, Truax V, Liotta DC, Wilson LJ, Bond VC. Small Molecule CXCR4 Antagonists Block the HIV-1 Nef/CXCR4 Axis and Selectively Initiate the Apoptotic Program in Breast Cancer Cells. Oncotarget. 2018 Feb 26;9(24):16996-17013. doi: 10.18632/oncotarget.24580. eCollection 2018 Mar 30. PMID: 29682200


Huang MB, Gonzalez RR, Lillard J, Bond VC. Secretion modification region-derived blocks exosome release and mediates cell cycle arrest in breast cancer cells. Oncotarget. 2017 Jan 5. Doi:10. 18632/Oncotarget. 14513. PMID:28076321.

Huang MB, Ye L, Liang BY, Ning CY, Roth WW, Jiang JJ, Huang JG, Zhou B, Zang N, Powell MD, Liang H, Bond VC. Characterizing the HIV/AIDS Epidemic in the United States and China. Int J Environ Res Public Health. 2015 Dec 22;13(1). pii: E30. doi: 3390/ijerph13010030. PMID: 26703667

Konadu KA, Chu J, Huang MB, Amancha PK, Armstrong W, Powell MD, Villinger F, Bond VC. 2014. Cytokines Associate with Exosomes in the Plasma of HIV-1+ Individuals. Journal of Infectious Diseases. doi: 10.1093/infdis/jiu676. PMC4447830

Bumpers H, Huang MB, Katkoori V, Manne U, Bond V. Nef-M1, a CXCR4 Peptide Antagonist, Enhances Apoptosis and Inhibits Primary Tumor Growth and Metastasis in Breast Cancer. J Cancer Ther. 2013 Jun;4(4):898-906. PMID: 25285238

Shelton MN, Huang MB., Ali SA., Powell MD, Bond VC. SMR-derived peptide disrupts HIV-1 Nef's interaction with mortalin and blocks virus and Nef exosome release. J Virol. Jan 2012, 86(1): 406-19. PMC3255900.

Click the link to view additional publications. https://www.ncbi.nlm.nih.gov/pubmed/?term=huang+mb+morehouse+school+of+medicine


Patents
Bond VC, Powell M, Huang MB, Ali S. USP 10,053,496. 08/21/18. Compositions and methods for exosome targeted expression. http://patft.uspto.gov/netahtml/PTO/srchnum.htm
Bond, VC, Lillard JW, Huang, MB. USP10,040,831 B2. 08/07/18. Compositions and methods for treating diseases by inhibiting exosome release. http://patft.uspto.gov/netahtml/PTO/srchnum.htm
Bond VC, Powell M, Huang MB, Ali S., Shelton MN. USP 8,669,226. 03/11/14. Antimicrobial compositions and methods of use thereof. http://patft.uspto.gov/netahtml/PTO/srchnum.htm