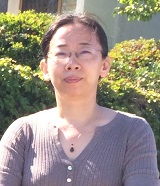 Mingli Liu, M.D., Ph.D.
Assistant Professor
Microbiology, Biochemistry & Immunology

Location: Hugh Gloster Building
Phone: (404) 752-1850
E-mail: mliu@msm.edu
Education
MEDICAL SCHOOL:

Peking University School of Medicine

Degree:
Doctor of Medicine



GRADUATE:
Peking Union Medical College & Tokyo University
Degree:
Doctor of Philosophy in Hematology/Oncology
PLA Postgraduate Medical School
Degree:
Master of Science in Hematology/Oncology
Research Interests
The molecular mechanisms in the pathogenesis and treatment of severe malaria and sickle cell disease.
Molecular pathways and therapeutic targets in brain, breast tumors and cancer stem cells.
Publications
Liu M, Inoue K, Leng T, Guo S, Xiong ZG. TRPM7 channels regulate glioma stem cell through STAT3 and Notch signaling pathways. Cell Signal. 2014 Dec;26(12):2773-81. doi: 10.1016/j.cellsig.2014.08.020. Epub 2014 Sep 2. PubMed PMID: 25192910; PubMed Central PMCID: PMC4405379.
Solomon W, Wilson NO, Anderson L, Pitts S, Patrickson J, Liu M, Ford BD, Stiles JK. Neuregulin-1 attenuates mortality associated with experimental cerebral malaria. J Neuroinflammation. 2014 Jan 17;11:9. doi: 10.1186/1742-2094-11-9. PubMed PMID: 24433482; PubMed Central PMCID: PMC3906904.
Liu M, Wilson NO, Hibbert JM, Stiles JK. STAT3 regulates MMP3 in heme-induced endothelial cell apoptosis. PLoS One. 2013 Aug 13;8(8):e71366. doi: 10.1371/journal.pone.0071366. eCollection 2013. PubMed PMID: 23967200; PubMed Central PMCID: PMC3742773.
Liu M, Amodu AS, Pitts S, Patrickson J, Hibbert JM, Battle M, Ofori-Acquah SF, Stiles JK. Heme mediated STAT3 activation in severe malaria. PLoS One. 2012;7(3):e34280. doi: 10.1371/journal.pone.0034280. Epub 2012 Mar 30. PubMed PMID: 22479586; PubMed Central PMCID: PMC3316628.
Liu M, Guo S, Hibbert JM, Jain V, Singh N, Wilson NO, Stiles JK. CXCL10/IP-10 in infectious diseases pathogenesis and potential therapeutic implications. Cytokine Growth Factor Rev. 2011 Jun;22(3):121-30. doi: 10.1016/j.cytogfr.2011.06.001. Epub 2011 Jul 29. Review. PubMed PMID: 21802343; PubMed Central PMCID: PMC3203691.
Jayakumar AR, Liu M, Moriyama M, Ramakrishnan R, Forbush B 3rd, Reddy PV, Norenberg MD. Na-K-Cl Cotransporter-1 in the mechanism of ammonia-induced astrocyte swelling. J Biol Chem. 2008 Dec 5;283(49):33874-82. doi: 10.1074/jbc.M804016200. Epub 2008 Oct 10. PubMed PMID: 18849345; PubMed Central PMCID: PMC2590687.
Click
here
to view additional publications.