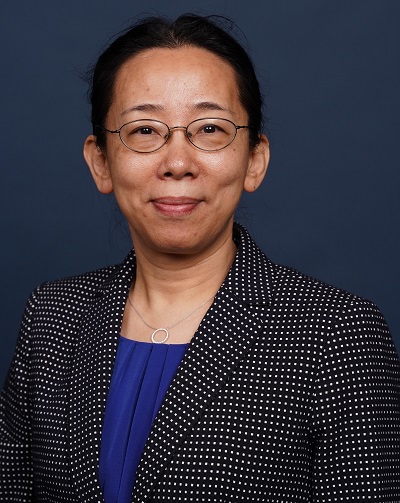 Mingli Liu, MD, PhD, MSCR
Associate Professor
Microbiology, Biochemistry & Immunology

Location: Research MBU R035
Phone: (404) 752-1850
E-mail: mliu@msm.edu
Education
MEDICAL SCHOOL
Peking University School of Medicine
Degree: Doctor of Medicine


GRADUATE
Peking Union Medical College & Tokyo University
Degree: Doctor of Philosophy in Hematology/Oncology

People's Liberation Army Postgraduate Medical School
Degree: Master of Science in Hematology/Oncology

Morehouse School of Medicine
Degree: Master of Science in Clinical Research

POSTGRADUATE
Thomas Jefferson University, Kimmel Cancer Center
Research Interests
Molecular pathways and therapeutic targets in brain tumors and cancer stem cells


The Liu lab mainly focuses on researching cell signaling pathways associated with brain cancer, especially cell differentiation and tumor progression. The current standard of care of surgery and radiochemotherapy for glioblastomas (GBM) is lacking and does not result in improved prognosis. Accumulating evidence show that the failure of using current chemo- and radio- therapies to treat GBM and the resultant of high tumor recurrence are attributed to the presence of a small subpopulation of glioma stem cells (GSC), which is characterized by their stem cell-like properties and aggressive behavior.


Our ongoing research projects include: 1) TRPM7 induces tumorigenesis and stemness through Notch and Stat3 activation in glioma.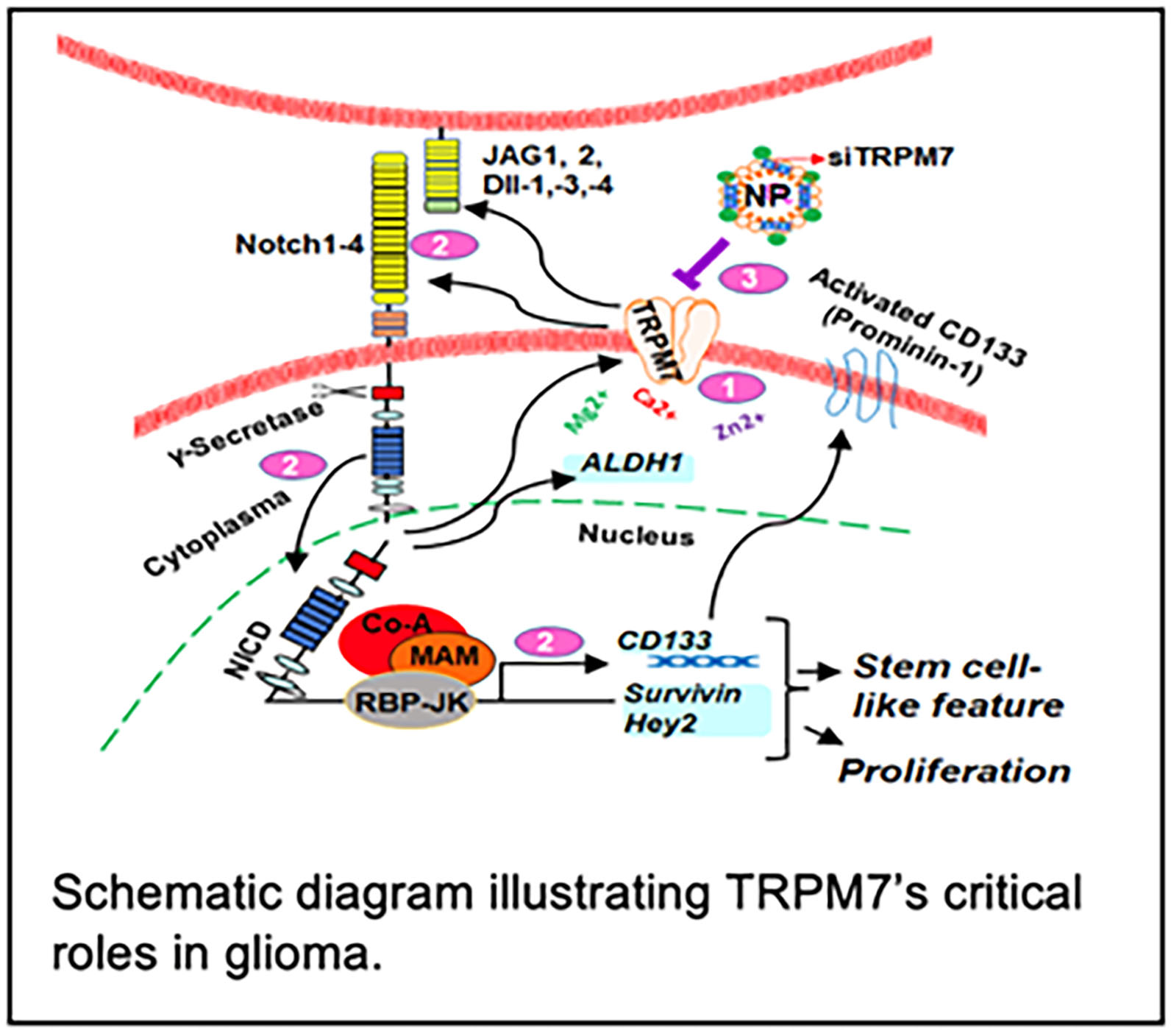 The proposed study will delineate the molecular mechanisms of TRPM7 in the development and progression of glioma tumorigenesis and stemness as well as develop TRPM7 as a novel drug target for glioma patients (see schematic figure). 2) Determination of racial disparities in glioma through Rap1b/Notch -induced tumorigenesis and stemness. We are the first to report that the suppression of Rap1b inhibits proliferation, migration, and invasion of malignant human gliomas, indicating that Rap1b may represent a novel and promising target for therapeutic intervention of malignant glioma. The proposed study will clarify the predictive role of Rap1b in GBM in patients, reveal biological diversity across races and unaddressed health disparities, and evaluate Rap1b's potential as a therapeutic target. 3) Regulation of malignant glioma stem cells through acid sensor ASIC1. The available mRNA microarray data from both Rembrandt and TCGA reveal that glioma patients with high ASIC1 expression have preferable survival compared to those with low ASIC1 expression, meaning that ASIC1 is associated with improved survival rates of glioma patients and indicate that preserved susceptibility to extracellular pH may impair tumor growth. This study will determine that ASIC1 functions as a tumor suppressor in glioma stemness and tumorigenesis while the stimulation of ASIC1 activity may inhibit GSC self-renewal and temozolomide induced resistance, and the novel knowledge from this study will potentially be used to significantly impact the outcome of glioma patients' treatments and contribute to ion transport proteins studies in other cancers. 4) Regulation of self-renewal and differentiation of neural stem cells by ASIC1a signaling. Our overall hypothesis is that ASIC1a is functionally connected to neural differentiation of neural stem cells (NSC) through the Notch signaling pathway. In this project, we will determine ASIC1a's regulation of NSC's neural differentiation using hiPSC-NSCs and ASIC1a depleted cells from ASIC1a knockout mice (ASIC1a-/-).


The overall goal is to better understand and develop mechanism-driven targeted therapies for brain cancer patients. These include identification and characterization of genetic and epigenetic changes during the initiation and progression of brain tumor, functional characterization of these genes and/or proteins in cancer initiation, and development of targeted therapies.


The Liu lab currently has positions open for postdoctoral candidates and interested students learners for short- or long-term research experiences. Please contact Dr. Liu at mliu@msm.edu for more information.
Publications
Guo S, King P, Liang E, Guo AA, Liu M. LncRNA HOTAIR sponges miR-301a-3p to promote glioblastoma proliferation and invasion through upregulating FOSL1. Cell Signal. 2022 Mar 12;94:110306. doi: 10.1016/j.cellsig.2022.110306. [Epub ahead of print] PubMed PMID: 35292358; NIHMSID:NIHMS1790767.

King P, Wan J, Guo AA, Guo S, Jiang Y, Liu M. Regulation of gliomagenesis and stemness through acid sensor ASIC1a. Int J Oncol. 2021 Oct;59(4). doi: 10.3892/ijo.2021.5262. Epub 2021 Sep 13. PubMed PMID: 34515325; PubMed Central PMCID: PMC8448544.

Wan J, Guo AA, King P, Guo S, Saafir T, Jiang Y, Liu M. TRPM7 Induces Tumorigenesis and Stemness Through Notch Activation in Glioma. Front Pharmacol. 2020;11:590723. doi: 10.3389/fphar.2020.590723. eCollection 2020. PubMed PMID: 33381038; PubMed Central PMCID: PMC7768084.

Wan J, Guo AA, Chowdhury I, Guo S, Hibbert J, Wang G, Liu M. TRPM7 Induces Mechanistic Target of Rap1b Through the Downregulation of miR-28-5p in Glioma Proliferation and Invasion. Front Oncol. 2019;9:1413. doi: 10.3389/fonc.2019.01413. eCollection 2019. PubMed PMID: 31921670; PubMed Central PMCID: PMC6928690.

Liu M, Inoue K, Leng T, Guo S, Xiong ZG. TRPM7 channels regulate glioma stem cell through STAT3 and Notch signaling pathways. Cell Signal. 2014 Dec;26(12):2773-81. doi: 10.1016/j.cellsig.2014.08.020. Epub 2014 Sep 2. PubMed PMID: 25192910; PubMed Central PMCID: PMC4405379.
Click here to view additional publications.


Honors and Awards
2007 Outstanding Young Investigator Award, Joint Cancer Conference of the Florida Universities

2009 Patent, Technology Transfer, ID: UMG-105, A Novel GREB1 Monoclonal Antibody, University of Miami

2009 Women Cancer Association Award, Miami Women Cancer Association

2011 Scholarship on Genome Variation and Evolution, University of Rutgers

2016 Minority-Serving Institution Faculty Scholar Award, American Association of Cancer Research

2016 Health Disparity Research Training Program Award, The University of Alabama at Birmingham

2016 Pittsburgh Intensive Training in Hematology Research Scholarship, University of Pittsburgh

2016 Faculty Development Program, Morehouse School of Medicine

2017 Minority-Serving Institution Faculty Scholar Award, American Association of Cancer Research

2017-2019 Scholar of the Clinical Research Education and Career Development, Morehouse School of Medicine

2018 Scholar of Frontiers in Stem Cells in Cancer, NIH/University of Pittsburgh

2019-2020 TxTM Pilot Grant Award, Morehouse School of Medicine

2021 NIH/Ad hoc reviewer, Clinical Neuroimmunology and Brain Tumors Study Section

2021 NIH/Ad hoc reviewer, Glioma, Multiple Sclerosis, and Neuroinflammation Study Section

2021 NIH/Ad hoc reviewer, Cancer Therapeutics and Drug Development Study Section