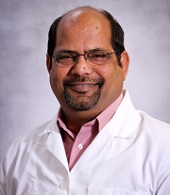 Shailesh Singh, Ph.D.
Professor
Microbiology, Biochemistry & Immunology

Location: Hugh Gloster Building
Phone: 404-756-5718
E-mail: shsingh@msm.edu
Education
GRADUATE:
Banaras Hindu University
Degree: Doctor of Philosophy in Cancer Biology

Banaras Hindu University
Degree: Master of Science in Endocrinology and Reproductive Physiology


UNDERGRADUATE:
Banaras Hindu University
Degree: Bachelor of Science in Zoology, Botany and Chemistry
Research Interests
Long-term research interest of my laboratory includes developing comprehensive treatment/prevention strategies for prostate, breast and ovarian cancer. These strategies are directed to tumor cells and/or immune system using natural and synthetic products as a single agent or in combination with conventional therapeutics.

Our research approach involves mechanistic studies to define the role of chemokines in cancer metastasis (i.e. detachment, motility, adhesion, invasion, survival and tumor growth at distant sites) as well as developing strategies to inhibit metastasis and enhance chemotherapeutic efficacy. Additionally, we are developing methods to overcome tumor induced immune suppression using natural products that treat/prevent cancer as a single agent or in combination with traditional therapeutics.
Publications
Gupta P, Sharma PK, Mir H, Singh R, Singh N, Kloecker GH, Lillard JW Jr, Singh S. CCR9/CCL25 expression in non-small cell lung cancer correlates with aggressive disease and mediates key steps of metastasis. Oncotarget. 2014 Sep 25. PMID: 25296976

Singh R, Gupta P, Kloecker GH, Singh S, Lillard JW Jr. Expression and clinical significance of CXCR5/CXCL13 in human non‑small cell lung carcinoma. Int J Oncol. 2014 Dec;45(6):2232-40. doi: 10.3892/ijo.2014.2688. Epub 2014 Sep 30. PMID: 25271023

Rai D, Malhotra HS, Garg RK, Goel MM, Malhotra KP, Kumar V, Singh AK, Jain A, Kohli N, Singh SK. Nerve abscess in primary neuritic leprosy. Lepr Rev. 2013 Jun;84(2):136-40. PMID: 24171239

Singh R, Gupta P, Sharma PK, Ades EW, Hollingshead SK, Singh S, Lillard JW. Prediction and characterization of helper T-cell epitopes from pneumococcal surface adhesin A. Immunology. 2014 Apr;141(4):514-30. doi: 10.1111/imm.12194. PMID: 24138116

Kumar Goyal N, Goel A, Sankhwar SN, Mandal S, Singhai A, Singh S. Cheek metastasis from a bladder tumor: unusual presentation of an aggressive disease. Urologia. 2013 Sep-Dec;80(4):317-21. doi: 10.5301/urologia.5000022. Epub 2013 Jun 24. PMID: 23813285

El-Haibi CP, Sharma P, Singh R, Gupta P, Taub DD, Singh S, Lillard JW Jr. Differential G protein subunit expression by prostate cancer cells and their interaction with CXCR5. Mol Cancer. 2013 Jun 18;12:64. doi: 10.1186/1476-4598-12-64. PMID: 23773523


Click here to view additional publications.