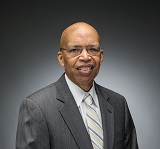 Vincent C. Bond, Ph.D.
Professor
Microbiology, Biochemistry & Immunology

E-mail: vbond@msm.edu
Education
POSTGRADUATE:
California Institute of Technology
Fellowship: Postdoctoral

GRADUATE:
Pennsylvania State University
Degree: Doctor of Philosophy in Genetics

Pennsylvania State University
Degree: Master of Science in Genetics

UNDERGRADUATE:
Pennsylvania State University
Degree: Bachelor of Science in Biology
Research Interests
The major determinants of HIV pathogenesis leading to AIDS remain unclear. However, a growing body of experimental evidence suggests that the HIV/SIV protein Nef plays a key role in virus-induced pathogenesis. Understanding the viral and cellular determinants underlyng pathogenesis leading to AIDS is a critical step in finding new targets for therapy to slow or stop progression to AIDS. For the last fifteen+ years, Dr Bond's lab in collaboration with Dr Michael Powell have been investigating the role played by extracellular Nef, secreted from HIV (or SIV/HIV-2) infected cells in extracellular vesicles (EV's; exNef), in pathogenesis leading to AIDS. This work has entailed molecular genetics, computation chemistry using supercomputer modeling, translational/population studies involving patient plasma analysis, humanized mouse studies of infection, and monkey studies with collaborators at University of California, Davis, and Emory CFAR Clinical Core, immunological analysis of human infection and nonhuman primate infections with collaborators at University of Louisiana, Layfette Primate Center.
A body of literature arising from these collaborative, funded studies has begun to uncover the detailed mechanism(s) by which the Nef protein is released from viral-infected cells in EV's that result in, depending on the cell type, (i) activation-induced cell death, or (ii) gene dysregulation leading to unscheduled immune activation, both in bystander cells. These uncovered mechanisms are capable of leading to immune depletion/dysfunction causing pathogenesis leading to AIDS. This research program has highlighted at least one potential new target for AIDS therapy, and a therapeutic peptide inhibitor. Additionally, understanding the role of/mechanisms underlying the cellular trafficking pathway in the HIV lifecycle has opened new avenues of study into this basic and important cellular function, relevant to understanding and addressing other disease processes including cancer pathogenesis, and bacterial biofilm formation/pathogenesis.
Publications
Shelton MN, Huang MB, Ali SA, Powell MD, and Bond VC. 2012. SMR-derived peptide disrupts HIV-1 Nef's interaction with mortalin and blocks virus and Nef exosome release. J Virol. Jan, 86(1): 406-19. PMC3255900.

Kim DK, Lee J, Kim SR, et al. 2013. EVpedia: A Community Web Portal for Extracellular Vesicles Research. Bioinformatics. doi:10.1093/bioinformatics/btu741. PMC4375401.

Konadu KA, Chu J, Huang MB, Amancha PK, Armstrong W, Powell MD, Villinger F, Bond VC. 2014. Cytokines Associate with Exosomes in the Plasma of HIV-1+ Individuals. Journal of Infectious Diseases. doi: 10.1093/infdis/jiu676. PMC4447830
Konadu KA, Anderson JS, Huang MB, Ali SA, Powell MD, Villinger F, Bond VC. 2015. Hallmarks of HIV-1 pathogenesis are modulated by Nef's Secretion Modification Region. J AIDS Clin Res Jul; 6(7). pii: 476. Epub 2015 Jun 30. PMC4625552.
Konadu KA, Huang MB, Roth W, Armstrong W, Powell M, Villinger F, Bond VC. 2016. Isolation of Exosomes from the Plasma of HIV-1 Positive Individuals. J Vis Exp. 2016 Jan 5;(107). doi: 10.3791/53495. PMC4780996
Huang MB, Gonzalez RR, Lillard J, Bond VC. Secretion Modification Region-Derived Peptide Blocks Exosome Release and Mediates Cell Cycle Arrest in Breast Cancer Cells. OncoTarget. 2017, Jan 5. doi: 10.18632/oncotarget.14513. PMC5355266
Click here to view additional publications.


Patents
Bond, VC, Lillard JW, Huang, MB. USP10,040,831 B2. 08/07/18. Compositions and methods for treating diseases by inhibiting exosome release. http://patft.uspto.gov/netahtml/PTO/srchnum.htm
Bond VC, Powell M, Huang MB, Ali S., Shelton MN. USP 8,669,226. 03/11/14. Antimicrobial compositions and methods of use thereof. http://patft.uspto.gov/netahtml/PTO/srchnum.htm
Bond VC, Powell M, Huang MB, Ali S. USP 10,053,496. 08/21/18. Compositions and methods for exosome targeted expression. http://patft.uspto.gov/netahtml/PTO/srchnum.htm
Honors and Awards

2015: Outstanding Mentor Award, Ph.D.

2014: Outstanding Mentors Award, MSCR Student Association

2012: Outstanding Mentors Award, PhD Student Association

2008: Faculty Appreciation Award, PhD Student Association