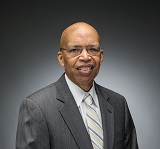 Vincent C. Bond, Ph.D.
Professor and Chair
Microbiology, Biochemistry & Immunology

Principal Investigator
Research Centers in Minority Institutions (RCMI)
E-mail: vbond@msm.edu
Education
POSTGRADUATE:
California Institute of Technology
Fellowship: Postdoctoral


GRADUATE:
Pennsylvania State University
Degree: Doctor of Philosophy in Genetics

Pennsylvania State University
Degree: Master of Science in Genetics


UNDERGRADUATE:
Pennsylvania State University
Degree: Bachelor of Science in Biology
Research Interests
The major determinants of HIV pathogenesis leading to AIDS remain unclear. However, a growing body of experimental evidence suggests that the HIV/SIV protein Nef plays a key role in virus-induced pathogenesis. Understanding the viral and cellular determinants underlyng pathogenesis leading to AIDS is a critical step in finding new targets for therapy to slow or stop progression to AIDS. For the last ten years, Dr Bond's lab in collaboration with Dr Michael Powell have been investigating the role played by extracellular Nef, secreted from HIV (or SIV/HIV-2) infected cells in exosomes (exNef), in pathogenesis leading to AIDS. This work has entailed molecular genetics, computation chemistry using supercomputer modeling, translational/population studies involving patient plasma analysis, humanized mouse studies of infection with collaborators at University of California, Davis, and Emory CFAR Clinical Core, immunological analysis of human infection and nonhuman primate infections with collaborators at Emory/Yerkes Primate Center.


A body of literature arising out of this collaborative, funded research has begun to uncover the detailed mechanism(s) by which the Nef protein is released from viral-infected cells in exosomal vesicles that result in, depending on the cell type, (i) activation-induced cell death, or (ii) gene dysregulation leading to unscheduled immune activation, both in bystander cells. These uncovered mechanisms are capable of leading to immune depletion/dysfunction causing pathogenesis leading to AIDS. This research program has highlighted a potential new target for AIDS therapy, and at least one therapeutic peptide inhibitor. Additionally, understanding the role of/mechanisms underlying the cellular secretion pathway in the HIV lifecycle will open new avenues of study into this basic and important cellular function, and is relevant to other disease processes including cancer pathogenesis.
Publications
Shelton, M.N., Huang, M-B., Ali, S.A., Powell, M.D., and Bond, V.C. 2012. SMR-derived peptide disrupts HIV-1 Nef's interaction with mortalin and blocks virus and Nef exosome release. J Virol. Jan, 86(1): 406-19. PMC3255900.

Campbell,P.E.; Isayev,O; Ali,S.A.; Roth,W.W.; Huang,M.-B.; Powell,M.D.; Leszczynski,J; Bond,V.C.. 2012. Validation of a Novel Secretory Modification Region (SMR) of HIV-1 Nef Using Cohort Sequence Analysis and Molecular Modeling. Journal of Molecular Modeling. Oct, 18(10): 4603-4613. PMC3469780.

Kalra,H., Simpson,R., Li,H., Aikawa,E., Altevogt,P., Askenase,P., Bond,V.C., Borras,F., Breakefield,X., et al. 2012. Vesiclepedia: A compendium for extracellular vesicles with continuous community annotation. 2012. PLOS Biology. 10(12): e1001450. PMC3525526.

Kim,D-K., Lee,J., Kim, S-R., et al. 2013. EVpedia: A Community Web Portal for Extracellular Vesicles Research. Bioinformatics. doi:10.1093/bioinformatics/btu741. PMC4375401.

Konadu,K.A., Chu,J., Huang, M-B., Amancha, P.K., Armstrong,W., Powell,M.D., Villinger,F., Bond,V.C.. 2014. Cytokines Associate with Exosomes in the Plasma of HIV-1+ Individuals. Journal of Infectious Diseases. doi: 10.1093/infdis/jiu676. PMC4447830


Research Videos
From Journal of Video Experimentation: Employing techniques, developed by the Nef Pathogenesis group and described in this video, which utilizes the unique properties of specific short peptides derived from motifs found in full-length proteins, one may accelerate the identification of functional motifs in proteins and the development of peptide-based inhibitors.


Your Health Connection is a resource for you, designed to help you find good health outcomes. The program is produced by WCLK and the Center for Cancer Research and Therapeutic Development at Clark Atlanta University.
Click
here
to view additional publications.
Honors and Awards
2015: Outstanding Research Advisor Award

2015: Outstanding Mentor Award, Ph.D.

2014: Outstanding Mentors Award, MSCR Student Association

2012: Outstanding Mentors Award, PhD Student Association

2008: Faculty Appreciation Award, PhD Student Association