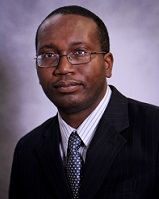 Yusuf Omosun Ph.D.
Instructor
Microbiology, Biochemistry & Immunology

Location: Hugh Gloster Building
E-mail: yomosun@msm.edu
Education
GRADUATE:
University of Ibadan
Degree: Doctor of Philosophy in Cellular Parasitology

University of Ibadan
Degree: Master of Science in Cellular Parasitology


UNDERGRADUATE:
University of Benin
Degree: Bachelor of Science in Biochemistry
Research Interests
Chlamydia trachomatis (Ct) is a major cause of bacterial sexually transmitted disease (STD) in the United States. In 2010, a total of over 1 million chlamydial infections were reported to CDC. Complications caused by Chlamydia in women include pelvic inflammatory disease (PID), ectopic pregnancy and involuntary tubal factor infertility. I am currently involved in four projects which are all related.

This project involves the use of IL-10 deficient dendritic cell system which has a distinct advantage for studies of therapeutic strategies and vaccine development to define a set of host immune molecules that regulate the induction of optimum protective immunity against Chlamydia and determine their mechanism of immunomodulation. Identify a set of host molecules such as the inflammasomes that are involved in the immune response to Chlamydia, and determine their mechanism of action. This study may provide biomarkers for use in drug treatment and vaccine development against chlamydial disease.

This project involves studying the effect of caspase inhibition on infertility and the integrity of Dicer, a caspase-sensitive and fertility promoting ribonuclease III enzymes in the reproductive system of Ct infected mice. The results from this study will provide new insights into the molecular pathogenesis of TFI with significant implications for new strategies for diagnosis, treatment and prevention of chlamydial complications leading to TFI.

This project involves identifying, developing, and validating a group of MicroRNAs (miRNAs) as risk factors for predicting reproductive tract damage. The central hypothesis is that miRNAs will be able to diagnose the early development of reproductive tract disease, with the rationale that this tool can be used to identify vulnerable individuals. miRNAs bind to the un-translated region of mRNA and direct their post transcriptional repression or activation, and are expressed within the organs of the female reproductive tract where they function to regulate fertility, tissue development, cell differentiation and proliferation.

This project proposes to investigate the role of vitamin D in ameliorating the effect of Chlamydia infection, by studying host immune molecules in infected HELA cells, genital tract pathology, inflammatory responses, and rate of pregnancy and fertility of chlamydial infected VDR knockout mice. The knowledge garnered from this study might be useful for designing part of the prevention strategies against Chlamydia by showing the necessity of screening for vitamin D levels as part of the general Chlamydia screening and might be an index of protection against infection as well as sequelae.
Publications
Azenabor AA, Omosun YO and Akenzua GI (1997) Changes In the Lipid Status of T Lymphocyte Membranes in Patients with Pulmonary Tuberculosis. Med. Sci. Res. 25, 417-420.

Nwuba RI, Anumudu CI, Omosun YO, Sodiende O and Nwagwu M (2000) Evaluation of a Rapid Immunodiagnostic Card Test for Plasmodium falciparum In Ibadan, Nigeria. Afr. J. Med. And Medical Sci. 30, 123-124.

Omosun YO, Ayodeji OA, Igbokwe MC, Odaibo AB, Nwagwu M and Nwuba RI (2002) Studies Of Differences In The Foot Muscle Protein of Fresh Water Snails: Biomphalaria pfeifferi And Indoplanorbis exustus. The Zoologist 2 (2): 58-64.

Nwuba RI, Sodiende, O, Anumudu, C, Omosun, Y, Odaibo, AB, Holder, AA and Nwagwu M (2002) The Human Immune Response To Plasmodium falciparum Includes Antibodies That Inhibit Merozoite Surface Protein -1 Processing And Blocking Antibodies. Infect. Immun. 70 (9) 5328-5331.

Nwuba RI., Adoro SA., Anumudu C.I., Odaibo AB., Omosun Y.O., Holder A.A. and Nwagwu M. (2002) Specificities of Antibodies to Plasmodium falciparum Merozoite Surface Protein (MSP)-119. Proceedings of the 10th International Congress of Parasitology –Icopa X. Vancouver, Canada, August 4-9, 2002. P 477-486.
Honors and Awards
2014: ASM Minority Travel Grant Award

2013: ABRCMS Judges' Travel Subsidy

2013: FASEB MARC Program Travel Award

2011: Clinical Trial Monitoring and Research Site Coordination Certificate

2009-2007: ASM/CCID Post-Doctoral Fellowship

2005: AGI Travel grant