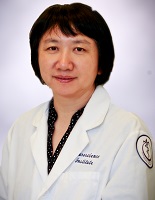 An Zhou, Ph.D.
Associate Professor
Neurobiology

Location: Multidisciplinary Research Center Room 239
Phone: (404) 756-5722
E-mail: azhou@msm.edu
Education
GRADUATE:
Copenhagen University, Copenhagen, Denmark
Degree: Doctor of Philosophy
Research Interests
Protein actuators of neuronal stress response.

Protein biosynthesis, trafficking and secretion in neuronal and neuroendocrine cells

NeuroProteomics and Bioinformatics
Publications
Hernandez-Encarnacion L, Sharmar P, Simon R, Zhou A (2017) Condition-specific transcriptional regulation of neuronal ion channel genes in brain ischemia. Int J Physiol Pathophysiol Pharmacol.9(6):192-201 (PMCID: PMC5770516)
Reynolds J, Jimenez-Mateos E, Cao L, Bian F, Alves M, Miller-Delaney S, Zhou A, Henshall D (2017) Proteomic analysis after status epilepticus identifies UCHL1 as protective against hippocampal injury. Neurochem Res. 42(7):2033-2054 (PMCID: PMC5505805)


Zhou A (2016) Proteomics in stroke research: potentials of the nascent proteomics. J Investig Med. 64(8):1236-1240 (PMID:27430243)


Liu M, Inoue K, Leng T, Zhou A, Guo S, Xiong ZG (2016) ASIC1 promotes differentiation of neuroblastoma by negatively regulating Notch signaling pathway. Oncotarget. 31;8(5):8283-8293 (PMCID: PMC5352400)


Cao L, Wang L, Cull G, Zhou A (2015) Alterations in molecular pathways in the retina of early experimental glaucoma eyes. Int J Physiol Pathophysiol Pharmacol. 20;7(1):44-53. (PMCID: PMC4446388)

Click here to view additional publications.
Honors and Awards
Active Awards NIH/NINDS R01 Grant (#NS073832-01A1)
Role: PI
Title: Polycomb group proteins as epigenetic mediators of brain ischemic tolerance

NIH/NINDS U54 Subproject (1U54NS083932-01)
Role: Co-Investigator (Project PI: Xiong, Zhigang, M.D., Ph.D.)
Title: ASIC1A-activated signaling pathways in neurons

NIH/NINDS U54 (1U54NS083932-01)
Role: Co-Director of Molecular Biology and Cell Core (Project Leader: MacLeish, Peter, Ph.D.)
Title: Morehouse School of Medicine SNRP