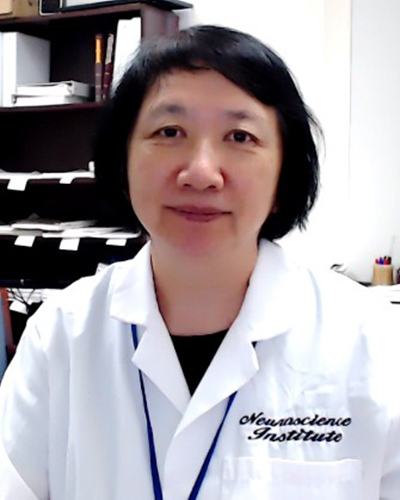 Education
POSTGRADUATE:
Johns Hopkins University, Baltimore, MD
Postdoctoral Fellow

GRADUATE:
Beijing Normal University, Beijing, China
Degree: Master of Science

Copenhagen University, Copenhagen, Denmark
Degree: Doctor of Philosophy

UNDERGRADUATE:
Beijing Normal University, Beijing, China
Degree: Bachelor of Science
Research Interests
Neuroprotection
Epigenetics
Proteomics
Bioinformatics
Publications
(representative)
Stapels, M., Piper, C., Yang, T., Li, M., Stowell, C., Xiong, Z-G., Saugstad, J., Simon, R.P., Geromanos, S., Langridge, J., Lang, J.Q. & Zhou, A. (2010), Polycomb group proteins as epigenetic mediators of neuroprotection in ischemic tolerance. Science Signaling, 3(111):ra15
Bian, F., Simon, R.P., Li, Y., David, L., Wainwright, J., Hall, C.L., Frankel, M. & Zhou, A. (2014), Nascent proteomes in peripheral blood mononuclear cells as a novel source for biomarker discovery in human stroke. Stroke, 45(4):1177-9
Zhou A. (2016), Proteomics in stroke research: potentials of the nascent proteomics. Journal of Investigative Medicine, 64(8):1236-1240
Hernandez-Encarnacion, L., Sharma, P., Simon, R. & Zhou, A. (2017), Condition-specific transcriptional regulation of neuronal ion channel genes in brain ischemia. International Journal of Physiology, Pathophysiology and Pharmacology, 9(6):192-201
Chang, S-Y., DeVera, C., Yang, Z., Yang, T., Song, L., McDowell, A., Xiong, Z-G., Simon, R. & Zhou, A., (2020), Hippocampal changes in mice lacking an active prohormone convertase 2. Hippocampus, 30(7):715-723
Honors and Awards
(recent 10 years)
2010-2011, GRF Shaffer Fund Grant, Role: PI
Title: Epigenetic regulation of HIOP-induced endogenous neuroprotection in rat retinas.
2011-2014, NIH/NINDS R21 (#1R21NS075538-01), Role: PI
Title: Quantitative Proteomic Reconfiguration in Induction of Neuroprotection against Stroke.
2012-2017, NIH/NINDS R01 (#NS073832-01A1), Role: PI
Title: Polycomb group proteins as epigenetic mediators of brain ischemic tolerance.
2013-2018, NIH/NINDS U54 Subproject (1U54NS083932-01), Role: Co-Investigator (PI: Xiong, Zhigang, M.D., Ph.D.)
Title: ASIC1A-activated signaling pathways in neurons.
2013-2020, NIH/NINDS U54 (1U54NS083932-01), Role: Co-Director of Molecular and Cell Biology Core (Project Leader: MacLeish, Peter, Ph.D.)
Title: MOREHOUSE SCHOOL OF MEDICINE SNRP
2017-2020, AHA/GIA (#17GRNT33700277), Role: PI
Title: TrxG proteins as novel epigenetic regulators of neuronal excitability and their roles in ischemic stroke.